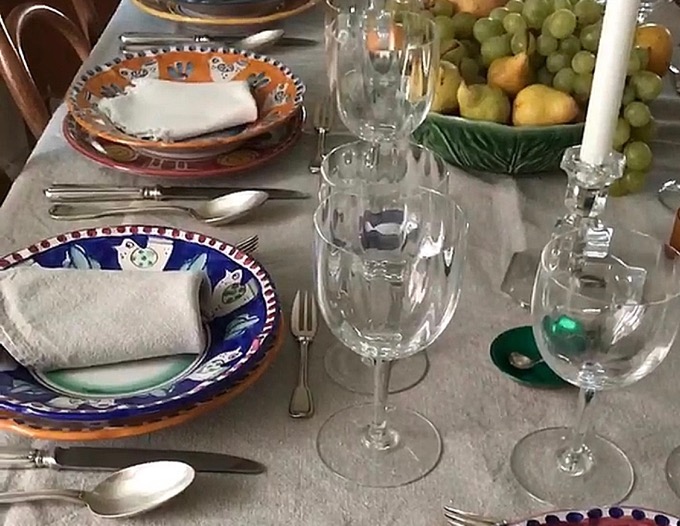 I've spent the last year documenting the ways that people gather around a table in Italy. From low end pizza to lunch with a princess. So to say I have dinner parties on my mind is an extreme understatement.
But I've always been a fan of dinner parties. And by 'dinner party' I don't just mean making dinner. I mean planning a dinner for guests around a table you've put some thought into. It's not for nothing that my very first book was on Italian ceramics. But my obsession with making grand gestures in the kitchen that end up on a table surrounded by friends and family goes back at least to high school, when I would go to the local library to search out recipes to bring to life at home .
I've always found that the most difficult part about this entire process was actually planning out the menu. And frankly, instead of getting easier as I become more experienced (i.e.older!) it just seems to present more challenges. First of all there is just so much I want to a) cook and b) share. But the thing that I don't want to experience? or share?  Stress.
"Stress free" is my evolved philosophy about entertaining. While in high school I might have worked on a six-course Schezwan feast, these days I want something that is not only delicious and pretty, but also – here is the kicker – easy to make and doesn't have me in the kitchen while my guests are sipping negronis in the living room.
So I'm starting a new feature on this blog (let's see how long I can keep this up!). At least once a month I'll give you a blueprint for a dinner party of your own. And in the vein of keeping things easy, mostly for me (I am the hostess after all) for the most part I use other people's recipes. So there will be links leading you to some of my favorite online blogs and resources.
One thing I do have to mention: I only thought about this kind of post after last week's dinner party was over. Which means I really don't have a lot of good  photos to share today of the table etc. Really, I thought I was taking more. But actually I was just posting on instagram stories. Which means lots of short videos rather than stills. Bur I did manage a few which I'll share. Mostly shot on my iPhone in candle light and after (perhaps) too much wine.
My dinner party last week was the first I've had in quite a while in Rome. And it was the first time I had my neighbors over since our big renovation of last winter resulted in an enlarged dining room. (I've been busy, what can I say?) Happily many of my best friends in Rome live in my neighborhood, which always makes for a cozy time. Also? Since one of my neighbors in a wine writer and comes laden down with way too many bottles, getting home involves no driving and barely even any walking (or stumbling for that matter.)
Here is the menu:
Aperitivi : While I usually make cocktails, this time around I decided to open up the case of Ruinart Champagne that one of Domenico's clients sent a while back. That, plus olives, taralli and toasted cashews from the market across the street kept everyone happy.
Primo: I often make soup as a first course because everyone loves soup. Also, it was just starting to get cold outside, and so some sort of bean something seemed to herald fall weather. Since I already had a pound of black beans in my cupboard I made Julia Moskins Black Bean soup, adding in cumin and tumeric to make it slightly more complex. I topped it with a swirl of whole yogurt, a slice of avocado and some quick pickled red onions.
Secondo: I'd been wanting to make one of those gorgeous tomato tarts that kept showing up on my Instagram feed all summer long. And since I had what I thought were pretty much the last ripe tomatoes of the season, I figured this was my last chance. David Lebovitz's recipe was perfect. The only change I made was a layer of grated parmigiano reggiano on top of the crust and then again on top of the tomatoes. I baked it off earlier in the day and served it room temperature along with the following salad. A huge bunch of herbs from our terrace (margoram, basil and thyme) went in before and after cooking.
Contorno: The salad was basically a version of this one that I make all winter long, The only difference was that I also used Belgian endive because I wanted a bit more crunch to offset the tart and used hazlenuts instead of walnuts. I think I also threw in a handful of dried cranberries as well.
Dolce: My friend Eugenia always offers to bring dessert. Which I always gladly accept. First of all, she is an amazing baker. Also? One less thing to worry about. Her plum cake was delicious. And I just found out that she got it from David Leite's website, but he in turn got it from Domenica Marchetti , who was just here about 5 minutes ago having drinks. (My world is very narrow. )
Drinks: I've already mentioned the champagne. While I usually serve cocktails, I knew that Monica was going to bring too much wine, and I didn't think it wise to start out the evening with tumblers of vodka or gin. What wines did we drink? I know we had a pinot nero with the black bean soup, which was perfect. After that things got a bit blurry. In future reports I will try to be more specific. As always, we ended the meal with way too much Nonino grappa. All I know is that the next morning I had to lug 8 bottles to recycling. (Did I mention we were 9 for dinner?)
Setting the table:
Table cloth: Raw linen that I got ages ago from C.U.C.I.N.A. and is one of my favorites.
Plates: Solimene, from Vietri.
Glasses: Bacarat: Montaigne (the only thing I registered for, for our wedding)
Candle sticks: Tiffany. One of the best wedding presents we got.
Centerpiece: Cabbage leaf bowl that was a gift from Emma, filled with grapes and pears (I usually aim for edible centerpieces)
Silver and grappa glasses: Family heirlooms from Domenic's aunt.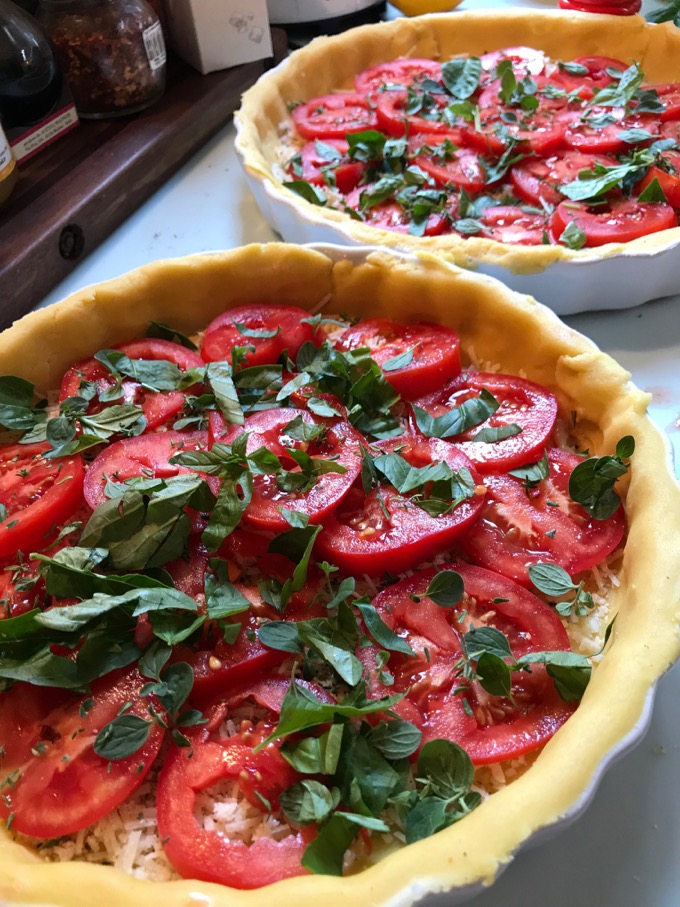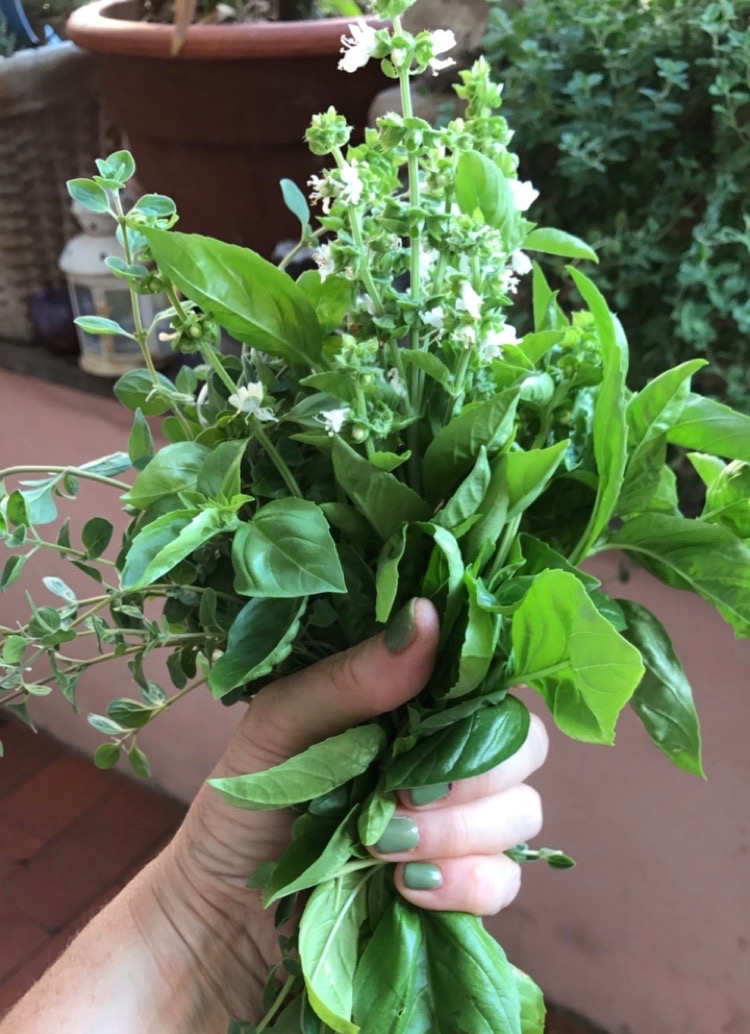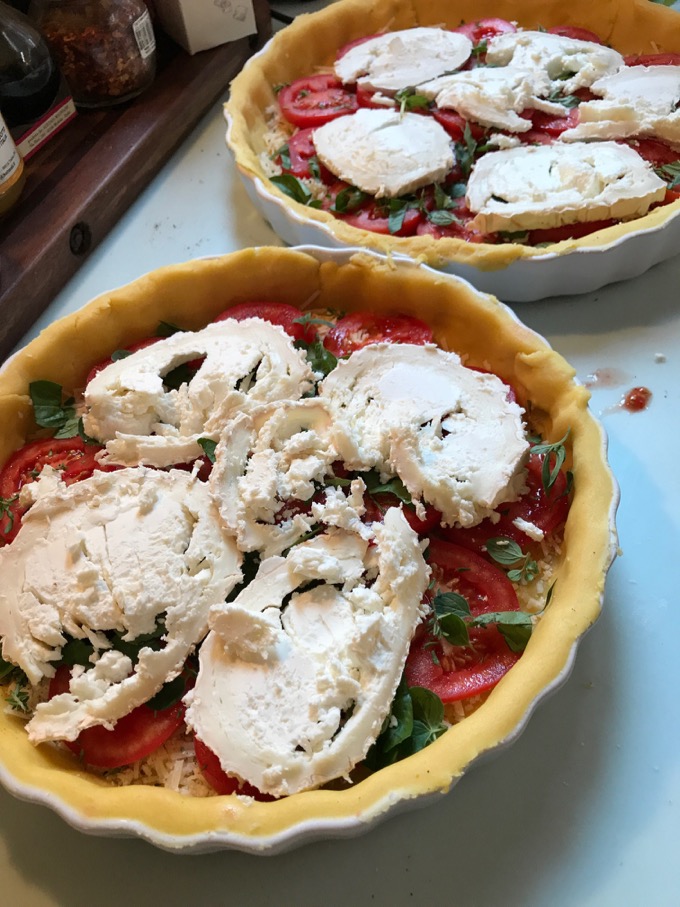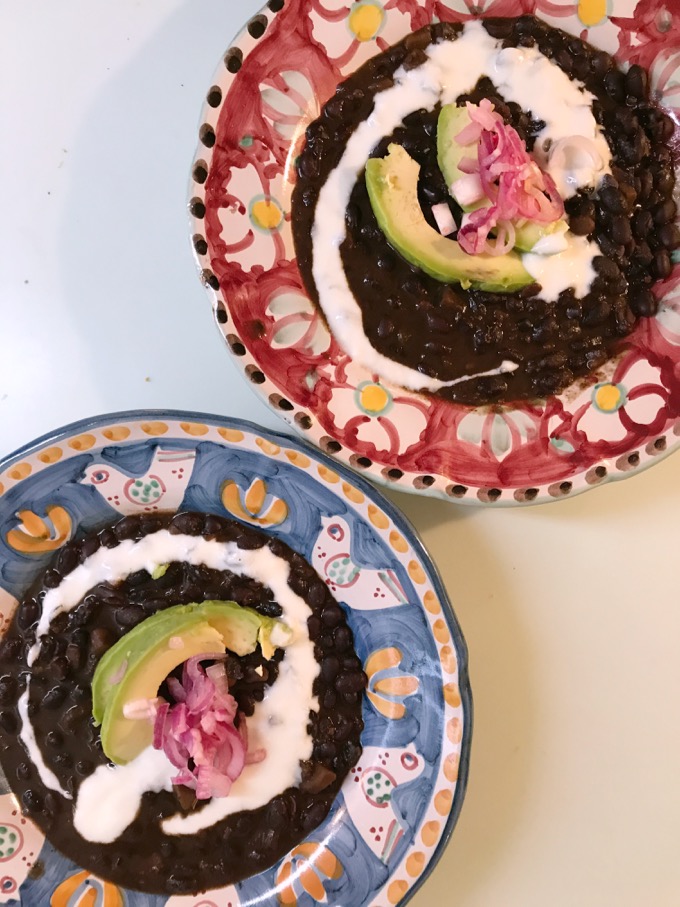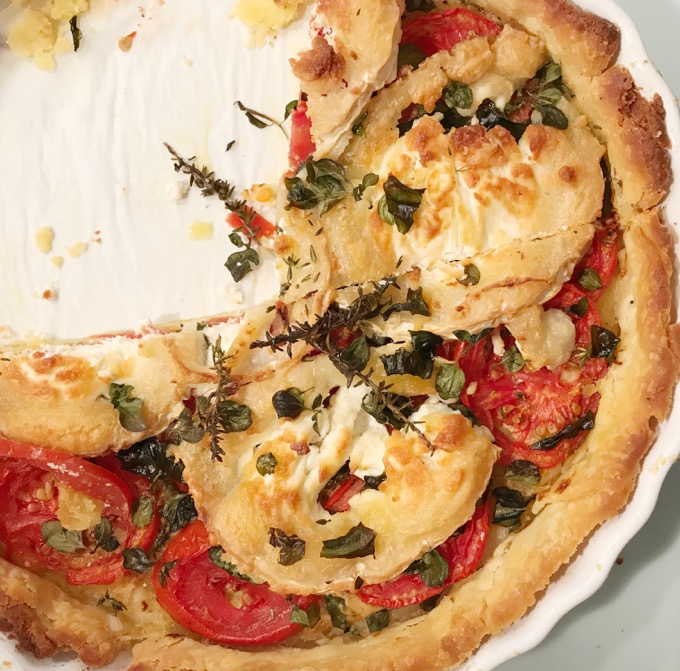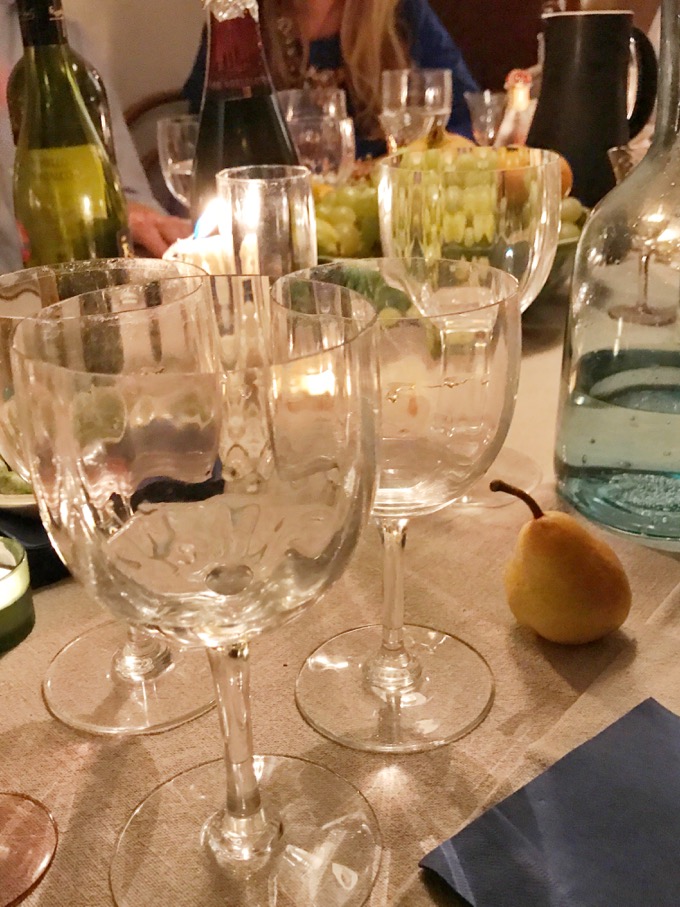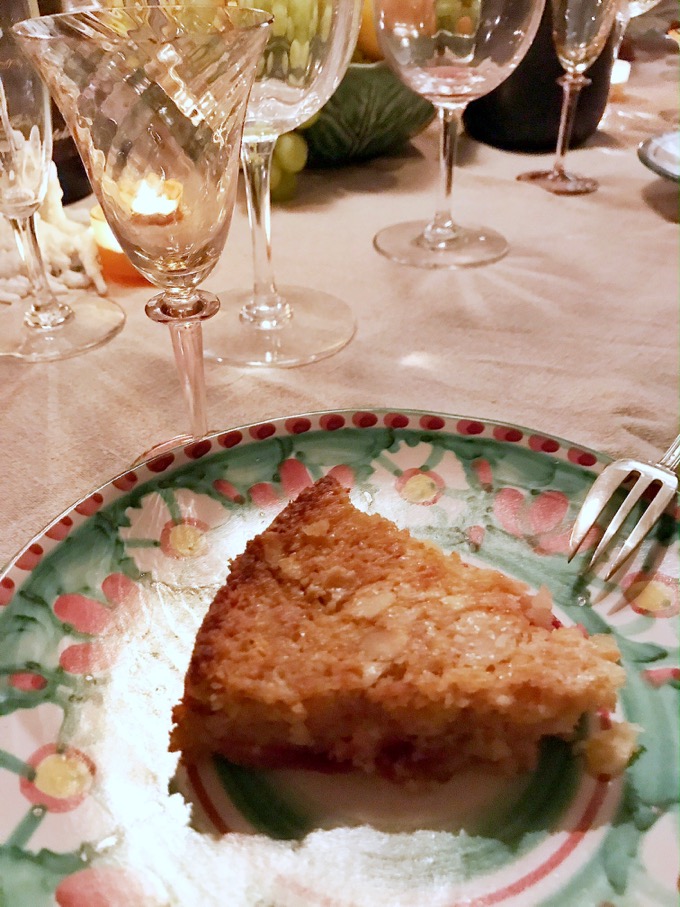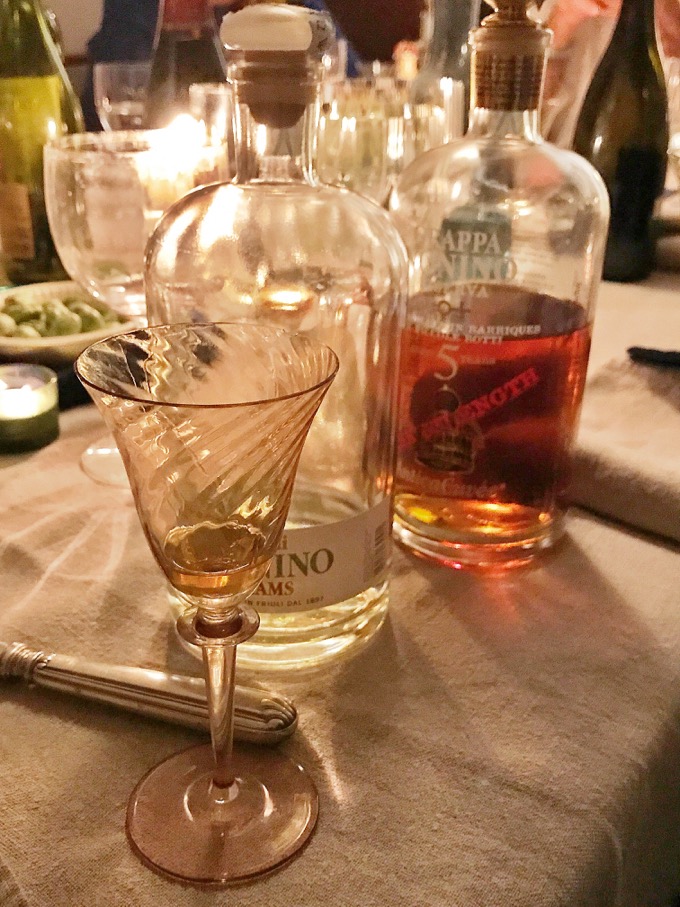 Save
Save
Save