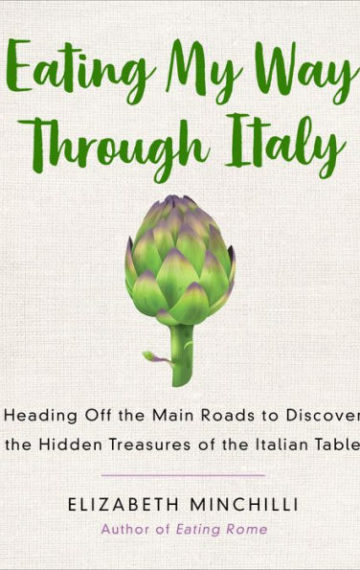 After a lifetime of living and eating in Rome, Elizabeth Minchilli is an expert on the city's cuisine. While she's proud to share everything she knows about Rome, she now wants to show her devoted readers that the rest of Italy is a culinary treasure trove just waiting to be explored. Far from being a monolithic gastronomic culture, each region of Italy offers its own specialties. While fava beans mean one thing in Rome, they mean an entirely different thing in Puglia. Risotto in a Roman trattoria? Don't even consider it. Visit Venice and not eat cichetti? Unthinkable. Eating My Way Through Italy, celebrates the differences in the world's favorite cuisine.
Divided geographically, Eating My Way Through Italy looks at all the different aspects of Italian food culture. Whether it's pizza in Naples, deep fried calamari in Venice, anchovies in Amalfi, an elegant dinner in Milan, gathering and cooking capers on Pantelleria, or hunting for truffles in Umbria each chapter includes, not just anecdotes, personal stories and practical advice, but also recipes that explore the cultural and historical references that make these subjects timeless.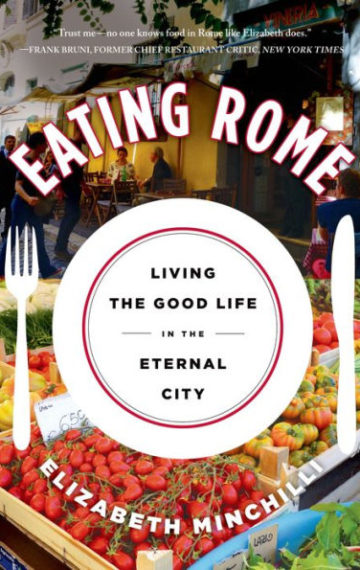 Elizabeth Minchilli has been eating her way through Rome since she was 12 years old. Eating Rome, based on her popular blog Elizabeth Minchilli in Rome, is her homage to the city that feeds her, literally and figuratively. Her story is a personal, quirky and deliciously entertaining look at some of the city's monuments to food culture. Join her as she takes you on a stroll through her favorite open air markets; stop by the best gelato shops; order plates full of carbonara and finish the day with a brilliant red Negroni. Coffee, pizza, artichokes and grappa are starting points for mouth-watering stories about this ancient city. Illustrated with Minchilli's beautiful full-color photos and enriched with her favorite recipes for Roman classics like vignarola, carciofi alla romana and carbonara, Eating Rome is the book that you want if you are planning your first trip to Rome or if you have been to Rome a dozen times. And even if you just want to spend a few hours armchair traveling, Elizabeth Minchilli is the person you want by your side.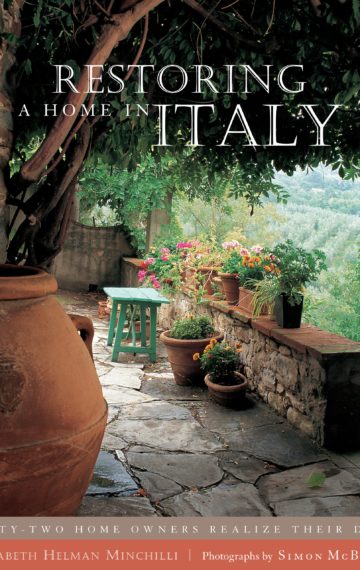 This breathtakingly photographed volume offers an inside, and outside, look at twenty-two lovingly restored homes, labors of love by people whose passion for Italy just couldn't be ignored. Owners and designers share anecdotes about their experiences with local artisans, vendors, and bureaucracy, while offering real-world advice on the tactics of restoring a house in a foreign country.
Whether the plan is to embark on a complete redesign, begin a restoration, or just move in and let the house evolve on its own, home owners and dreamers alike will value the information and thrill to the dream of Restoring a Home in Italy. This is a book at once lush and beautiful, and invaluably practical.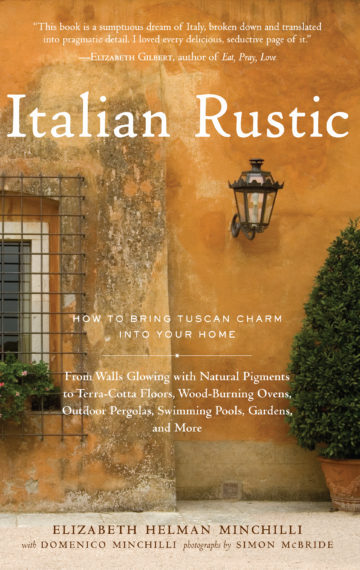 A celebration of Tuscan farmhouse style, with practical advice on how to bring the look home.
For anyone who has ever dreamed of living under the Tuscan sun, Italian Rustic is the next best thing—a step-by-step guide to recreating the romance and appeal of the weathered Italian farmhouse. This nuts-and-bolts guide to building Italian-style walks the reader through all the elements that make the rustic Italian home so unique, from the hand-laid stone walls to the artisanal stucco wall finishes.
With more than 300 stunning photographs shot on location in Tuscany and Umbria, the book contains profiles of local artisans, engaging text on how the farmhouse style evolved, and targeted advice on how Americans can find Italian-style building materials and craftsmen close to home. This essential sourcebook will appeal to anyone building an addition or an entire house from scratch, or for homeowners who want to add just a touch of Italian style to their houses.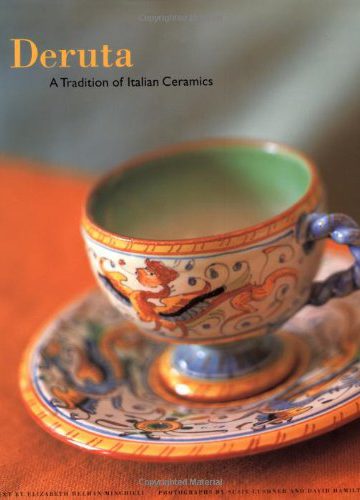 The world can never get enough of wonderful Italy and all things Italian. The famed ceramics of Deruta are certainly no exception. The first comprehensive book to celebrate the design and evolution of this extraordinary art form, Deruta is exquisitely illustrated with over 150 colorful photographs of coveted "majolica." The author and photographers, working with Melanie Doherty, who was a designer in Italy for several years, dramatically portray the splendors of this living tradition. We see the finest examples of Deruta tableware and tilework as well as garden decorations, fa?ades, altars, and architectural details. While some pieces are highly collectible, others are inexpensive and perfect for everyday use. Deruta also includes profiles of the artisans' studios and a gallery of their work, as well as evocative black-and-white photos of the hill town they call home. With a history of the craftan artistic heritage more than six centuries oldthis singular volume is a musthave for collectors and for anyone inspired by Deruta ceramics, decorative art pieces that evoke the spirit of the Italian countryside.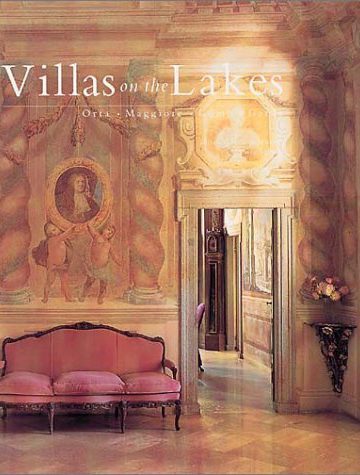 The jewel-like lakes of northern Italy—Orta, Maggiore, Como, and Garda—have drawn visitors for thousands of years, and their beauty has been the inspiration for countless artists, musicians, writers, and poets. While visitors still flock to experience the magic of the lakes, there are those who have chosen to sink deeper roots, building dreamlike villas along the water's edge. In 200 color photographs, Villas on the Lakes beautifully reveals some of the most remarkable of these. From crenelated castles to artists' abodes, the reader will explore private homes dating from the late Renaissance to the 20th century. A splendid book for travelers, Italophiles, and anyone with a love of architecture and interior design. Elizabeth Helman Minchilli, an American now living in Italy, previously collaborated with photographer Simon McBride in Private Rome, Private Tuscany, and Restoring a Home in Italy.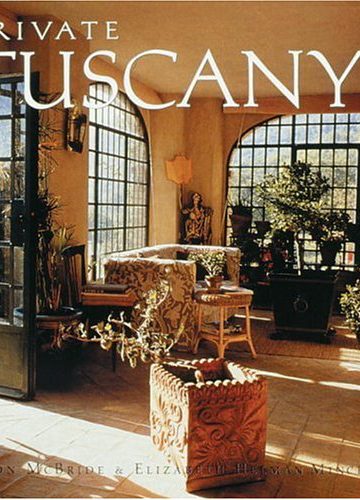 Tuscany has long exerted a magnetic pull over visitors to this most romantic of Italy's provinces. From Lord Byron and Henry James to contemporary writers, designers, and artists, everyone is charmed by the rolling Tuscan landscape, its magical light, its rich artistic and visual culture, and above all, its highly sensuous way of life.
Private Tuscany reveals the interior style of some of the area's most charming homes--the pared-down beauty of a film director's farmhouse retreat; the refined elegance of an aristocrat's seventeenth-centry palazzo high in the hills; the Gothic mood of a winemaker's medieval fortress; the modern chic of a designer's country house; or the earthy character of an architect's villa, drenched with color and light.
Whether it is the ancient terra-cotta floors, gardens fragrant with herbs, or candlelit dinners on outdoor terraces, the spirit of living in Tuscany is alive in these pages in brilliant color.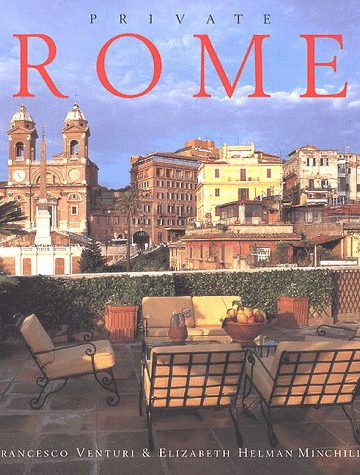 Behind the heroic, historicfacades of Rome lies an intimate world that is rarely seen by outsiders.
Private Rome offers a colorful insider's view of the city's vibrant inner sanctums. Here are studios of artists and designers; classical, baroque, and modern apartments; extravagant villas and palazzi; the homes of leading art collectors; and gardens. For everyone enchanted by the ancient aura, the venerable architecture, and the legendary life of the Eternal city, Private Rome reveals the personal style of those who are privileged to live there.