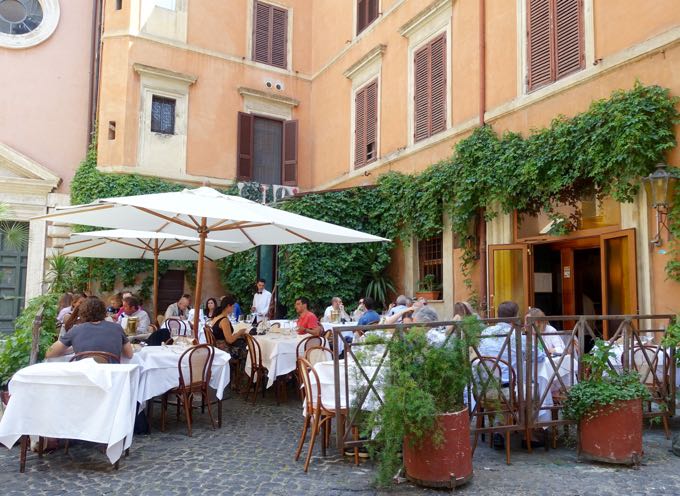 This is the time of year I love love love to eat outside. One of my favorite places is, (sorry, not sorry) my own terrace in Rome. Since it's just a tad too small to invite you all over for lunch or dinner, I thought I'd pull together my short list of restaurants where outside dining is a thing.
Although there are quite a few restaurants in Rome with a few outside tables, not all have what I'm looking for. The first requirement is, of course, good food. But there are other things to consider as well. Are the tables and chairs comfortable? Is there a nice view? And we're all agreed that being stuck at table in the middle of traffic is a stressful situation, right?
So here are some of the places I head to when I actually leave my terrace.
Giggetto: If you follow me on any sort of social media, then you know I end up at Giggetto A LOT. It's one of my favorites in the Jewish Ghetto. While I do love the outdoor seating in the front of the restaurant, beneath the ancient Portico d'Ottavio, not many people know they also have a cute little terrace in the back as well. Which, I have to admit, I actually prefer. Although it doesn't have the killer views, it is fenced in, and so you don't have to worry so much about people passing by selling stuff or (it's a fact of Roman life) tying to nab your bag.
Piperno: Definitely a step up in service and quality from Giggetto, it's my special occasion place. Or, rather, my 'when my father is paying' place. Love, love, love the cute hidden piazza that gets taken over with linen covered tables in the summer.
Pierluigi: This restaurant has gotten very expensive over the last few years, and so sadly, I go to it less often than I'd like. But it does have excellent seafood as well as being located in one of the prettiest pedestrian piazzas in Rome.
Pizzeria Emma; Although I actually prefer the inside dining room here, it's difficult to find a pizzeria with outdoor seating that you can actually reserve a seat at. Most pizzerias are hit or miss when it comes to getting a table. So if you want your pizza alfresco, this may be your place.
Trattoria degli Amici: I don't often land in Trastevere for dinner, since it's just too crowded for me. But when I do, and when I want to eat outside, Trattoria degli Amici is perfect. Great food, roomy terrace and the staff is mostly people with disabilities, which makes the entire experience a very loving and caring one, that is a far cry from most of what goes on in Trastevere.
Flavio Velavevodetto: My go to in Testaccio, especially when I want to eat outside. They've recently expanded their outdoor area at street level, but my favorite spot, on a summer night, is the rooftop terrace. Be forewarned: it's up a tight circular staircase, but is worth it.
Necci: if Necci were in the center, instead of Pigneto, I would be hanging out on their roomy, leaf covered terrace daily.
And a few more:
Carrette: pizza in Monti, outside tables in the back terrace. 
Toricella: fish in Testaccio, and although the tables are on the street, the street is a pretty quiet one.

Nerone: Nice for their antipasto spread and the tables have a view of the Colosseum.

If you happen to be in Rome during July and August, there are also the restaurants that get set up along the banks of the Tiber and the Isola Tiberina. They change each year, and so quality varies. But the magical setting stays the same.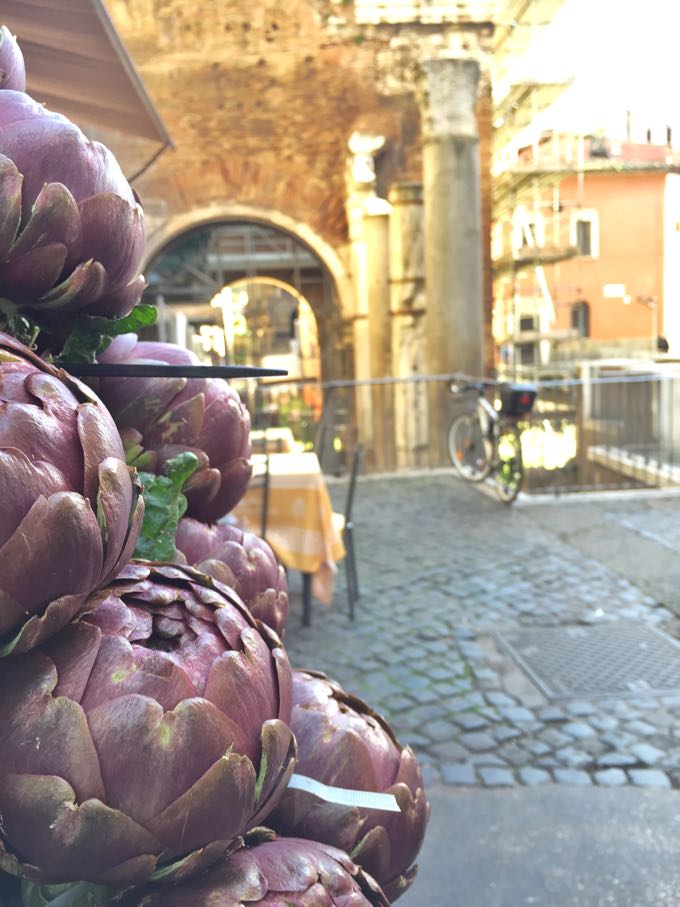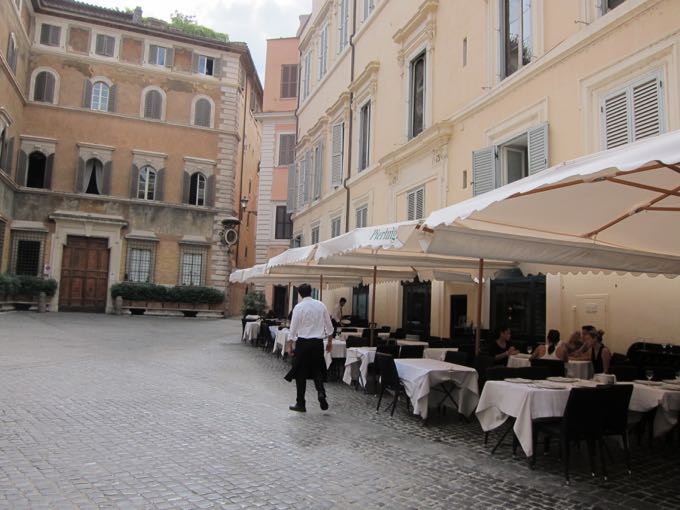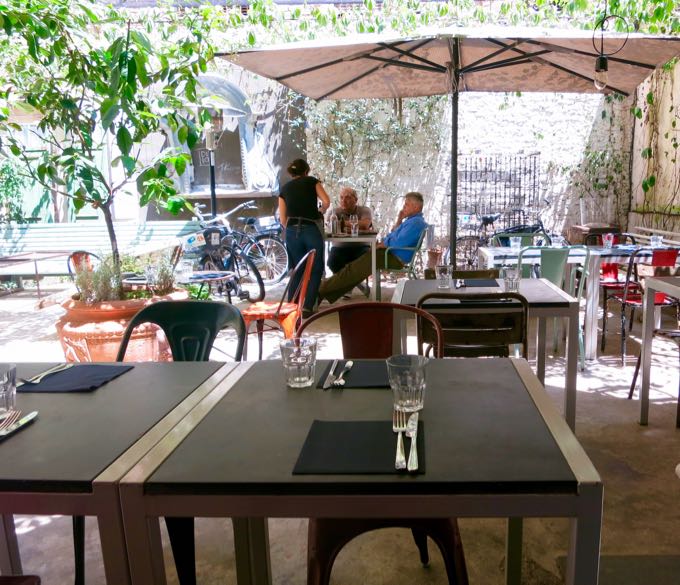 For more information on dining in Italy download my app, EAT ITALY. EAT ITALY is a free app, and contains guides to Venice, Milan, Rome, Florence and Umbria available as in-app purchases for both iPhone and iPad.
And don't forget my book: Eating Rome, Living the Good Life in the Eternal City