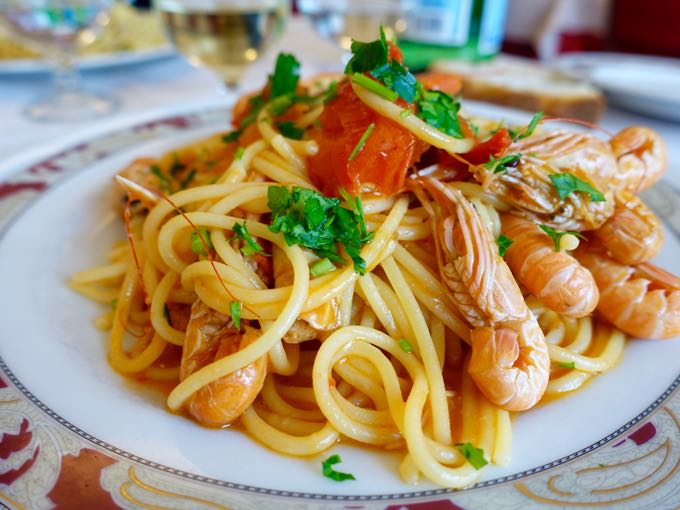 Fish is not usually something anyone would associate with the area of Testaccio in Rome. This working class neighborhood has a meaty reputation that is firmly rooted in the 19th century slaughterhouse that takes up most of the real estate of this heavily populated area tucked into a curve in the Tiber. Although the slaughterhouse has been abandoned for about 50 years, the heritage of cooking from the quinto quarto (the fifth quarter) of the animal (i.e. offal and other parts) still holds strong in restaurants like Perilli, Flavio and Checchino.
Which is why a visit to La Toricella, one of the neighborhood's oldest restaurants, is such a fishy surprise. But before I even get to that, there are so many other Roman 'rules' that Toricella breaks, that the location is the least of the shockers. In Rome, for the most part, when you are talking fish you are talking fancy, upscale and expensive. La Toricella is none of these. Relaxed, middle class and affordable are just about how I'd describe it.  Another rule they break? They bill themselves as  a "ristorante / pizzeria." As anyone who lives in Rome knows, places are usually either a pizzeria (and that's all they do) or they aren't. Places that try to combine pizza with other fare usually do well at neither.
I have to admit that I've never tried the pizza at La Toricella, but as for the food? They are doing it extremely well. And while they have the full list of Roman favorites (Everything from Carbonara to saltimbocca) I always go for the fish.
I recently had a few lunches here with various girlfriends. One day Gillian and I went and had massive helpings of buccatini con le scampi and spaghetti con gli neonati. The scampi were abundant, and cooked in a tomatoey sauce that was just spicy enough. The spaghetti were tossed with neonati, miniscule fish (white bait) which formed a kind of fresh, fishy condiment that just about melted into the garlicky olive oil. The neonati also found their way into the stuffing of deep fried zucchini blossoms. Something that'd I'd never even heard of, much less tried. Fantastic idea!
My next lunch at La Toricella was with a gaggle of bloggers here in Rome. Gina, Eleonora and Elizabeth were just celebrating the launch of their new food tour business. Rachel only had to come around the corner (she lives in Testaccio and has just published a cookbook about her adventures there) and Arlene, Gillian and Sara were there too. We decided to meet in the middle of the week, in the middle of the day and have a blow out fishy lunch here because….well, no reason really. Just because we live in Rome, and if we don't set aside time for fun things like these we never get to them. (makes you want to move to Rome just a little bit?)
Since there were so many of us we ordered up a storm and shared just about everything. Arlene was insistent we order a portion of the fried meatballs, and I'm very glad she did. Gillian ordered a plateful of her favorite marinated anchovies, which were practically swimming off the plate. Everyone wanted the seafood salad, full of tender octopus and the right amount of celery. Other fried delights included butterflied sardines and the teeniest, tiniest octopi I've ever seen. The pastas were stupendous and included spaghetti alle vongole veraci and rigatoni made with a ragu of monkfish.
Even though we should have been full, we all managed to dig into bowls full of the season's first wild strawberries from Nemi doused with a liquidy portion of warm zabaione made to order. When is the last time you had that?
I'm thinking this blogger lunch thing should be a monthly occurrence. Because not only is fun an essential part of life, this is also research. It's our work. I kid you not. We are doing it for your benefit. Really. I swear.
La Toricella
Via Evangelista Torricelli, 2/12
Tel.06-5746311
Open daily, lunch and dinner.
For more information on dining in Rome and Italy download my app, EAT ITALY. EAT ITALY is a free app, and contains guides to Rome, Milan, Florence and Venice (and an ever expanding list of regions and cities) available as in-app purchases for both iPhone and iPad.