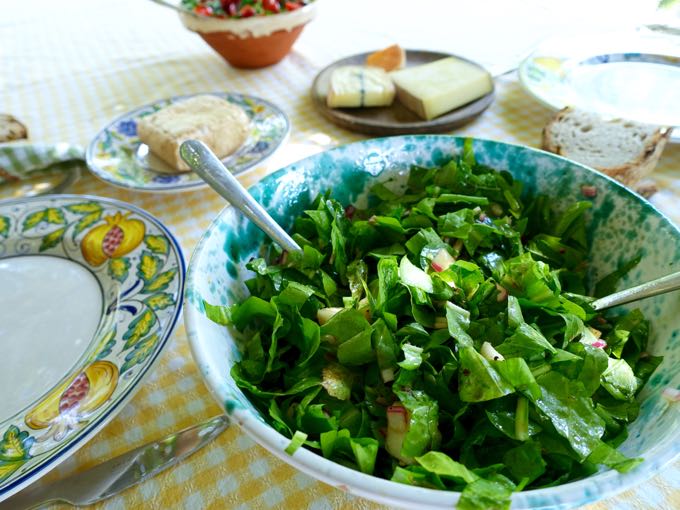 Domenico and I decided to go to Paris last week, for one last bit of vacation. We actually hadn't been away together all summer long. In June and July Domenico was basically tied to our house in Rome overseeing much needed renovation of the facade and roof of the building where we live. Yes, it was a nightmare, but it's over and all worked out on schedule and without major problems (one of the perks of being married to an architect)
I conveniently escaped this mess by traveling as often as I could  to  places like Venice, Abruzzo and the Amalfi Coast. (the perks of being a travel and food writer)

When August finally came around we had the supreme luxury of being able to stay put up in Todi. Where we did not move from for the entire month. As nice as this was, it still wasn't the same as actually getting on a plane and heading off to some place completely new. Hence, Paris.
I'll be writing up all we did there: the places we saw, the things we ate. And, of course, one of the main components of any trip to France is cheese. Tell anyone you are going anywhere near France and the first words out of their mouth is cheese.
Not only did we eat a lot of cheese, we ate a lot of everything else. A lot. And on top of that we even brought some great cheeses back with us.
So last weekend, as we were realizing that the post-vacation diet really should start sooner rather than later, we decided to just have a salad for lunch. But, there were still all that beautiful cheese to eat.
My compromise was to make a huge salad, but also one that went along with the cheeses. Not exactly a diet meal, but a kind of compromise.
Since the cheeses were so rich, I decided the salad should be a compromise as well, between bitter and sweet. So bitter green radicchio straight from the garden, and a couple of candy like, perfectly ripe, pears from our tree.
When using radicchio in salad I like to cut it into strips, not tear it, and then let it soak for a half hour in a cool water. This gives the leafs a chance to give up a bit of their bitterness and cutting rather than tearing allows the dressing to adhere more evenly.
To add a bit of color and bite, I quickly marinated some red onion in white wine vinegar.
I've made different versions of this salad often, but I usually add some sort of cheese and/or nuts. (or even pork) But for a salad that's going to accompany the richest, most incredibly luscious cheeses you have, this simple salad works just fine. And may even make you think a meal made almost entirely of such cheeses is indeed a virtuous choice.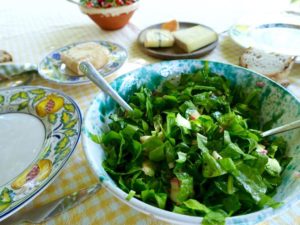 Print
Radicchio and Pear Salad
Yield 2
A great salad to serve with rich cheeses.
Ingredients
4 cups chopped green radicchio, or other bitter salad green
2 ripe, but firm, pears
1 small red onion
1/4 cup white wine vinegar
1 tsp salt
olive oil
balsamic vinegar
salt and pepper
Instructions
Chop the onion into 1/4 inch pieces and put in small bowl. Add salt and vinegar, stir well and let sit for a half hour.
Cut the greens into 1/2 strips and let soak in water for a half hour
Dry well and place in a bowl.
Peel the pears and cut them into 1/2 inch cubes.
Add to the greens, along with the onions and vinegar.
Add extra virgin olive oil, a bit of good quality balsamic vinegar and toss. Taste and adjust for seasoning.