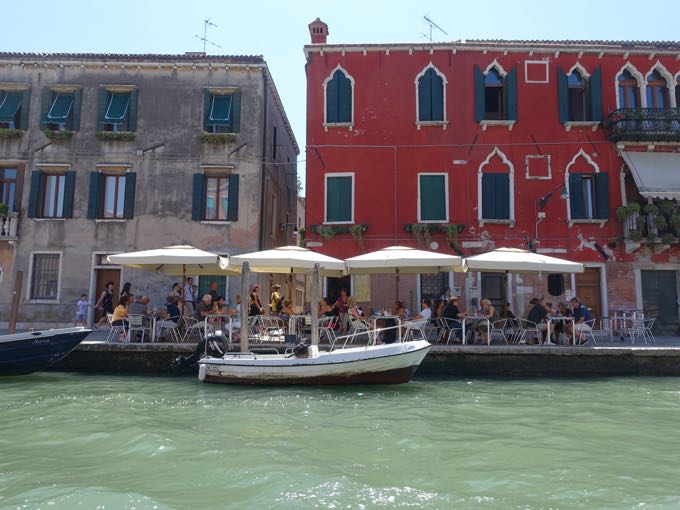 A typical equation when choosing where to eat in Italy – especially for tourists – is food + view. The 'where can we eat well with a great view' question is one that I get very often. And by view,  most people mean dining on some idyllic roof top or piazza, looking out over Florence or Rome, while the sun sets and your first glass of prosecco is poured. The answer to these questions, if there is one, is usually one of the fancy, upscale places that are located in hotels.
Even though I'm happy to give advice on where to find this combo, these are not usually the kind of places you will find me. First of all there is the cost (expensive) and secondly there is the atmosphere (dress up and fancy). I'm ok with stopping by for a pre-dinner aperitvo (and am willing to pay that extra bit for the real estate I'm taking up for the drop dead sunset) but when it comes to the food side of things I'm more likely to be found at a much simpler locale.
In Venice I recently made it to my own personal holy grail of restaurants: great view plus down to earth simple, affordable and delicious food. Located on the wide and quiet Canale di Canareggio, Dalla Marisa has all these things.
Dalla Marisa is no earth-shattering discovery on my part. I'd been reading about this place for ages. But its location, off in the farthest reaches of Canareggio, meant that I'd never quite made the effort to eat there. Don't get me wrong. Venice is not that big, and nothing is that far from anything else. But at the end of a long day of sightseeing, the thought of walking (because it's always about walking in Venice) another 20 minutes to half hour to sit down to  dinner is often just too tiring to think about.
This time around, though, I had a couple of hours to kill in the neighborhood. I had just arrived on the train from Rome and my hotel room on the island of Mazzorbo wasn't going to be ready for a couple of hours. So I checked my luggage (very easy to do at the Venice train station) and headed into Canareggio to explore. After a walk through the Jewish Ghetto and a stop in a bacaro (more to come on that later) I finally made it to Dalla Marisa.
I'd done my research, so was expecting a rough and tumble place where there was a good chance I wasn't going to find anything fishy on the menu. I'm not sure if things have changed, or the fact that it was Friday, but the entire menu (a handful of dishes quickly told to me by the waitress) was as fishy as not.
Even though there were a couple of tourists here, the majority of clients were Venetians. I peeked inside, which was full and lively, with a huge table full of what looked like construction workers, and then grabbed one of the tables under the shade of the big umbrellas outside. Luckily the heatwave hadn't quite hit yet, so there was a cool breeze and – even though I wasn't anywhere near a fancy hotel – a great view.
So many people think they want to sit right at the edge of the Grand Canal. But for me, the Grand Canal is kind of like sitting right on the busiest street in town. Boats, gondolas, vaporetti – to me it's kind of like Times Square. I much prefer to perch myself on the quieter canals, and watch the world gently drift by. Dalla Marisa, located on the Canale di Canareggio, is the perfect perch. While there is the occasional vaporetto (the  4.1 and 4.2 go right by in case you're not up for the walk) most boats were smaller, and manned by people who greeted the people eating in the restaurant as they motored by. It was like being in a small village, except with water.
My lunch was simple, and fishy. First up a ragu of pesce spada. The penne were cooked al dente, and the portion abundant. Second course were a pair of stewed folpetti – mini octopi – their intensely flavored sauce bleeding into the white, creamy polenta. Did I mention the quartino of prosecco? This, and a coffee, came to 15 Euros.
Although I wasn't rushed at all, the entire meal was served pretty quickly, because this isn't the type of place you linger in. It's where working Venetians go to get a quick, hearty and well made meal that doesn't cost an arm and a leg. And while the Venetians may have been paying slightly less than me (that's something that happens in Venice. Consider it a tourist tax and then just forget about it) I was more than happy to hand over my 15 euros. For the food, of course. But also for the view. Which I (being the tourist that I was) enjoyed as I lingered over my coffee. I didn't have to get back to work . Unless of course, you call this work. Which I do.
Ristorante dalla Marisa
Fondamenta di San Giobbe 652B Cannaregio
+39.041.720.211
Open daily for lunch, Thurs-Sat dinner.
You can usually just stop by for lunch, but for dinner better to reserve.
Getting there: Walk or take the 4.1 or 4.2 and get off at Crea.
For more information on dining in Rome and Italy download my app, EAT ITALY. EAT ITALY is a free app, and contains guides to  Venice, Milan, Rome and Florence (and an ever expanding list of regions and cities) available as in-app purchases for both iPhone and iPad.