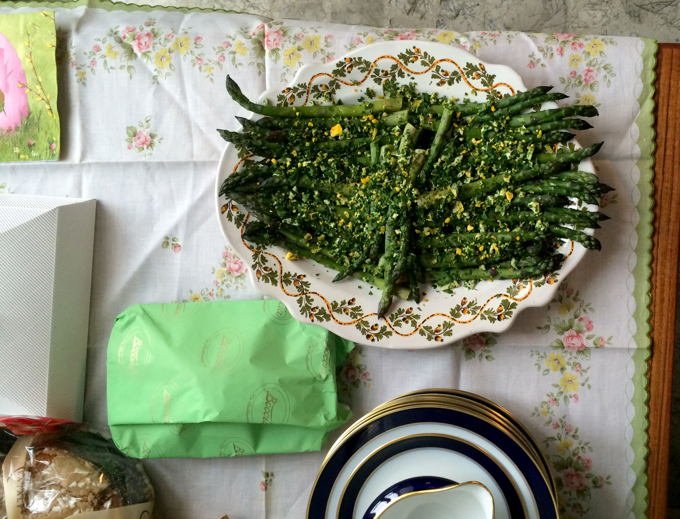 That it's been a very busy couple of weeks is putting it mildly. Since I've gone through the process of having a book published (six times) you would think I have the whole process down pat. The thing is, the process has changed immensely since I published my first book 17 years ago. To tell you the truth, it's even unrecognizable since my last book came out in 2009.
A lot of you have asked me if I'll be doing a book tour. The short answer is no, I won't. But the more complex answer is yes, I am currently am doing a book tour, from the comfort of my own little desk. Or car, or train or where ever I can get a signal to connect to the internet. These days the 'touring' is all virtual (unless of course you're in the upper stratosphere of writers who draw actual crowds to their signings).
So my last couple of weeks have been spent talking to lots of people on the phone, doing interviews for podcasts, radio and websites. And of course writing the blog posts, the newsletter and making sure my posts on Facebook, Twitter, Instagram and Pinterest look perfect, are timed correctly and reach more people than I could possibly see if I were to get on an airplane and fly around the country.
Also? There was Easter. Another one of those never-ending Italian holidays.
Easter this year was actually a welcomed chance to completely tune out. We headed down to Bari, to visit Domenico's mother, and two of my best friends, Jane and Gillian, came along for the ride with their husbands. While I did manage to make it to two new restaurants and take photographs for future blog posts I decided to just relax about the whole Easter meal thing. While in past years I've thought about what I was cooking ahead of time, and then written about those recipes, photographing every step, this year I just went with the flow.
I had decided on the main course a few weeks ago, when David Tanis published this meatloaf recipe in the New York Times. Since Sophie had banned lamb from the table, and Jane's husband banned pork, it was hard deciding on something festive enough, yet pork- and lamb-free, for Easter. This meatloaf, stuffed with eggs and wild greens, fit the bill. I only made a few changes to suit the picky eaters (ground turkey instead of pork, and bresaola instead of mortadella) but the end result made everyone very happy.
Besides that, I had zero plan. Gillian was kind of horrified when I told her on Saturday morning I still hadn't decided what I was going to be cooking for the rest of the meal. "I"m just going to see what's at the market," I told her. And it all worked out just fine.
Before I even made it to the market, I passed by the Bottega del Tortellino, a hand made pasta place just below my mother-in-laws house in Bari. After a quick chat with the owner we decided that she would do the heavy lifting and prepare a artichoke lasagna that I'd just have to pop into the oven. First course crossed off the list.
At the market I picked up fave, asparagus and the makings for a crunchy spring salad.
I was so relaxed at this point, that I didn't really even take any photos along the way with my camera. I did mange a few of the meatloaf , egg dying and asparagus trimming with my iPhone, and luckily Gillian took some great shots of the finished asparagus which appear above and below. (thank you Gillian!)
For the meatloaf recipe go straight here. And I'll be writing about the salad (if Gillian took photos of it that is) next week. In the meantime I'll share the asparagus recipe, which may be my new favorite way to eat them.
Thank goodness the asparagus recipe is easy, because we've had it already two times this week. Yes, Easter weekend is over and the busyness continues.
Speaking of which:
Please buy my new book here (grazie) and if you like it, it would be fantastic if you could leave a review on Amazon.Thank you!
Also, if you haven't already done so, it would be great if you could vote for me for the Saveur Blog Award. Just go here (then sign in or register, sorry, but you have to do that) and please vote for me in the Culinary Travel Coverage category.  Thank you once again.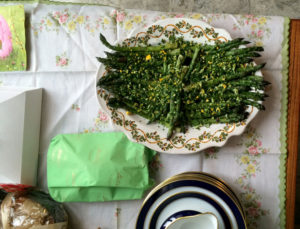 Print
asparagus + eggs
Yield 4
Ingredients
2 pounds/ 1 kilo asparagus
1 lemon (untreated)
1 medium bunch parsley
2 eggs
extra virgin olive oil
sea salt
pepper
Instructions
Trim and wash the asparagus, so that you eliminate the tough white end of the stalk.
Bring a large pot of salted water to boil. Add the asparagus carefully, so that they don't break. Boil for 6 to 7 minutes, until cooked but still firm. Drain and plunge into cold water to stop cooking.
Lay them on a towel so that they dry completely.
In the meantime boil your eggs. Place the room temperature eggs in a pot and cover with water so that it comes up an inch over the top of the eggs. Bring slowly to a boil .Once the water boils, turn off heat, cover and let sit for 12 minutes. Immediately place the eggs into cold water to stop cooking. Peal and set aside.
Using a potato peeler peel off the zest from the lemon, being careful not to get any of the white, bitter pith.
Wash and remove the parsley leaves from the stems.
Place the zest on a chopping board, together with the parsley, 1/2 tsp of salt and some freshly ground pepper. Using a knife, chop everything together until finally chopped. Add the eggs to the parsley mixture, chopping them into the mix.
Lay the asparagus on the prettiest platter you have. Drizzle with your best olive oil, squeeze the juice of the lemon on top and then sprinkle the chopped eggs and parsley. Finish with a bit more salt and pepper.