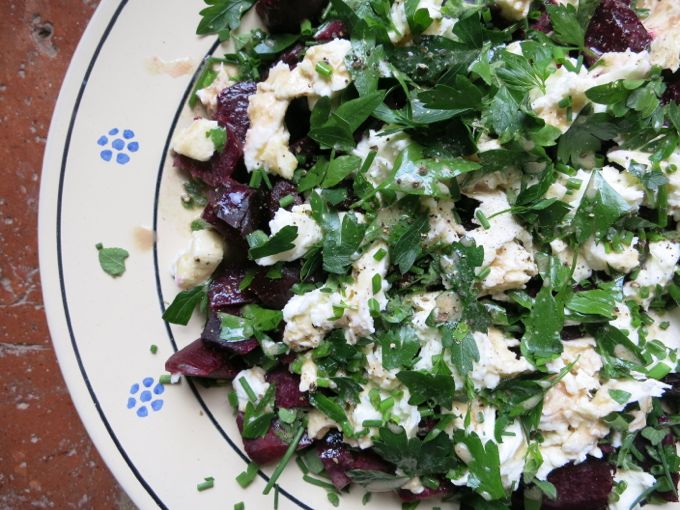 I've been so happy  to find smallish beets at the farmers market lately. I've written about my beet love in the past, and explained  that it's hard to find small tender beets here in Rome, since farmers tend to let things get out of hand. The result? Huge beets that are not only tough and fiberous, but as tasteless a hunk of wood. So when I see small beets, I buy them up quickly. Then  I usually cook them up on Sunday so that I can enjoy them during the week, every which way. Of course, by every which way, what I mostly mean is some kind of salad in which cheese gets scattered on top.
Yes. Beet salad is my way of pretending that cheese is ok as a main course as long as it is part of a 'salad.'
This past weekend I brought my Rome-bought beets up to Todi. I had half a mind that I was going to make pretty pink, beet tinted gnudi. But then lunch time came around and I realized that I had totally forgotten to buy ricotta. So there was no gnudi in our future.
Instead, I had a gorgeous half globe of mozzarella di buffala that I had bought on the way up. Since we'd eaten the other half the night before, for dinner, I'd wrapped up the remaining bit and left it on a plate.
When it comes to cheesy beet salad I usually stick to some kind of goat cheese. The tang and crumbliness of goat cheese pairs perfectly with the sweet taste and silky texture of beets. But what if I tried something with the leftover mozzarella? Instead of just hacking off chunks of the delicious cheese, and stuffing them directly into our mouths (which is what we're wont to do) I'd create an elegant, beautiful and (I hoped) delicious salad.
The beets got roasted, peeled and quartered. The next part was gathering herbs. Chives and parsley were easy, since they were springing back to life in our vegetable garden. Mint was more of a challenge, since I was looking for wild mint. Usually pretty easy to find growing like the weed it is, this time of year it's hard to spot. There are so many wild flowers and other grasses growing, that the the mint – while there – is so low growing that it's like playing hide and seek. So I just started wandering around, and soon enough I smelled it: mentuccia. The little fuzzy leaves give off an almost immediate blast of mintiness the moment they are disturbed. I stopped my stomping, looked down and pushed aside the daisies and dandelions until I found a sweet little bunch.
The dressing is where I got a bit inventive. Correct me if I'm wrong, but when you have mozzarella for lunch, at the end of the meal, isn't everyone always fighting over those mozzarella juices that have pooled at the bottom of the plate? Especially if you've drizzled the entire globe with olive oil?
That white milky substance that tastes so good is actually whey. And since I already had a few tablespoons pooled on the plate beneath the leftover mozzarella, I decided to use it as part of the dressing.
To get every last drip of whey, I shredded the mozzarella with my hands, tearing it into bits and placing them in a colander above a bowl. The milky white liquid was thin, but tangy, salty and rich with fat.
I just poured it into a small jar and added extra virgin olive oil, a drizzle of really good balsamic and some apple cider vinegar to add more tang. Salt and pepper too, and a few really hard shakes emulsified the mixture.
By the end of the meal, the dressing had merged with the beets and formed a brilliant pink mixture at the bottom of the platter. I meant to photograph it. I really did. But everyone's bread sopping left not one drop.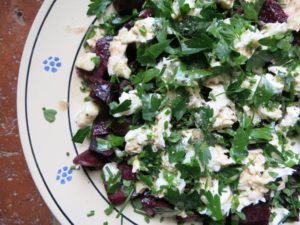 Print
Beet and Mozzarella Salad
Yield 4
Ingredients
1 pound / 1/2 kilo of small beets
250 grams / 1/2 pound mozzarella di buffala
1/4 cup whey
4 tablespoons extra virgin olive oil
2 tsp good quality balsamic vinegar
1 tablespoon apple cider vinegar
1/2 tsp salt
pepper
Chopped fresh herbs: chives, parsley and mint.
Instructions
Preheat the oven to 380F/ 180 C .
Shred the mozzarella and place in a colander over a bowl. Let sit for about an hour, and if you've bought good quality mozzarella, you should have at least a few tablespoons of whey in your bowl. If not, don't worry too much. You can substitute yoghurt or even buttermilk.
Wash the beets and toss them with a bit of olive oil. Wrap them in tin foil (if they are small, about 3 to a package) and place them in the preheated oven. If small, they should take about 1 hour to cook.
Take out of oven, and when they are cool enough to handle slip the skins off. Cut into quarters and lay on a platter.
Scatter the mozzarella over the top, and then the herbs.
To make dressing: Pour the whey, olive oil, balsamic, vinegar and salt and pepper in a small jar. Shake to combine.
Pour dressing over the salad, and add a bit more freshly ground pepper and sea salt.
Notes
While very pretty and delicious served right away, this salad actually improved overnight. The mozzarella turned bright pink, which was kind of cool, and the beets improved in flavor from having marinated in the dressing.