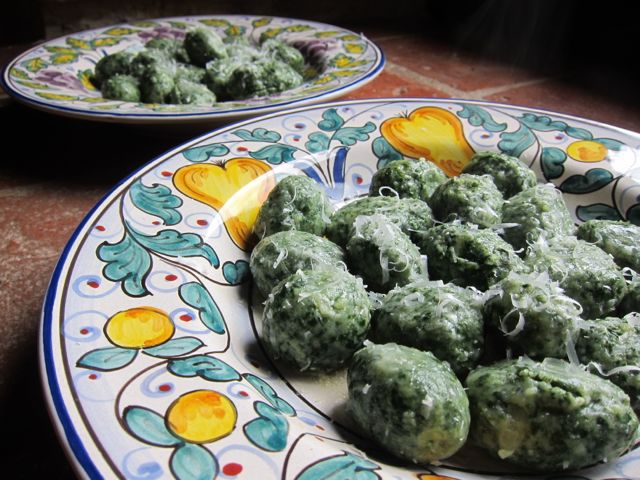 One thing I've learned about myself over the years is that I always buy too much food. This is especially true for the weekends we head up to our house in Umbria. I end up loading the car with food here in Rome, then stopping in Orte at the mozzarella store, and then again at the supermarket in Castel del'Aquila. All of this, plus the fact I have a full pantry and vegetable garden waiting for me in Todi means that come Sunday I'm toting back as much food – or more – as I arrived with.

But I've learned. Lately I have put myself on a very strict regimen: bring nothing from Rome and only buy what is absolutely essential (milk, bread, mozzarella) on the way up.

Then, once in Umbria, I forage. I make do.

This weekend I was pretty proud of myself. I managed to pick about a kilo of wild asparagus, enough to make a yummy pasta for Saturday lunch. (the pasta part was foraged from my pantry)

Then, on Sunday, I went out and foraged in my vegetable garden. While I'd normally say I harvested something from the garden, this time of year it's definitely more forage than harvest. April is always rainy, and by the beginning of May we have an orto gone wild. And while I wish it was going wild with edible things we had planted intentionally, it's mostly full of weeds and grasses.

It's actually kind of gorgeous anyway. Bright red poppies and cheery dandelions make me forget for a minute how much work it will be to clear things up for the summer planting.

But hidden within the jungle are also the last vestiges of our winter garden. A few scattered heads of radicchio, a handful of chicory plants on the verge of going to seed, and – my favorite – bietola a costa.

This is my favorite kind of Swiss chard because it's actually two veggies in one (at least that's how I like to think of it). The leaves are thicker and meatier – less spinach like – than regular Swiss chard. And I'm not sure if it's because it's had a chance to winter over, but the taste is much more intense and sweet.

The other part of the equation are the thick, white stems. Crunchy and sturdy, I can't really find an equivalent vegetable to compare them to.

So on Sunday I hacked my way through the poppies and uncovered three lovely chard plants. Back in the kitchen I stripped the greens from the stalks, and had two large piles of each. Since the stalks are sturdier, I decided they would survive a trip in the car back to Rome. (yes, I still end up carting food back and forth.)

And even though I had held myself back at Orte (I didn't over buy, really I didn't) I realized that as always, they owners had snuck a complimentary sheep's milk ricotta into my bag.

That, the greens and flour foraged from my pantry turned into lunch: tiny emerald-colored gnudi.

You can think of gnudi as either ravioli filling without the ravioli (and gnudi does mean naked) or as a potato-less version of gnocchi. You can play around with the ingredients (my friend Evan makes amazingly beautiful pink ones using beets) and if you don't quite get the proportions right they are very forgiving.

Although they look kind of fussy, once you get going they shape up pretty quickly.

I bet you're wondering what I did with the stems, right? Well, sorry. That's tonight's dinner.

Stay tuned.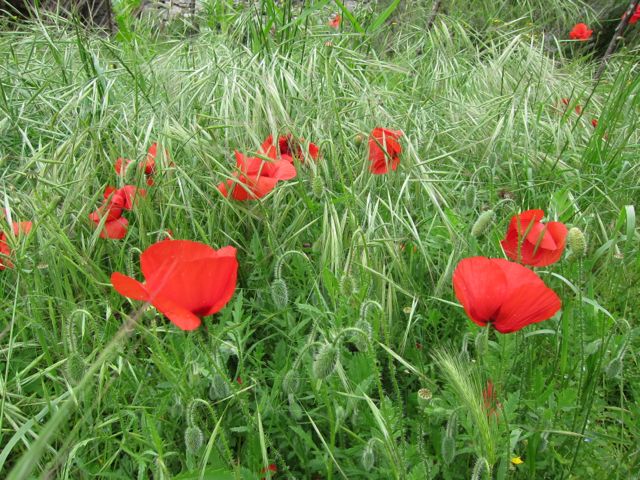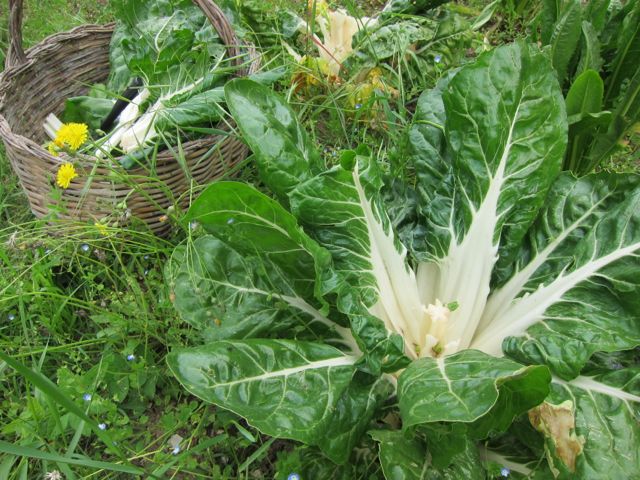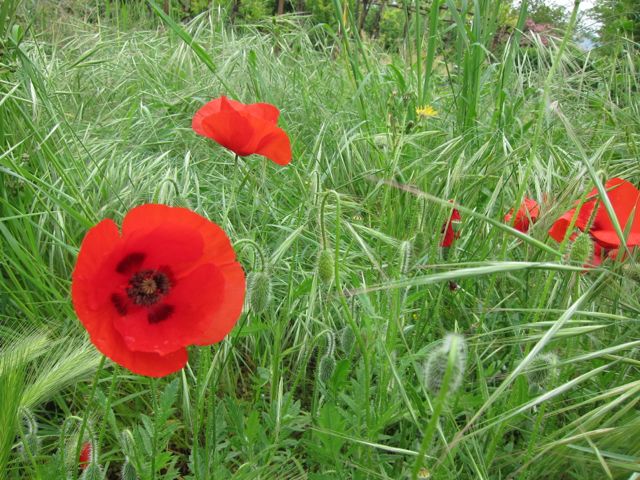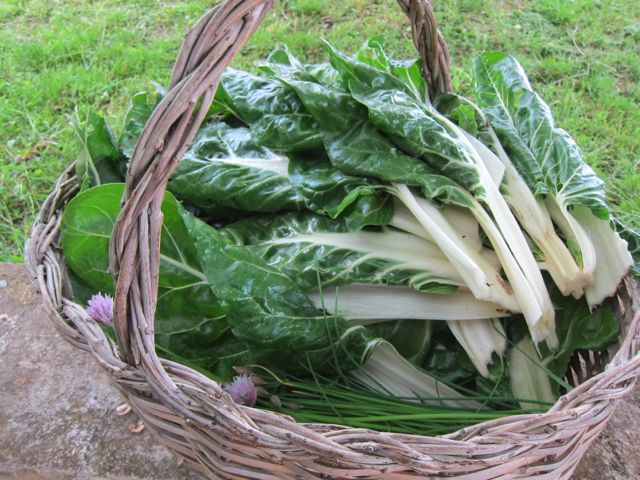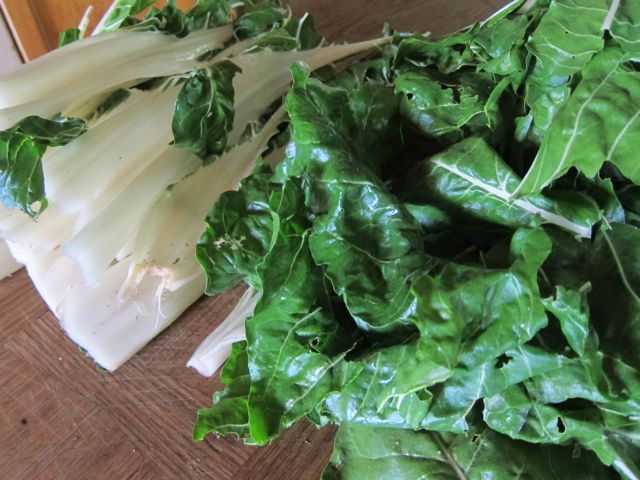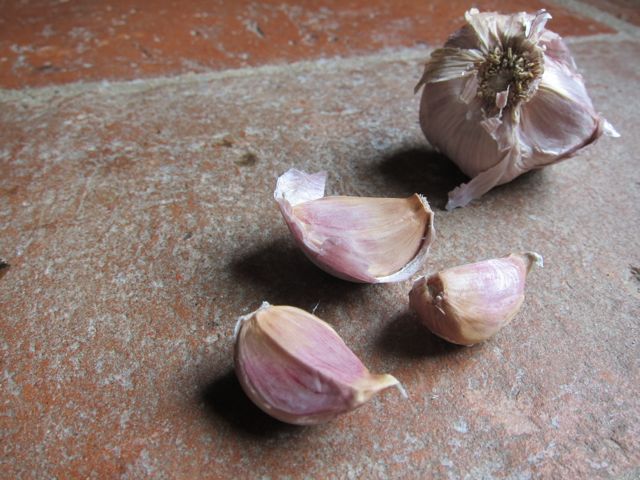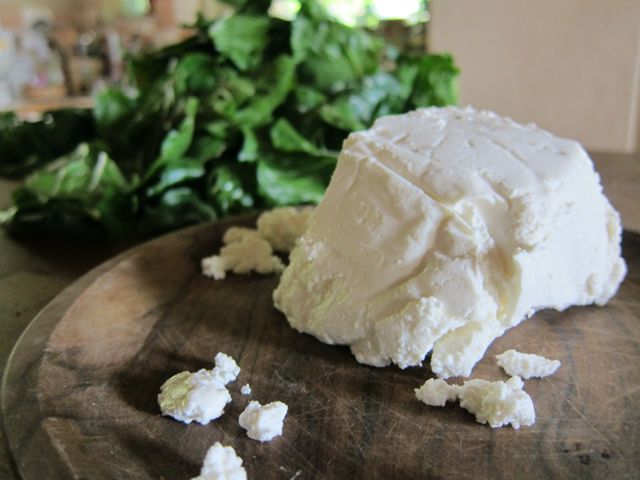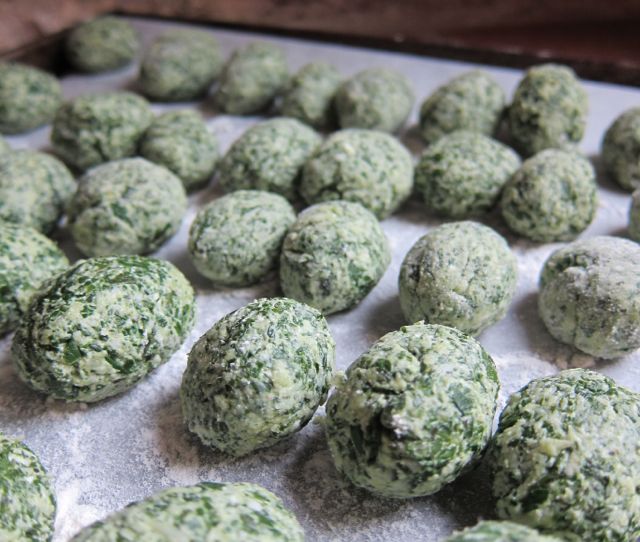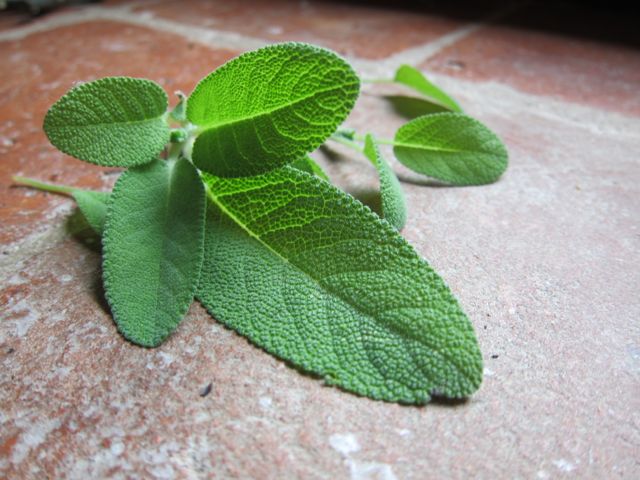 Swiss Chard Gnudi
(serves 4)


2 cups cooked Swiss Chard
3 cloves garlic, unpeeled
1 1/2 cups fresh, drained, ricotta
1/2 cup grated parmesan cheese
1 cup flour
1 tsp salt
pepper

6 tablespoons butter
8 fresh sage leaves

This is the kind of recipe you really want to use fresh vegetables for. Although I realize that frozen spinach can be a godsend, try to up the ante here. And do feel free to experiment with other kinds of veggies. I mentioned beets above, but you can also use zucchini or other greens. The important thing to remember is that once you have cooked them, you want to let them drain as much as possible to let the water out. If you're using greens, grab them and really squeeze the moisture out.

Ditto for the ricotta. This should be drained of as much liquid as possible.
Cook the Swiss Chard: Rinse and wilt the Swiss Chard in barely enough water to cover the bottom of the pan. Place the unpeeled garlic cloves on top of the greens, so that they steam as well. When the vegetables are cooked, drain them and pick out the garlic cloves and peel them.

Place the Swiss Chard, peeled garlic and ricotta in a food processor. Chop until smooth.

Put into a bowl and add the parmesan cheese, salt and pepper. Stir to mix well. Start adding the flour, a quarter cup at a time, mixing well. You may not need it all. It depends on how wet your veggies and ricotta are. The aim is to use as little flour as necessary to hold things together.

With floured hands gently form small oval shaped gnudi. Each one should use about a teaspoon of the mix. Place aside on floured cookie sheet.

Bring large pot of salted water to a boil.

Melt butter in a small pan. Add sage and let sizzle for a minute. Turn off.

Cook the gnudi in the pan of salted water as you would gnocchi. You'll probably have to cook them in about three batches. Gently slip them into the boiling water, and then scoop them up and out with a slotted spoon as soon as they bob to the surface (about 3 to 4 minutes).

Place them in a heated dish while the others cook.

To serve place in individual dishes and spoon the sage butter over. Top with extra grated parmesan cheese.