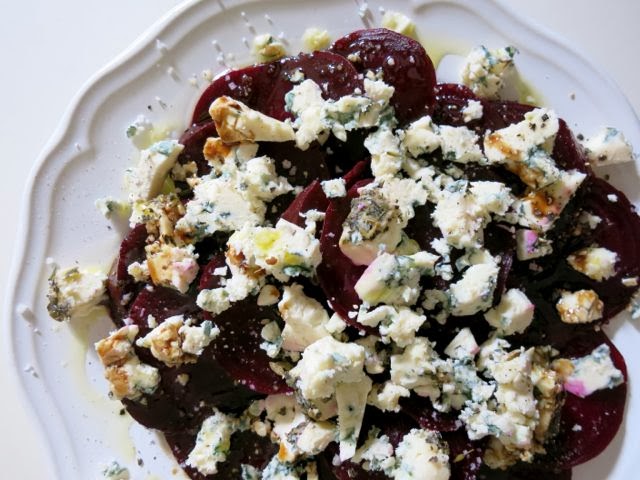 Sometimes the simplest recipes are the best. When I have top notch ingredients, I usually want to do as little to them as possible, gobbling them up with barely any cooking.
My daily lunch last week is the perfect example. It was beyond simple, and inspired by some baby beets I got at the Farmer's Market. I love beets, but the problem is that here in Italy they usually let them grow to be too big. I like my beets small, about golf ball sized. Not the swollen baseballs that usually show up. So when I saw a bunch of pint sized beets, I grabbed them up right away.
Once I got them home, I wrapped each one in tin foil and roasted them in the oven for about an hour. That way, I had beets, ready to go, for lunch the entire week.
I also bought an outrageously expensive piece of blue cheese at the market. There is one shepherd who brings his sheep milk cheeses to the market. His best cheese is Conciato di San Vittorio, a pastured sheep's milk cheese that is encrusted with about 20 wild herbs and spices. Lately he's been experimenting with making this into a blue cheese. Mission accomplished! It's the most incredible, crumbly rich cheese you can imagine. The herbs infuse it with scents of fennel, marjoram, and other wild grasses. I could only afford a tiny slice, but it was perfect crumbled atop my baby beets.
With such special ingredients I also had to make sure my olive oil was the best. And luckily I'd just received a bottle of Poggio Lamentano organic olive oil. My friend Ari, from Zingermans' put me in touch with the owner, who kindly sent me this bottle. Although we make our own olive oil, which I love, I'm always happy to taste oil from others, especially when it comes so highly recommended. I've learned to trust Ari's judgement over the years, and have learned much about quality and specifically olive oil from him. So when he says to eat something, I do it. And for all of you who are always asking me about what olive oil to use, I can definitely recommend not only this olive oil, but any of the ones available at Zingermans
The last touch on my salad was a quick swirl of balsamic and that was lunch. Easy, simple and beyond delicious. As long a you pay attention to your ingredients, that is.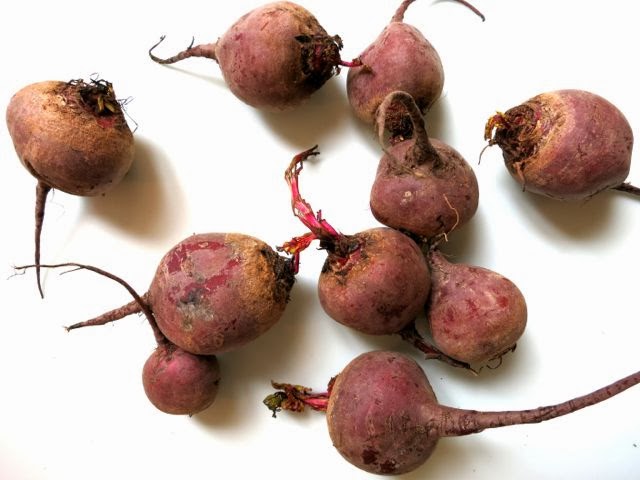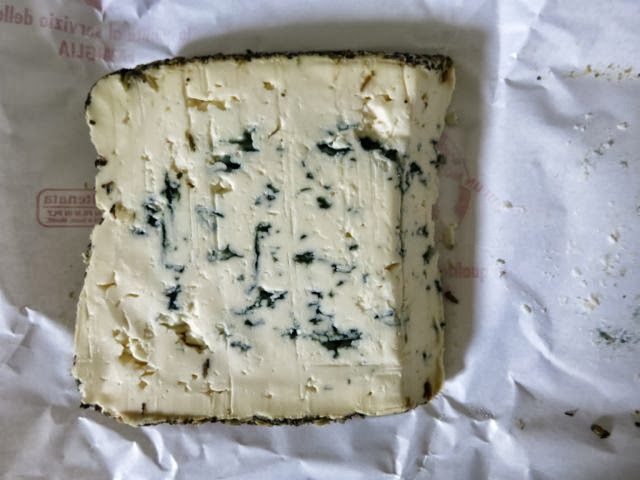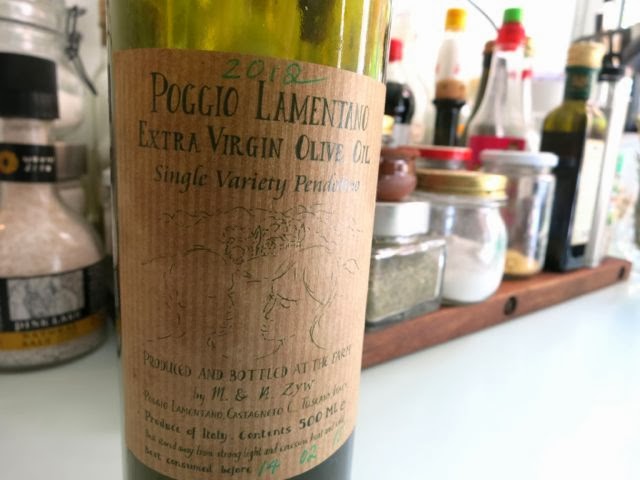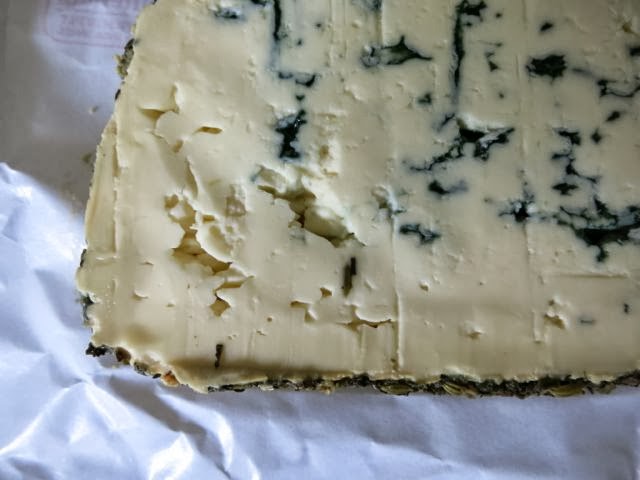 beet salad + blue cheese
Serves 4
8 medium sized beets
1 cup crumbled sheeps milk blue cheese*
extra virgin olive oil
good quality balsamic vinegar
sea salt
*The cheese I used was encrusted with wild herbs, which I left on the crust. It really did add another dimension to the salad, so you might want to sprinkle a bit of fennel or marjoram on top as well.
Preheat oven to 350F/180C
Wash the beets and wrap each one in tin foil. Place on an oven tray and roast for about an hour.
Take the beets out and when they have cooled enough to handle, gently slip the skins off.
To assemble the salad:
Thinly slice the beets and lay them on a platter.
Drizzle with olive oil and balsamic, and season with salt.
Crumble the cheese and sprinkle on top.
Enjoy!