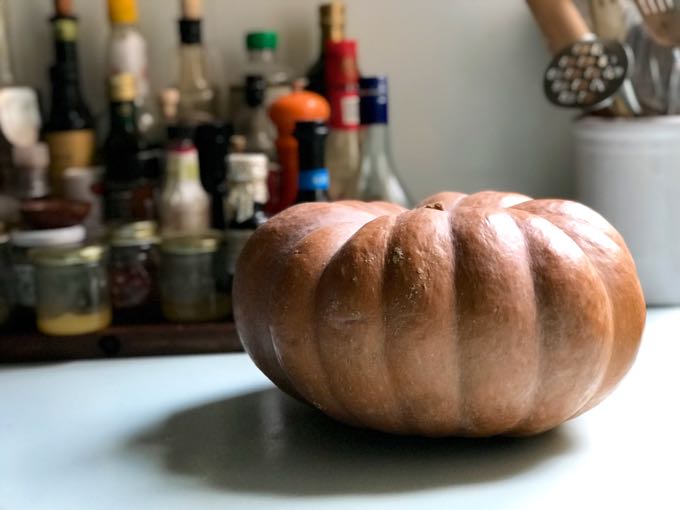 Sophie and I are hosing a Week in Rome tour this week and as always, we begin with a welcome diner in our ground floor space Monti Kitchen. For this dinner I decided that one way or another I was going to make a dent in all those pumpkins I bought as center pieces a few weeks back for our Week in Umbria tour. They are very pretty, and it seemed almost a crime to eat them, but it seemed equally criminal not to.
I don't make lasagna often, but somehow both Sophie and I were craving it. The temperatures had dropped, so it seemed a warm and cozy kind of thing to serve to our guests their first night in Rome.
Menu
Antipasto: Since this lasagna is kind of a lot of work, I decided to keep the rest of the meal easy. Antipasto was a variety of preserved vegetables from the Farmer's Market, plus ricotta, mozzarella and prosciutto.
Primo: I got a LOT of requests for this recipe from my stories on Instagram. Most of the comments were about the way I used the salami. The salami I used was a Coglioni di Mulo, which translates as Mule's Balls. But that's not what people were commenting on. The way I used this piece of cured pork was to put it in the food processor and completely grind it up until it looked like ground meat. I then used this to form the basis of the pumpkin filling. It's something I do all the time, especially when I have bits and pieces of salami left over in the fridge. It makes an extremely powerful and flavorful base to almost any vegetable dish, and is usually what I use when making soups or anything else where I might resort to using a bouillon cube.
Contorno: A big green salad from our garden in Umbria.
Dolce: This was extremely easy, since I made Domenico deal with most of the heavy lifting. He peeled and sliced a few pounds of quince for me, which I poached and put over gelato from Gracchi.
Setting the Table
I set the table in Monti Kitchen where I like to keep things simple. Plain white plates (which I got at Limentani) and a grey washable linen tablecloth from Zara Home. Flatware is Ikea and the glasses were freebies I got from Eataly by spending enough money a year ago. The pitchers are from Sbigoli in Florence. I wanted to keep everything clean and bright, to better highlight some of the new Ginori Mondovi platters (that's one of them with the flowers) that I've become obsessed with. Yes, I'm pouring over Ebay each morning searching for them.
The centerpiece is a few kilos of the first clementines to show up. Candles and candle holders all from Ikea. And those lovely paintings of Rome in the background are by the talented Kelly Medford.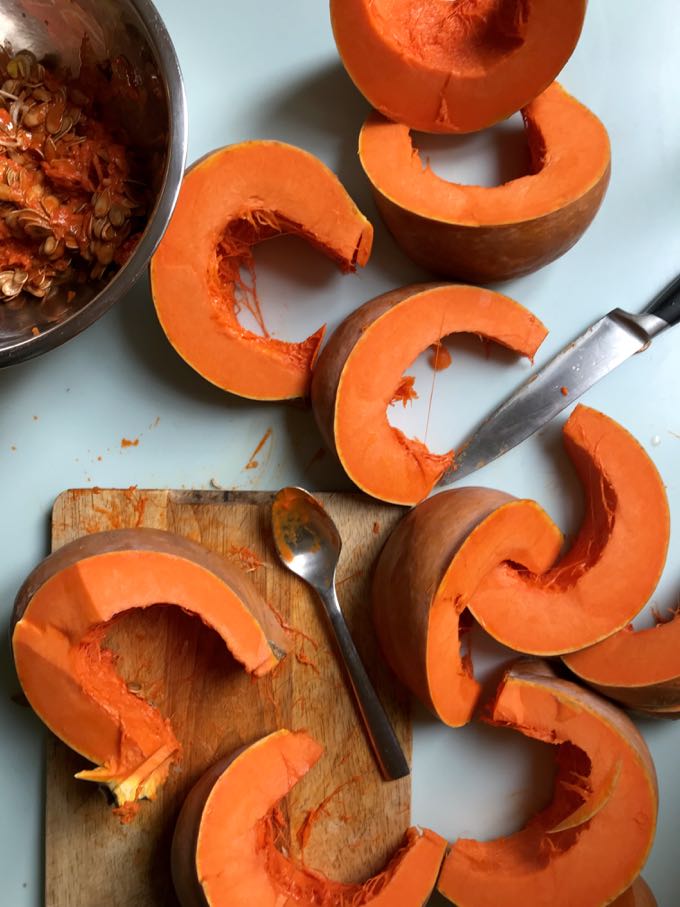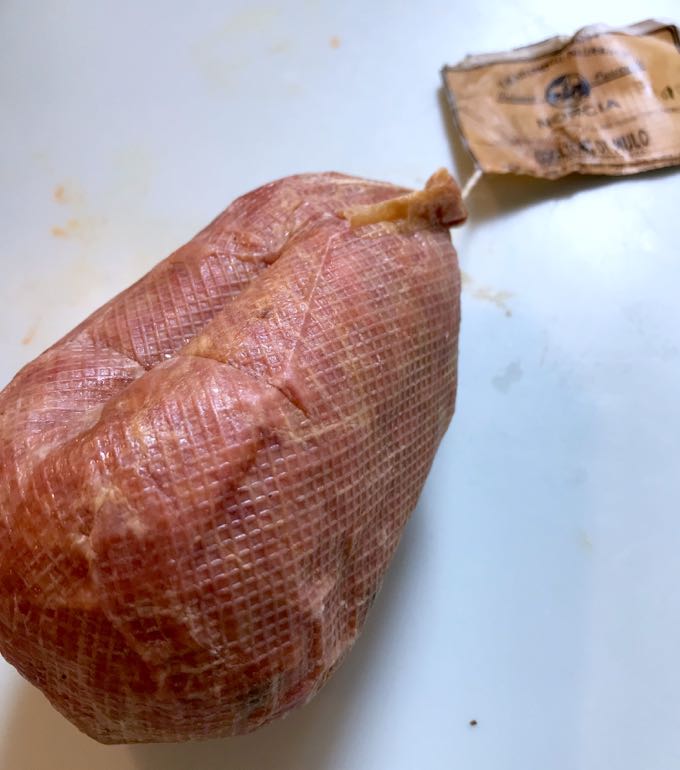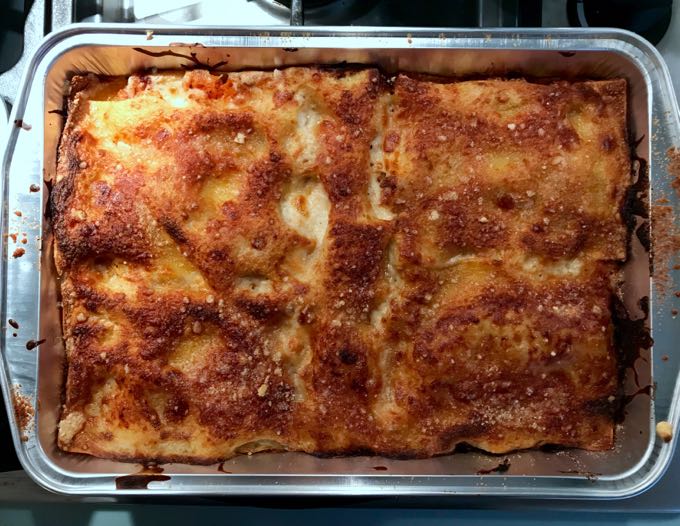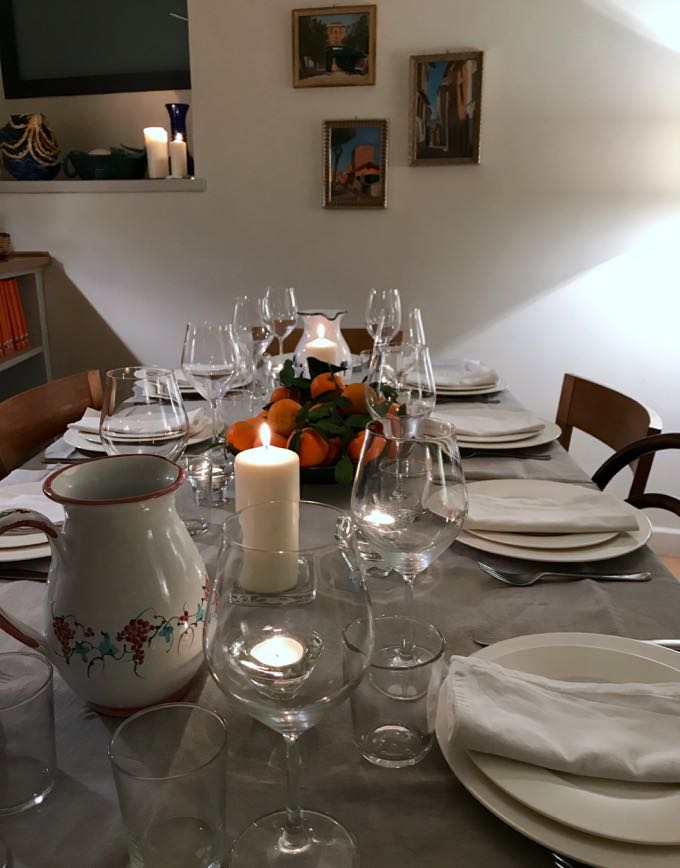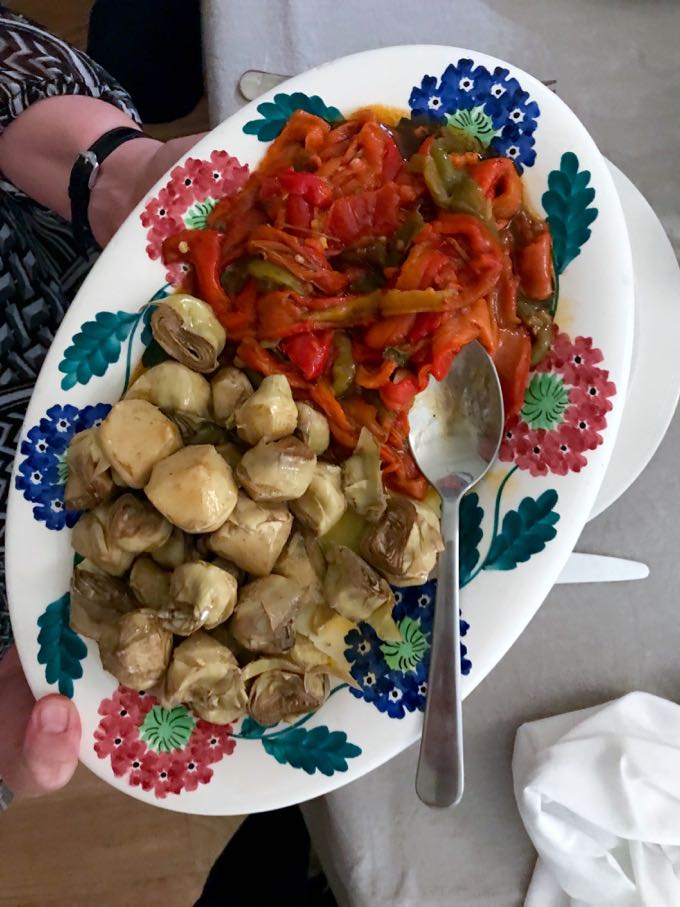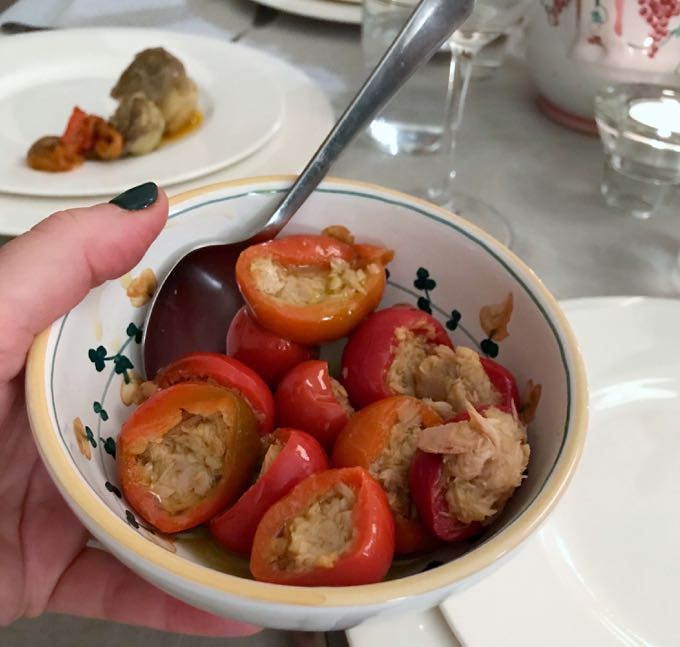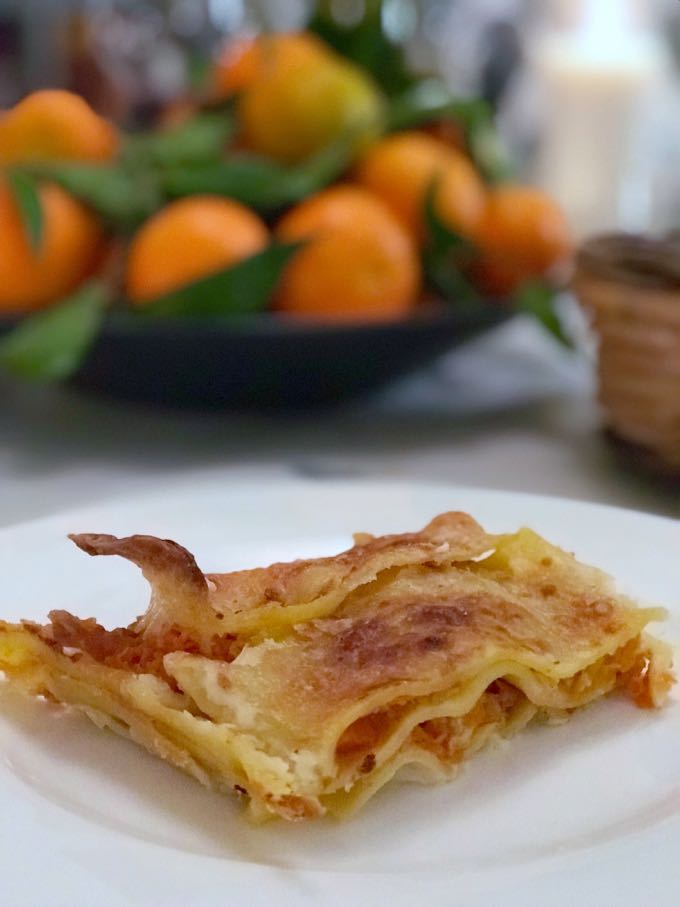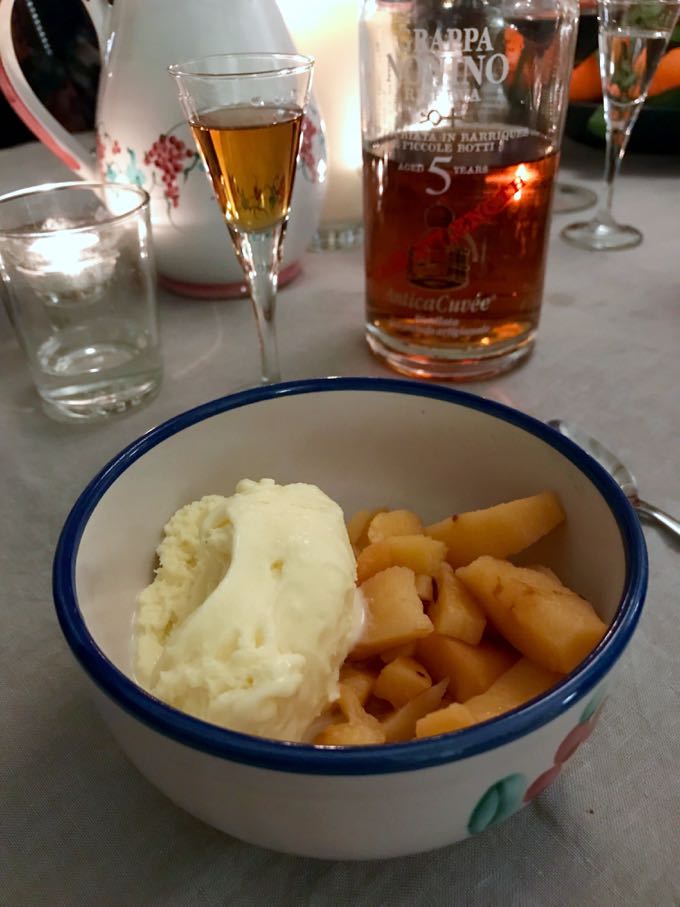 Print
pumpkin lasagna
For this recipe I used a zucca mantovana, which is the most common one you see in the markets in Italy. It's huge and usually you would buy just a slice. I ended up with an entire one, since it was so pretty! An alternative is butternut, but it will be a bit sweeter I think, so you may have to adjust with salt.
Ingredients
400 grams lasagna noodles
1 big leek, chopped finely
300 grams salami
2 pounds of cubed pumpkin
salt, pepper
2 cups grated parmigiano reggiano
For the bechamel
50 grams butter
50 grams flour
1/2 liter (2 cups) whole milk, heated
nutmeg
Instructions
First make the bechamel: melt the butter in a pan and then add the flour. Stir and let it cook for about 3 minutes, but don't let it brown. Slowly add the milk, stirring, until it is all mixed in. Continue stirring until it is thickened, and add salt, pepper and a bit of nutmeg to taste. Set aside.
Cut the salami into cubes and put it into a food processor to grind. It should end up looking like ground meat. Put in a large sautee pan and cook over medium heat, until the fat has come out. Add the leeks and a bit of salt, and let cook until the leeks soften, about 8 minutes. Add the pumpkin and stir. Add about a cup of water, stir and let simmer until the pumpkin is tender and beginning to fall apart. It should be a mixture of lumps of pumpkin and puree.
Bring a large pot of salted water to boil and cook the lasagna noodles for 3 to 4 minutes, then drain and set aside on a damp dish cloth.
To assemble:
Use a pan measuring 13 x 9 inches.
Ladle some bechamel onto the bottom of the pan, using the back of the spoon to coat the bottom. You don't need a lot, but just enough to cover it in a thin layer.
Next lay the noodles in one layer, without overlapping. You may have to cut some in half to make them fit.
Next spoon half of the pumpkin mixture over the noodles, smoothing it with your fingers or a spoon.
Drizzle some more bechamel and then sprinkle on parmigiano liberally.
Now put another layer of noodles, then the rest of the pumpkin, then bechamel, then cheese.
Finally put a final layer of noodles, the rest of the bechamel and cover completely with cheese
When ready to cook preheat oven to 180C/ 350F and bake for about 40 minutes, until the top is golden.