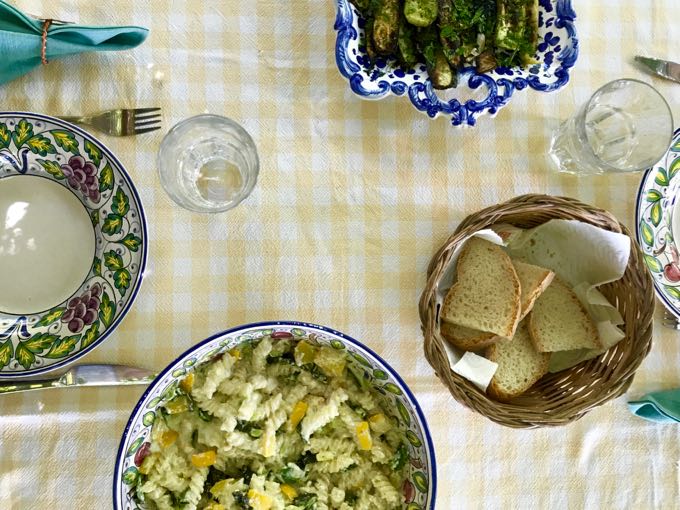 For the last month it seems like all I've been doing is traveling. And in fact, I just looked at the calendar and I've been on the road 25 out of the last 30 days.
Want to know what I've been doing when I'm not traveling? Eating zucchini.
We planted so many zucchini that it's been hard to keep up with the abundance. Luckily they keep pretty well in the fridge, and so the first thing I do when I get home is start chopping.
I'm actually between trips this weekend , up at our house in Todi. I got back from Sardegna on Wednesday and am headed up to Venice and Torino on Monday morning. So this weekend it was a zucchini fest.
Here are two dishes I made that should serve you well this summer.The first is actually with yellow squash (yellow zucchini I call it) and takes advantage of the extremely sweet, milder taste of that variety. I paired it with sheep's milk ricotta and not much else. You might want to make it more complex, so feel free to add grated pecorino and/or a bit of hot pepper. Me? I really love the mild (bland?) taste of this dish, which I find extremely comforting. As with any pasta dish this simple, the quality of the pasta itself is key. In this case I opened one of the packs of Gentile pasta I brought home with me from Gragnano. The minute the pasta hit the boiling water the kitchen was filled with the rich, warm smell of grain, something you don't ever get from industrially made pasta.
(This is actually a version of a pasta dish I make all the time, in infinite variations, where the zucchini gets cooked in the same water as the pasta. )
The second recipe is a side dish, or salad. I served it room temperature and it couldn't be easier. Prepare it in the morning, and then it's ready for lunch or dinner later on when it's too hot to cook.
You'll see both recipes use my new favorite ingredient: garlic oil. I've been using this in and on almost everything lately. It's super easy: just whizz some cloves of garlic in the blender with a cup of extra virgin olive oil. Since it's completely pureed and emulsified, this means the garlic doesn't burn if you cook with it (the zucchini side dish above) and if you're adding it raw (the pasta dish above) no one is biting into chunks of garlic.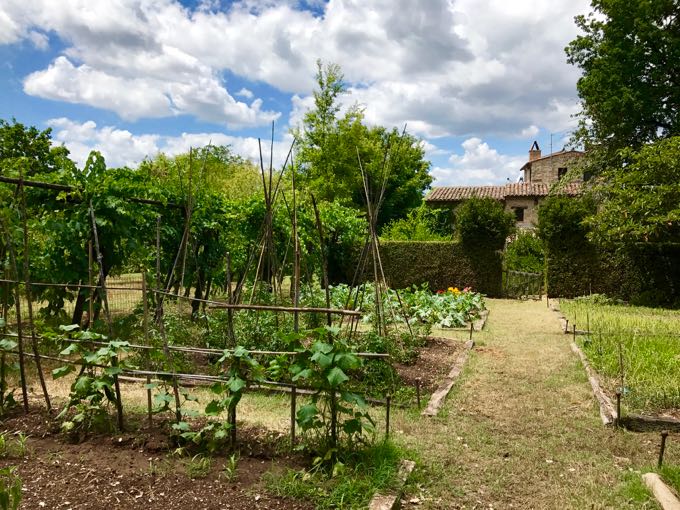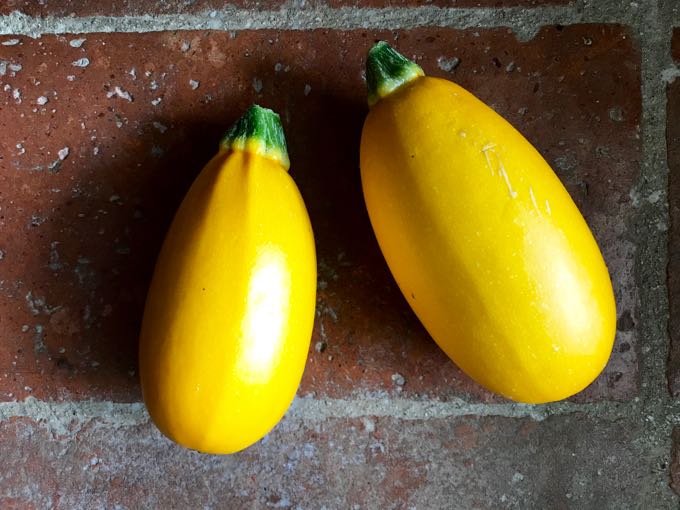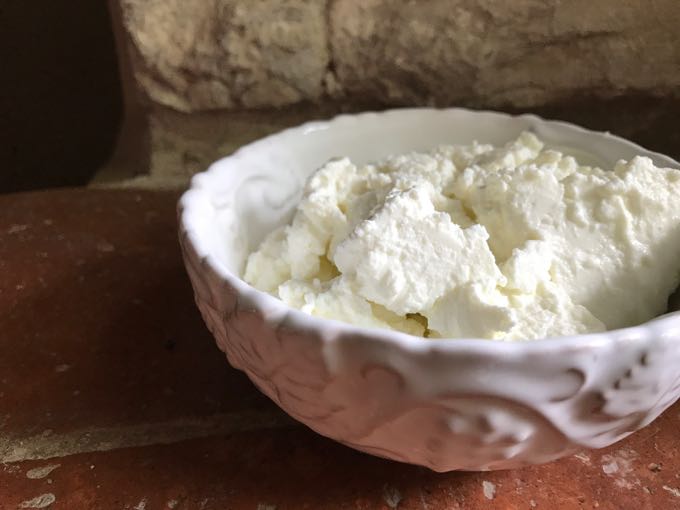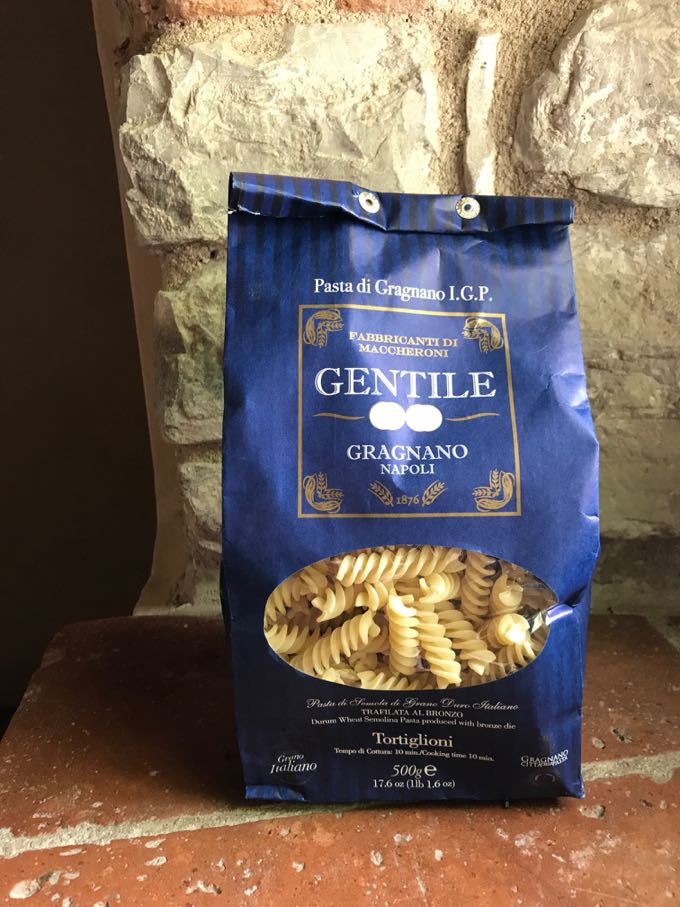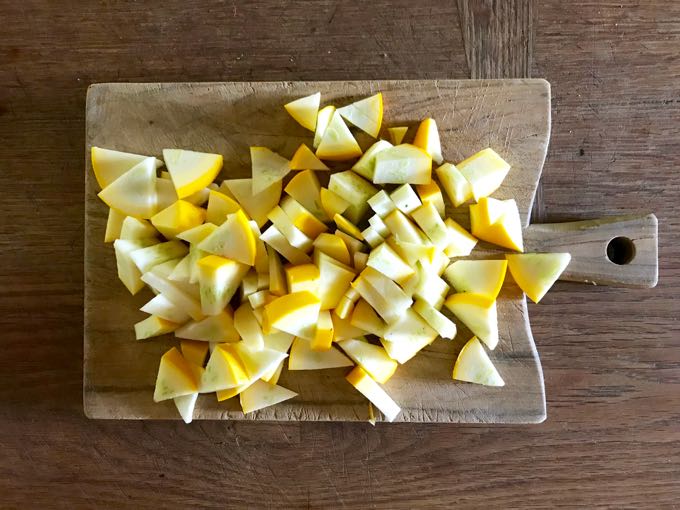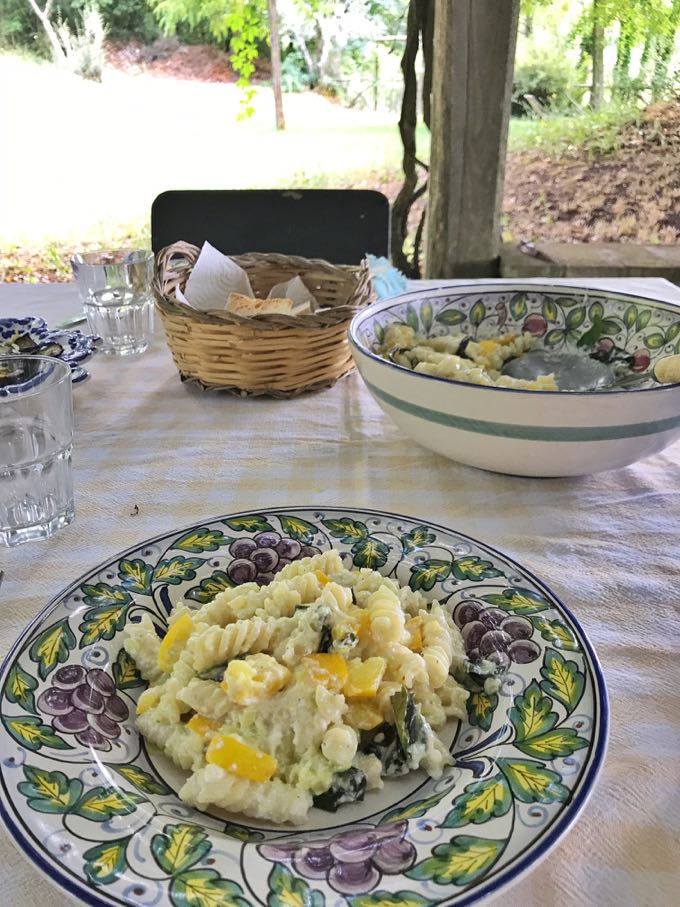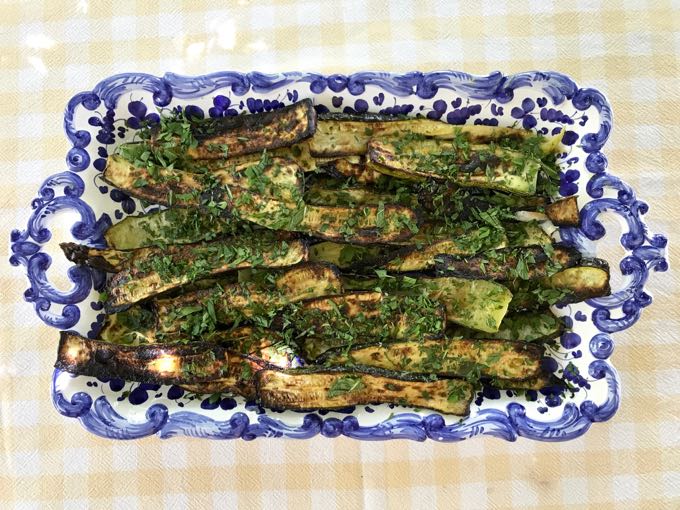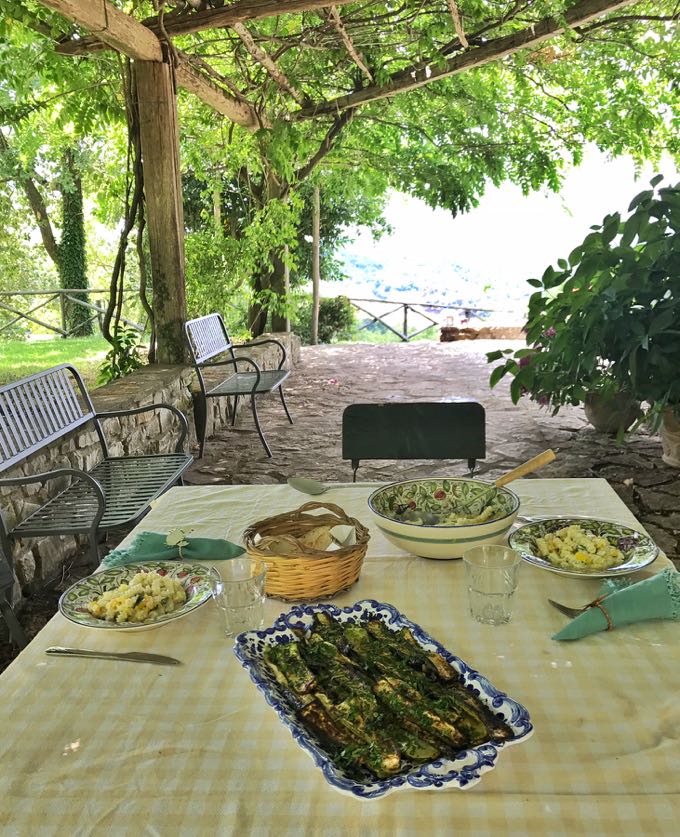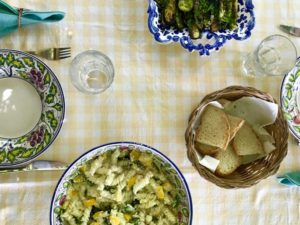 Print
pasta with yellow squash and ricotta
Yield 4
I love this recipe with yellow squash, which has a really mild taste, but if you want to you can use regular green zucchii.
Ingredients
2 medium sized yellow squash (zucchini)
400 grams short pasta (penne or fusilli)
1 cup ricotta
2 cloves garlic, peeled
1/4 cup olive oil
Black pepper
1 bunch fresh basil
Instructions
Bring a large pot of salted water to boil.
Using a blender or immersible blender mix the olive oil and garlic until the garlic is completely emulsified into the oil. Set aside.
Wash and chop the yellow squash. I like cutting it lengthwise, in four, and then slicing it into 1/4 inch little wedges.
Place the ricotta in a serving bowl big enough to hold the finished pasta. Pour in the olive oil/garlic mixture, and stir well, along with some freshly ground black pepper. Use a fork to make it very smooth.
Add the pasta to the boiling water. After 5 minutes, add the squash. When done, drain, reserving 1 cup of the pasta cooking water.
Add at least half a cup of the water to the ricotta mixture, mixing well. If it seems very dry, you can add more. It all depends on how wet your ricotta is.
Add the drained pasta to the ricotta, and stir, adding the basil.
Serve as is or, if you think it's too 'plain' (I don't!) you can served grated pecorino sardo (I'm obsessed with this after our recent trip) to add at the table.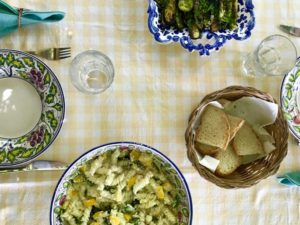 Print
broiled zucchini salad
Yield 4
I really didn't know what to call this recipe. Everything I wrote sounded really boring. And this dish is anything but. Makes a great side dish to any kind of meal.
Ingredients
4 medium zucchini
4 cloves garlic
1/2 cup extra virgin olive oil
ground red pepper
salt
white wine vinegar
1/4 cup chopped parsley
1/4 cup chopped fresh mint
Instructions
Using a blender or immersible blender mix the olive oil and garlic until the garlic is completely emulsified into the oil. Set aside.
Preheat oven to 250c/450f
Cut the zucchini into 1/4 inch slices, lengthwise.
Cover two baking sheets with parchment.
Lay the zucchini in one layer. Using a pastry brush, coat each slice liberally with garlic oil. Sprinkle with salt and a bit of red pepper (not too much)
Place in oven for 8 minutes.
Take out of oven, and put on your broiler. When hot, replace each of the trays, one at a time, just for a few minutes to slightly brown.
Place on a pretty plate, and top with chopped parsley and mint. Serve room temperature.
Take out of oven and while still warm, barely sprinkle with the vinegar. Really, just a bit. You can use your fingers to just splash a bit on.
Save
Save
Save