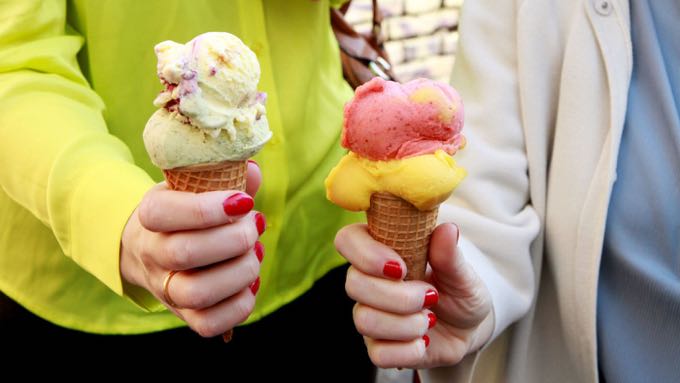 I get a lot of emails from various travel websites asking if I'd like to collaborate with them in some way. Big sites like Trip Advisor or Epicurious. And smaller sites that you've probably never heard of. Usually – big or small – the 'collaboration' is  in the form of me providing some sort of content for their website in exchange for 'coverage' or a small fee. I almost always say no, mostly because I'm way too busy providing content for my own website, apps and books.
But a few months ago I received a different kind of email. It was from a young woman in Germany who was producing content for the travel web site Kuoni. Rather than ask me to provide content, she had a much more interesting proposition: could they come to Rome and film me? They wanted to capture Rome through the eyes of a local (that would be me) for their series Local Soulmates on Elsewhere by Kuoni.
I came this close to saying no.
Then I had a look at the previous videos they had produced in other cities and was so completely charmed that my original misgivings turned into  a big yes.
They came. We filmed. And while I was petrified of how the film would turn out (Would I sound stupid? Would I look weird? Would the whole thing look impossibly corny and/or commercial?) I am soooooo happy with how the film turned out that I want to watch it again and again. We walked through my neighborhood of Monti and made it over to Testaccio. We ate food made with love by Alessio and Flavio. And along the way stopped by some of my favorite places drinking coffee, ordering negronis, eating gelato and looking at really old stuff. We hung out in my apartment and on my terrace and chatted about my book, apps and my general thoughts about living in this amazing, complicated beautiful city. They even gave Pico a a bit part.

While Rome – and the streets and people of Monti – play the starring role,  the entire credit for the success goes to the team behind the film.  Many huge thanks to Tanja and Carina, of Nectar & Pulse and Niclas and Paul , the guys behind the lens, of  the film production company We Make Them Wonder.
Thank you guys for not making me sound stupid. And many more thanks because I don't think I look that weird. But really? I kind of wish you could have at least made me look a bit taller. Isn't there a filter for that?
Tanja Roos and Carina Schichl are the extremely talented young women of Nectar & Pulse. Visit their web site to find a long list of great city guides they've produced with local soulmates.
Niclas Loeffler and Paul Jax are the creative geniuses behind the lens of We Make Them Wonder.
The film was produced for the Kuoni Switzerland website. where they also have the complete guide to my local view of Rome
The beautiful photographs in this post were taken by Carina Schichl.