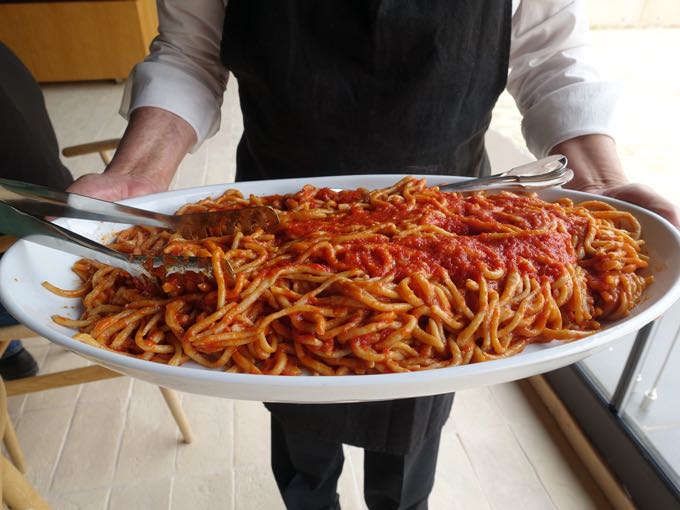 I get invited on a lot of day-long press trips around Italy. They usually involve visiting a hotel, food producer or wine maker. While they are all tempting, and I'd like to accept many of them, I usually end up saying no to most. First of all, a day out on a press trip means a day that I'm not writing or giving tours, so there's that. Also, since the people doing the inviting are usually paying my way, I only accept those trips where there is at least some possibility that I will end up writing something about the trip. In other words both of us (and you in the end) get something out of the time and effort committed.
Of course, it's very hard to know exactly what I'll end up writing about. For instance when I went down to Positano last summer, while I knew I would get some sort of story out of my 2 day stay, I had no idea that I would end up making a video about fettucine al limone.
One type of trip I almost always say no to are winery visits. If you're a reader of my blog, then you know I'm not a wine writer. While I love wine (duh!) I leave the writing about it to my friends who are some of the most respected wine writers around.
But a few weekends ago I changed my policy and said yes. Why? The main reason was that Domenico was invited too (that doesn't happen often) and he really wanted to go. Also? A few of my fellow blogger friends – Gillian, Georgette, and Eleonora – were coming too so it sounded like too much fun to pass up.
The only real problem was that since I'm not a wine writer, I wasn't quite sure what I was going to write about.
The winery we visited was Podernuovo a Palazzone. The estate was purchased in 2004 by Paolo and Giovanni Bulgari (yes, those Bulgaris) and brought back to life to create, today, a handful of  beautiful, elegant wines.
Today Giovanni runs the estate and was our host. While I've seen my fair share of wineries all over Europe over the years, I can't remember seeing one this pristine or beautifully designed. The building which houses the cellar and tasting rooms is a modern structure built into the hill, blending into the landscape. We had a tour of the building, seeing where the wine is made and aged, before heading out to the vineyard.
It was kind of like walking through a Tuscan postcard. Waterfalls, cypress trees, misty fields full of end-of-winter vines just getting ready to burst into bloom. And donkeys. There were some very cute donkeys, which makes any trip worthwhile, right?
The main event of the day was, of course, lunch. And once again, I found myself at one of those incredibly beautifully situated long tables.  The multi course lunch was prepared by Marisa, a local cook, and was 100% Tuscan. There was finely sliced pancetta (from the estates's own pigs), pici all'Aglione (made from the estate's own flour and canned tomatoes), one of the best pork roasts I've ever had, and much more. Almost every single bite was from food raised or grown on the estate and all paired perfectly with their three wines.
One of my aims in any blog post is giving you something to take away. You can certainly enjoy the wines,when you see them at your local merchant or restaurant. But I thought you'd also appreciate a recipe, right?
The meal ended with one of the best Torta della Nonnas I've ever had. This is a rustic cream-filled, pine nut-topped cake that you find all over central Italy. I do like it, but it's never been one of my favorites, mostly I think because the versions I've had are overly sweet and don't really taste nutty enough. Marisa's was extraordinary because she put her own spin on it: a layer of tart homemade apricot jam and extra toasted pine nuts. Not only did the tart jam temper the creamy sweetness of the filling, it also was just the right amount of fruttiness to make the toasted pine nuts sing.
So, here you are: a recipe for Torta della Nonna. And also? Tuscan landscape and donkey photos. Because you can never have too much of those.
Print
torta della nonna
Yield 8
Ingredients
Dough:
300 gr / 2 1/2 cups all purpose flour
150 gr 3/4 cup sugar
150 gr / 2/3 cup butter
2 eggs
pinch of salt
1 tsp baking powder
grated zest of one lemon
1 tsp vanilla extract
Crema pasticciera:
1/2 liter / 2 cups of milk
2 eggs
1 egg yolk
4 tablespoons sugar
2 tablespoons of flour
1 tsp of vanilla extract
1 tablespoon of grated lemon peel
1 jar home made apricot jam
3 tablespoons pine nuts
powdered sugar
Instructions
Pour the milk into a pan and bring to a simmer. Stir in the vanilla. Let the milk cool a bit.
In a small bowl mix the eggs with the egg yolk and the sugar. Using a hand held mixture, mix until it is a bit frothy. Slowly add about a third of the warm milk, very slowly, mixing to avoid curdling. Add the rest of the milk, and finally the lemon peel and the flour, mixing well to avoid lumps.
Place over medium heat, stirring the entire time with a wooden spoon, until it starts to thicken. It should be thick in about 3 or 4 minutes.
Let cool to room temperature.
To make the crust:
Place the flour in a bowl, with the baking powder and mix well, and make a well in the center.
Add the eggs, sugar, butter, zest and vanilla and mix those with your fingers. Slowly pull in the flour and mix it with your hands until uniform in consistency. Place in the refrigerator for 45 minutes to firm up.
Preheat oven to 180 C / 300 F.
Line a 10 inch pan with parchment.
Roll out half the dough into a circle and place in the bottom of the pan, letting the edges come up and over the sides of the pan. Spread a layer of jam on top, and then carefully spread the cooled crema pasticciera.
Roll out the rest of the dough and place on top and pinch with the bottom layer.
Sprinkle with the pine nuts and put in the oven for about 40 to 45 minutes. Let cool and sprinkle with powdered sugar before serving.