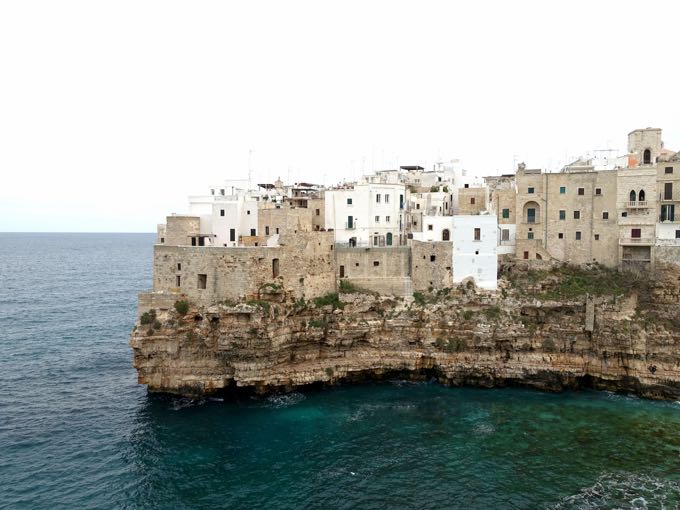 Most times, when we go down to Bari to visit Domenico's mother we pretty much stick to Bari. After a 4 and a half hour car ride down the last thing we feel like doing is getting in the car the next day to explore. But when we went down for Easter this year, we decided to be a bit more adventurous. My friends Jane and Gillian were coming too, and so it seemed like a perfect excuse for a road trip on Saturday.
Actually, road trip is kind of exagerating things a bit. We did get in the car, and we did hit the road, but we really only travelled about 25 minutes down the coast. Does that count?
Even though Polignano is very close to Bari, I'd never been there before. Stupid me. It's just about the most picture perfect town I can imagine. Honey-colored stone buildings alternate with white washed walls, all perched precariously on cliffs that jut into the aquamarine sea. Even though the day we visited was a bit gray and overcast, the drama was non-stop.
Besides just seeing the town, our main destination was, of course, lunch. This time around I let someone else do the research about where to go. Gillian remembered reading this blog post from our friend Georgette (thank you!) , and so we headed to Antiche Mura.
Antiche Mura is not one of the oft-photographed restaurants in Polignano that show terraces perched into niches dug into the cliffs above the sea. Located in the oldest part of town not only does Antiche Mura not have any views, it doesn't even have an windows. But that doesn't matter. The interiors, dug into the ancient stone and with a soaring vaulted stone ceiling, couldn't be more charming if it tried.
This being Puglia, and a seaside town, fish is the main thing here. And like most fish restaurants in this part of the world. you just say 'antipasti' and the plates start coming.
Although fish was the theme, the first plate to make its way to the table was a bowl of the richest, creamiest burrata. It was followed by paper cones filled with piping hot fried sardines' perfectly dressed wild arugula and octopus salad; breaded mussels; and my favorite patate, riso e cozze: a baked mixture of potatoes, rice and mussels that is a speciality in this part of the world yet oddly hard to find in restaurants.
And of course there was 'crudi': just opened sea urchins and a plate full of 'tagliatelle'. Not pasta, but thick ribbons of raw squid, tangled and dressed with lemon juice and olive oil.
After the over-abundant antipasti, we skipped the pasta  and went straight for the main course. Gillian and Jane's husband Scott ordered the speciality of the house: zuppa di pesce. The owner gave a warning as they ordered: it has big chunks of scorfano, so there would be bones. Also? Mussels and crayfish meant that they were definitely going to get their hands dirty. Gillian and Scott thought that made it sound all the better, and were very happy when the platter arrived, heaped with tomato-sauced fish and ringed by thick slices of toasted bread to sop up all the juices.
Instead, for the rest of us, I chose two beautiful spigole from the display out front. It's so rare to find big, fresh fish that haven't been farmed. We had them prepared 'alla olive' which is basically baked in the oven with olives and a bit of white wine. While the photos might look good, it tasted absolutely extraordinary. Firm flesh, perfectly cooked and so far from the farmed fish you see in Rome that I almost cried. Of course I grabbed one of heads for myself (no one else seemed interested) and dug out the tender, flaky cheeks. 
Dessert was sporca muss, a flaky cream-filled dessert served piping hot that left everyone happily dusted with a coating of powdered sugar.
One final walk through the town and along the dizzingly dramatic walls and we headed back to Bari, happy, full and vowing to make road trips happen more often. 
Antiche Mura
Via Roma 11
Polignano A Mare
+39.080.424.2476
Scott always manages to find the best wine store in town, and said this one was particularly well stocked with hard to find wines: Leoteca