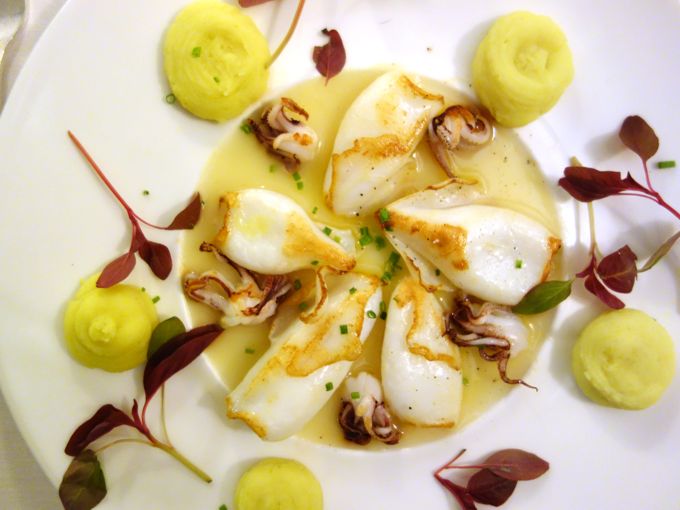 Sometimes I'm so caught up in trying out new restaurants, that I don't visit the older, established places as often as I'd like. It wasn't always like this.
Up until a few years ago, the restaurant scene was very stable in Italy. Things pretty much stayed predictably (and sometimes boringly) the same. These days it seems like I"m getting a press release about a new and (according to the them) exciting opening just about every day. I've learned not to let myself get swept up in the hoopla. Many of the places start out all bright and shiny – cool design paired with innovate menus – but then taper off into mediocrity after a few months. I'm not saying it's all bad news. And in fact there have been loads of great places that have opened in the last couple of years. It's an exciting time to be eating your way through Italy.

What I am saying is that all this flurry of activity is making it difficult to schedule in visits to old, trusted favorites.
When we were in Venice last month even though we visited a few newish places, I made sure we stopped by one of my old time favorites: Al Covo.
This place has been the darling of food writers and reviewers for about 20 years now. So this is not some new discovery. What was surprising was that it was even better than I had remembered it.
A lot of why I love Al Covo has to do with the ambiance. The low slung, wood-beamed ceilings and pale yellow walls create a warm and inviting atmosphere. And then there is also the warmth of the owners themselves. Diane (a transplanted Texan) and her husband Cesare make everyone feel like family.
But mostly why I love Al Covo is, of course, the food. Meticulous attention to ingredients (most of them local and many from Slowfood presidii) and detail made every dish we had the night we went a celebration of all I love about Venetian cooking.
A small bowl of soup arrived before we had ordered anything: an amuse bouche of minestra di bacala, with wild chives, olive oil and rye croutons. A perfect fishy start that combined the strong taste of the cod with earthy notes of grain and olives.

I started out with one of the specials: massanete. Small female soft shell crabs, full of roe, pan fried and nestled in a pool of white bianca perla polenta. Crispy and full of sweet eggs, they each popped in my mouth, exploding with a burst of delicate fishy goodness. Emma started with the Crudo di pesce e crostacei dell'Adriatico. Almost every restaurant in Venice does their version of a raw appetizer, but it's rare that they stick to local varieties. Small crayfish and coral-bedecked scallops as well as paper thin slices of a local fish were drizzled with olive oil and sprinkled with crunchy fleur de sel. And Domenico's Baccala' Mantecato was rich, creamy and light and served with more delicious biancoperla polenta.
Our main courses included Calamari 'cocciarioli', pan grilled and served with a lemony potato puree. Local Adriatic sole was rolled up and grilled, and served with turnips, clams and rye croutons. And a totally delicious plate full of wild mushrooms to share between us.
No meal at IAl Covo is complete (and completely indulgent) without at least one slice of Diane's famous dark chocolate cake. Moist and rich, and topped with a fudgey, buttery icing it is 100% Diane's American contribution to an otherwise purely Venetian menu. Which is just fine with me.
I'm glad some things don't change.  
Ristorante Al Covo
Castello 3968
+39.041.522.3812
For more information on dining in Venice, download my app, EAT VENICE, available on iTunes.