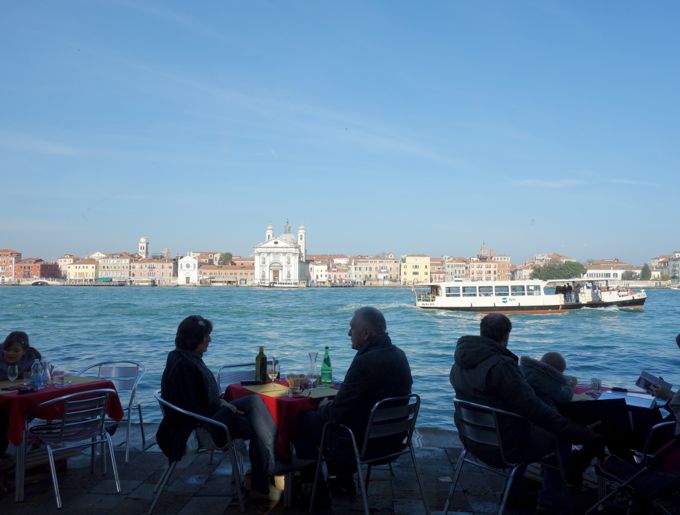 This past weekend we went up to Venice to meet Emma. She's studying interior design in London, and really wanted to see the Architecture Biennale before it closed. While we spent two full days at the Biennale, we also managed (of course) to eat way too much.
While it's hard to keep my app Eat Italy up to date these days, with all the new openings, Venice is much more stable, restaurant-wise. What's good, usually stays good, and anything new and innovative is a rare bird. Still, there are still a handful of classics that I'd either never been to, or felt it was time for a return visit.
One of the places I'd been meaning to try for a while is La Palanca. Located on the Giudecca, it's usually the first place people recommend there. Without even going in the front door, I could understand why. The view from the outdoor tables is, with no exageration, one of the most beautiful in Venice. Perched at the edge of the Fondamenta al Ponte Piccolo, the views out over towards the Zattere are like sitting within a Canaletto.
Even though it was unseasonably warm for the first days of November (and the acqua alta was still a few days away) we decided to forgo the view for one of the tables in the cozy, wood-beamed dining room.
I chose the daily special, linguine with local carciofi violetti and big, firm chunks of coda di rospo (monk fish). Perfectly cooked pasta, with massive amounts of both fish and artichokes. Emma ordered the linguine al nero di seppie, again perfectly done with a large amount of actual squid. Domenico had been thinking about polenta the entire day, and so ordered squid stewed in ink, which came with three thick, grilled slices of polenta to sop up the juices.
We really didn't need desert, but for Emma the entire point of going out to a restaurant is to get to desert. So we split an excellent slice of chocolate walnut cake three ways.
By the time we made out way back outside, the wind was picking up. But that didn't seem to be bothering the bundled up diners watching life float by on the Canale della Giudecca.
La Palanca
Fondamenta al Ponte Piccolo 448
+39.041.528.7719
Open 8am-8:30.
They don't serve dinner, but do great cicchetti at the bar.
It's very easy to get to, just take the vaporetto to the stop Palanca.
For more information on dining in Venice, download my app, Eat Venice.