Lately I've found myself in a bit of a green bean rut. My go to recipe is to steam them, and then toss them in a bowl while still warm, with some combination of onions, tomatoes and garlic (although I sometimes add a bit of meat). Loads of olive oil and lemon juice turns it into a salad that goes with just about anything.
But last week, when Salvatore came to visit, he  brought me a crate full of  his famous tomatoes. At the the very bottom I discovered about  a half pound of some strange looking beans. At first I thought they were green beans gone a bit to seed. They looked kind of dried out, and were a mottled dark color. When I held one up and looked at Salvatore, he responded, "AH, SONO FANTASTICI QUELLI!" (Salvatore tends to get excited when it comes to vegetables). Oddly though, he didn't leave me with a suggested recipe (he usually does) I guess he was too busy making his frittata.
The next day, feeling the need to get out of my green bean rut for the sake of these FANTASTICI beans, I turned to a book my friend Melissa had brought me almost a year ago, River Cottage Veg, by Hugh Fearnley-Whittingstall. I've been a fan of his TV series for a while but oddly never had any of his books. I knew he would advise me on how to treat these beans in a manner that would live up to their fantastici-ness.
Since we'd been eating a bit heavily lately, with more meat than usual (this is Umbria, land of the pig) I'd already decided it was going to be an all veg dinner. And so his recipe for green beans, potatoes and olives seemed perfect since it sounded filling enough to act as a main course. Although it called for new potatoes and young beans, my old floury potatoes and rather mature beans worked just fine.
And the beans? They were indeed FANTASTICI. Some of the best beans we've had all summer. And well worth getting out of my rut for.
Even though we had these as a main course, if you are are grilling over the weekend (and, since it's Labor Day, I'm betting you are) this of course makes a nice change from the usual potato salad.  Have a nice long weekend!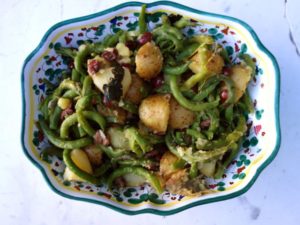 Print
green bean, potato and olives
Yield 4
Adapted from Hugh Fearnley-Whittingstall, River Cottage Veg
Ingredients
1/2 pound / 300 grams of green beans
1 pound/ 500 grams potatoes
3 tablespoons olive oil
2 garlic cloves
1/4 cup pitted olives
1 cup basil leaves
lemon juice
salt, pepper
Instructions
Peel the potatoes and cut them into 2 inch chunks.
Trim the green beans, and cut them into 1 inch pieces.
Bring a large pot of salted water to boil. Add the potatoes and after about 5 minutes add the beans. When done, drain and put them back into the pot.
While the veg are cooking, pour the olive oil into a small frying pan and heat to medium. Add the garlic, and after about 30 seconds the olives. Stir a bit, then turn off the heat.
Add the contents of the frying pan to the drained veg, and stir. Add the basil and lemon juice, salt and pepper. Serve warm or room temp.