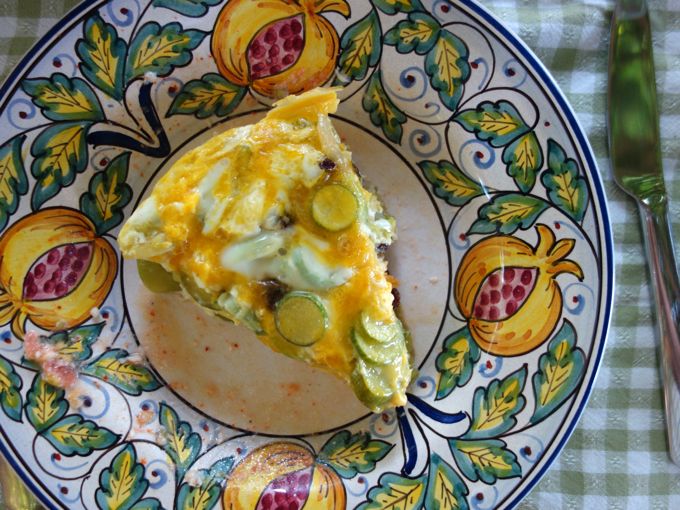 I thought I knew just about everything there was to know about making a frittata. I've written about them so many times on the blog (here, here, here and here) that it's a bit embarrassing doing it one more time.
But this one is different. Way different. So different in fact that I've even made a little video showing you how it's done.
The inventor of this new and improved frittata making method is Salvatore Denaro. Salvatore, if you don't know him already, used to have one of my all time favorite restaurants in Foligno, Il Bacco Felice. These days Salvatore has left the restaurant business behind and is involved in various other projects. One of which is driving around in his little three-wheeled Ape, with his doggie, cooking where ever and when ever he feels like it.
Thankfully he loaded up his special frittata pan and special frittata spatula and headed over to my house last week with 14 eggs, a half kilo of home grown zucchini and the desire to cook us a frittata.
What makes this frittata so different is that the eggs are added to the pan whole, not stirred up with a fork. Although Salvatore uses his magic spatula to gently move the eggs around, the whites and the yolks remain intact and separate. Another thing to note is that the frittata is made with 14 eggs. Yes, 14 eggs. All in a smallish 10 inch frying pan. This means the frittata is thick, compact and once the lid is on able to cook through yet still remain lusciously creamy and not over cooked.
Salvatore made us a frittata with zucchini, onions and raisins. Very Sicilian, just like him. Very little salt, and no cheese at all. The result was slightly sweet and almost custard like in texture. And absolutely delicious. Did I mention that? Do I have to?
The method for making the frittata is really difficult to explain. Which is why you should watch the video. (Plus, there's also a cute dog in it)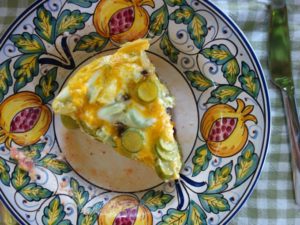 Print
zucchini and onion frittata
Yield 8
Ingredients
14 eggs
2 cups chopped zucchini
1 medium onion, sliced
3 tablespoons olive oil
1/2 tsp salt
1/2 cup raisins
Instructions
Add olive oil to a non-stick 10 inch pan and heat over medium flame. Add onions and let soften.
Add zucchini, salt and let cook for about 10 minutes until cooked but not mushy.
Add raisins and stir.
Add the eggs, one at a time, on top of the vegetables. Poke each yolk with the tines fof a fork. Then, using a rubber spatula, gently move the whites around the pan, gently mixing them with the vegetables. The yolks will break too, but don't try to mix the two together. (see video)
Let cook until the bottom starts to set. Check with the spatula to see if the bottom is cooked. When it is, cover the pan, and turn off the heat. The frittata will finish cooking in about 10 minutes.
Bring to the table and serve out of the pan. If you have a small dog, he will try to eat it. (see video)