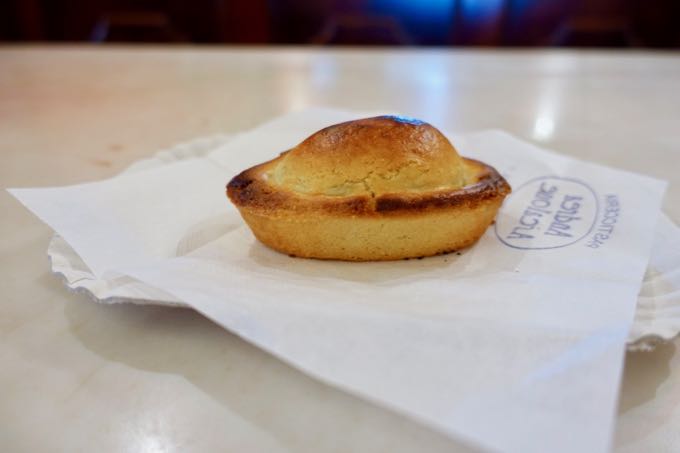 I was in Puglia last week, putting the final touches on our Week in Puglia tour. Sophie and I stayed a few hotels, ate in several restaurants and visited cheese makers and olive oil producers.
We also snacked.
Sophie and I consider ourselves to be professional snackers. If there was a snack category in the Olympics, then we would be gold medalists. And being professionals, we don't snack randomly. We do our research so that every single bite we put in our mouths is the best it can possibly be.
Which is how we found ourselves in Galatina at snack time (11am if you want to know) last Thursday. Galatina is a small town just south of Lecce. Like Lecce it is paved in worn slabs of white stone, and the buildings are Baroque confections of honey colored carvings. After a brief visit to the major churches, Sophie and I made a beeline for Pasticceria Ascalone.
This jewel box of a pastry shop is where (so legend has it) the pasticciotto was invented. The pasticciotto is a small oval shaped pastry made from short crust and filled with pastry cream. It is eaten throughout southern Puglia, but was born in Galatina. The story dates back to 1875 when Nicola Ascalone decided to use his leftover dough and pastry cream to fashion a mini pastry, since there wasn't enough for a full sized cake. This small golden delicacy flew off the shelves and made his pastry shop so famous that it is still going strong 300 years later.
Today, his family still runs things in the unchanged shop. Although there are now a few electric refrigerators holding the pastries, the selection remains pretty much unchanged.
Although we'd had pasticciotti other places in Puglia, both Sophie and I agreed that these were the best, by far. Granted, we were eating them hot out of the oven. But still, the crust was perfectly crunchy yet moist, and the pastry cream was eggy, not too sweet, with just a hint of vanlilla.
We also tried their other famous pastry, the fruttone. Baked in the same shape as the pasticciotto, the filling instead is almond paste and sour cherry jam, and topped with a thin chocolate glaze. And although it might be sacrilegious, I think I may have liked that as much or even better. But since I'm not 100% sure, (and since I ate it too fast to take a photo for you to see) I might just have to go back sooner than I thought.
FYI: This pastry shop is as charming as it is quirky. It closes in the middle of the day, from 1 to about 5pm. So make sure you arrive during opening hours. And if there are not pasticciotti, don't worry. They will eventually come out of the oven, and it's worth the wait.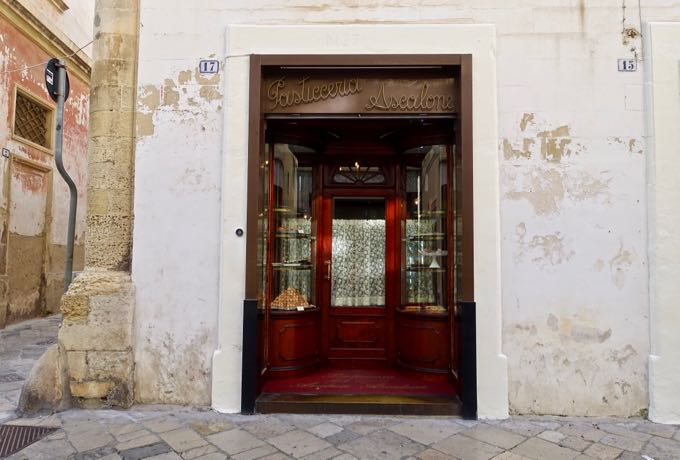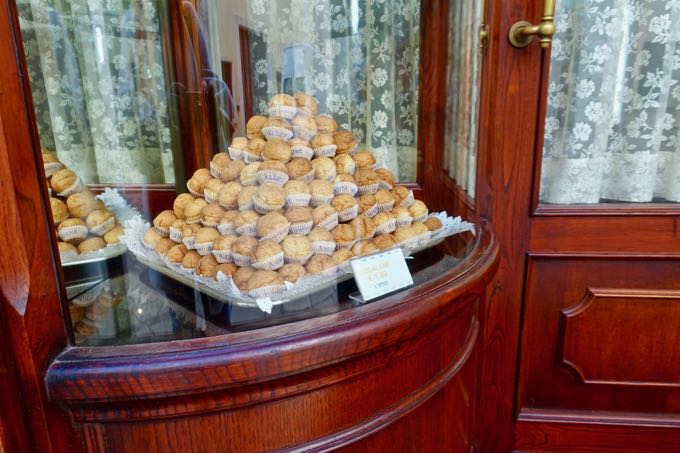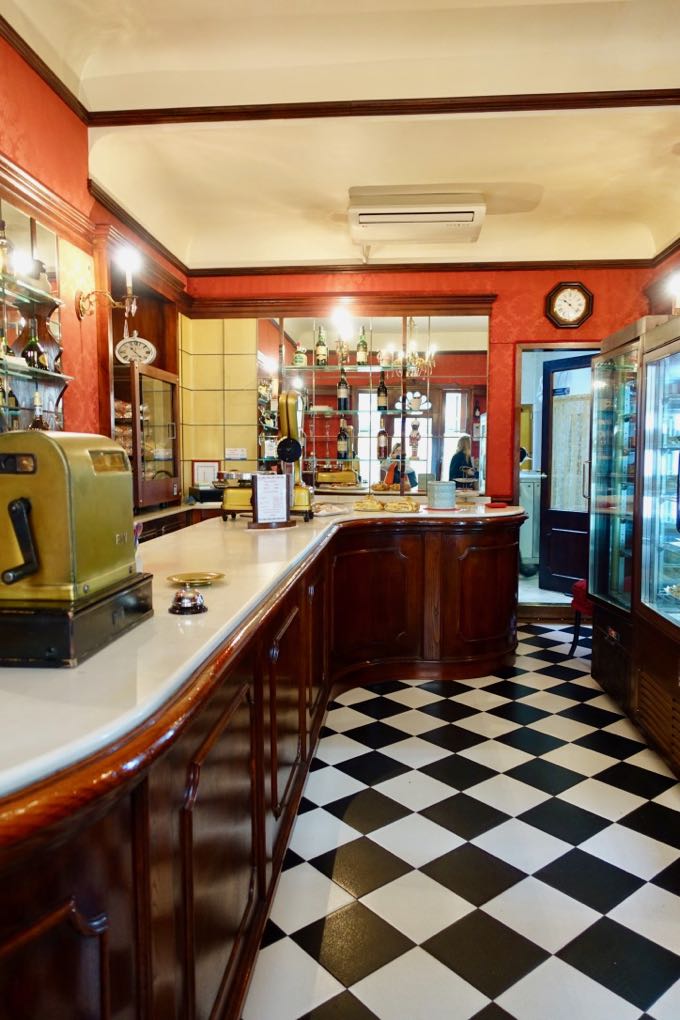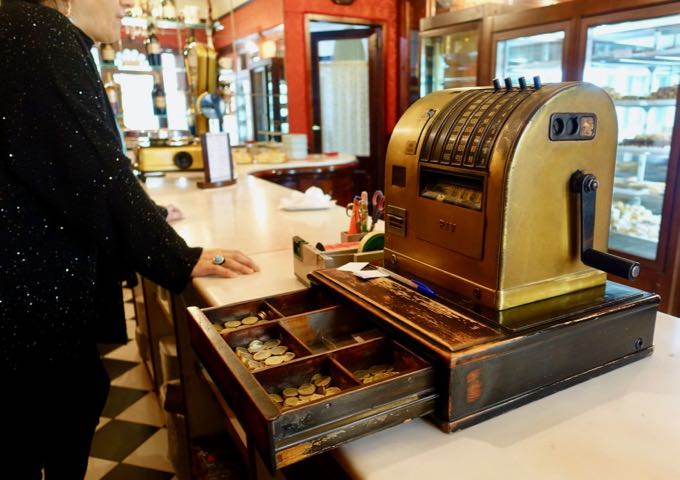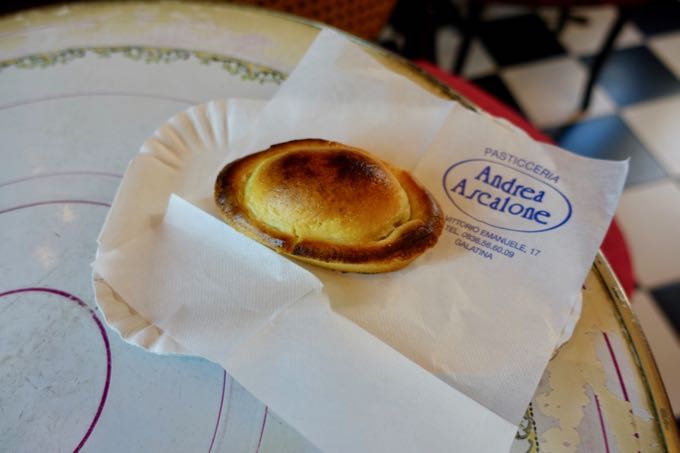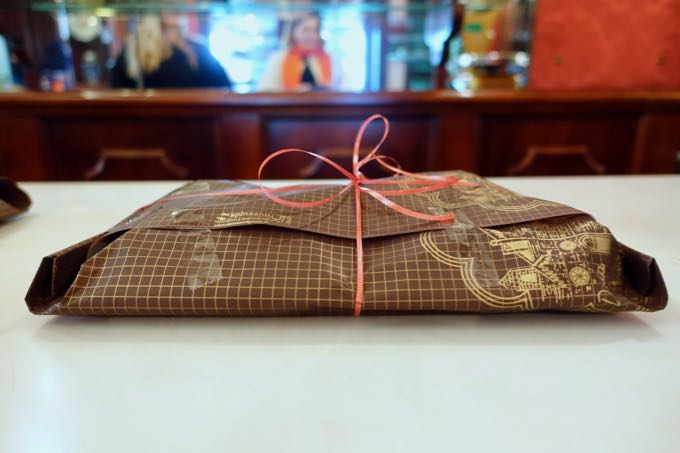 Pasticceria Ascalone
Via Vittorio Emanuele 17
Galatina
+39.0836.566.009
Tuesday – Saturday, 9am-1:15pm, 5-8:30pm
Sunday 9am-1:15pm
Closed Monday
For more of my favorite places to stay and eat in Puglia make sure you download my app, Eat Italy. Eat Italy is a free app, with many cities and regions available as in-app purchases (Venice, Rome and Florence) or completely free (Puglia, Umbria, Torino and Milan).
And if you're curious about my adventures in Puglia and the rest of Italy you can preorder my newest book, Eating My Way Through Italy : Heading Off the Main Roads to Discover the Hidden Treasures of the Italian Table. The book will be published on May 22, 2018.
If you'd like to join us for a Week in Italy tour, just send me an email. Our Puglia tour is in the final planning stages for 2019. If you've like to be put on the waiting list, let me know.