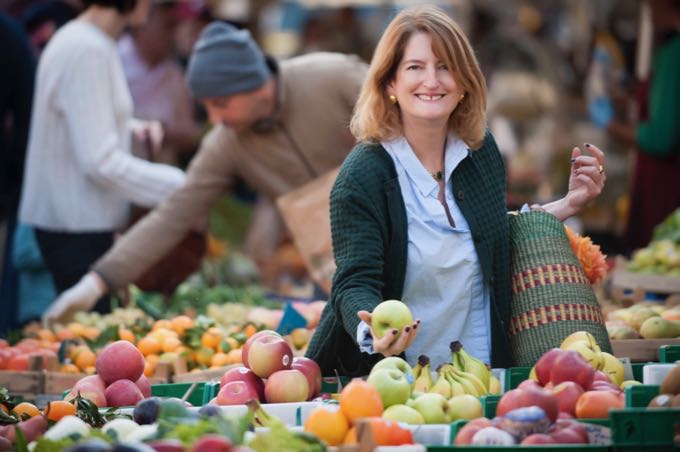 Although everyone dreams of finding an open air market during their trip to Rome, it's not that easy. In the last 20 years almost all the outdoor markets in Rome have disappeared. There are many reasons for this: changing family structure, changing shopping habits, competition from supermarkets and finally new legislation that says outdoor markets are less hygienic.
But just because there are fewer outdoor markets, that doesn't mean that markets have disappeared altogether. I shop and lead tours through some of my favorite markets that manage to survive in the center of Rome.
But before you head to any market in Italy are five rules to keep in mind. After many years of making mistakes and offending people without knowing any better, I've learned that there is an entire unspoken set of customs to be followed if you have any hope of coming away with what you came for.
-Don't touch before you buy. Let the fruit and vegetable vendor fill your basket.
-Be true to your vendor. Loyalty to your chosen stand will always get you the best produce.
-If you don't know ask. Vendors often have the best recipes.
-Watch and learn. Most vendors will let you watch while they prep the vegetables for sale.
-Don't bargain. It's just not done.
And here are some of my favorite markets:
Farmer's Market at Circo Massimo, Via di San Teodoro 74
When this market first opened about 5 years ago it was part of an initiative by the national farmer's union to promote buying directly from your local farmers. It was an immediate success. Last year they closed the market down for about 10 months to reorganize it and bring it up to date. Open only on the weekends, it's where I tend to do most of my shopping for the week. They also have a stand that provides lunch, which you can take out to the picnic tables in the back to eat.
Saturday, 9-5; and Sundays, 9-3pm. (beware, hours do sometimes change)
Campo de' Fiori Market, Piazza Campo de' Fiori,
One of few remaining outdoor markets in the center of Rome. Yes, it's full of junk, but it also has some of the best produce in the city. Beware of anything multi-colored, truffle-flavored or (god forbid) anatomically shaped pasta.
I actually do very little shopping here because even though the produce is good, it's horribly expensive.
Monday – Saturday, 7:00am to 2pm
Testaccio Market, Via Galvani 57
One of the best markets in Rome, it has recently moved to a modern building, but is still home to some of the best vendors in town. Everything from meat and fish to fruit, vegetables and even wine. Located near the old slaughterhouse, the butchers also sell a wide array of offal. They also sell horse meat, in case you are in the market for this.
One end of the market is given over to housewares and clothes (which are fun) and the other end has about a dozen stands selling ready to eat food. So do make an effort to go there for lunch. Mordi e Vai is my favorite, selling panini filled with Roman specialities like Carciofi alla Romana and Pichiapo.
Monday – Saturday, 7:00am to 2pm
Nuovo Mercato Esquilino, Via Principe Amadeo 184
This is Rome's ethnic market, and is lively, colorful and full of hard to find things like mangoes, yams and lemongrass. It has one of the best fish markets in town.
Monday, Wed, Thurs, Saturday: 5am-3pm Tuesday & Friday: 5am-5pm
Trionfale Market, Via la Goletta, 1
The Trionfale market is not only Rome's biggest, it's one of the biggest in Italy. With over 270 vendors, you can find just about everything here. Located in a heavily residential neighborhood near the Vatican, it is one of the most authentic in Rome. I actually don't go to this market very often, since it's no where near where I live. But if it was, I'd be there all the time.
Monday – Saturday 7-2; Tuesday and Friday open until 7.
Via Baccina Mercato Rionale
Via Baccina 36
This small market on my street was dying a slow death for years. Last year it was down to just 3 stalls. Thankfully it's undergoing a re-birth and you can find me there almost every day, picking up something for dinner. They've even set up little tables, where you can enjoy a panino made from the alimentari stand or a smoothie or juice made by Marta from her fruits or vegetables. And the pasta guy also sells amazing pastries. Rumor has it that a coffee bar is about to open.
The nut guy is also a good place to stock up on dry goods to take back home with you. I particularly recommend his pine nuts, and he also has great coffee.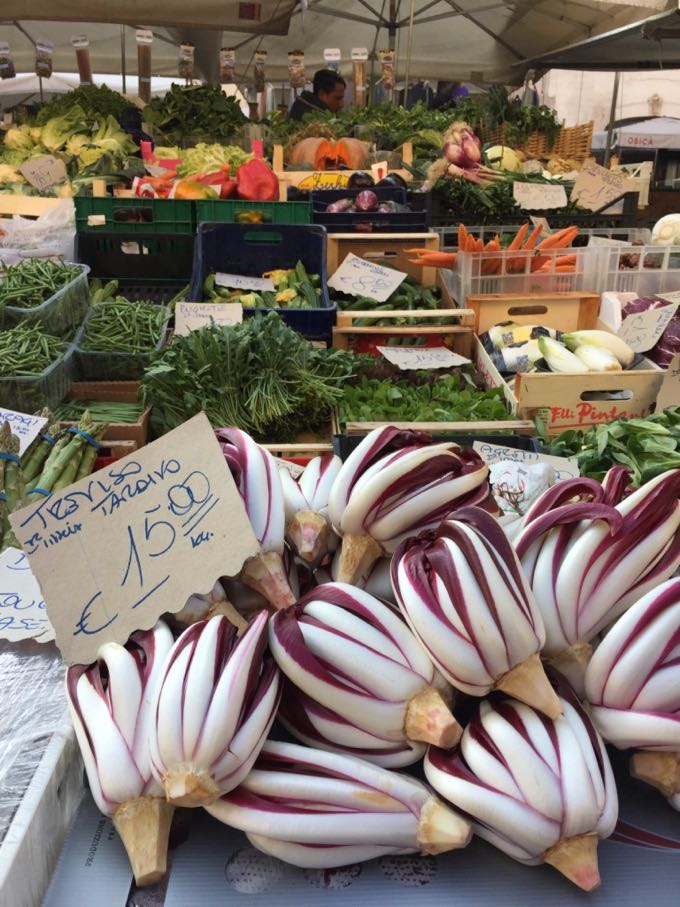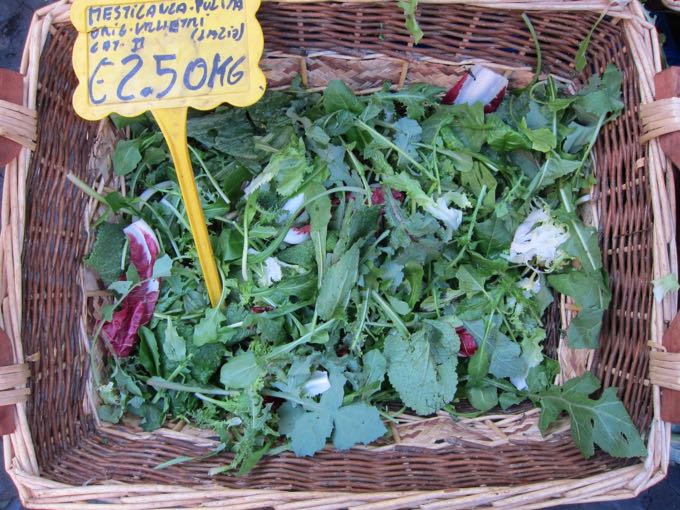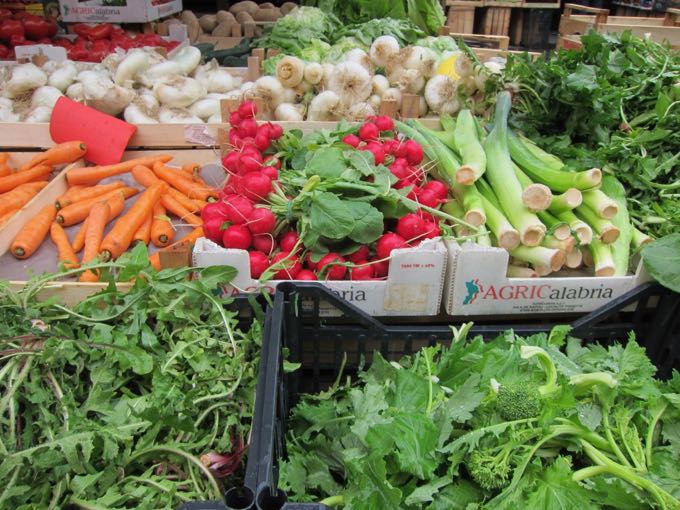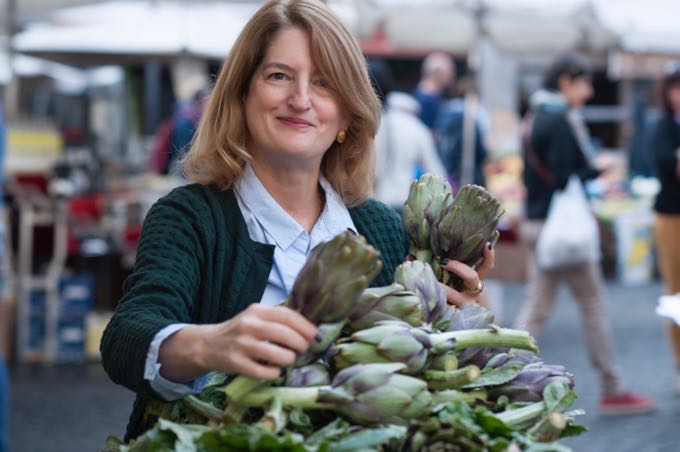 For longer descriptions about these markets and for more information about eating and shopping for food in Rome download my app, Eat Italy, available in iTunes.
For more advice on how and what to eat in Italy you might be interested in my book Eating Rome: Living the Good Life in the Eternal City.
And if you're heading beyond Rome, Eating My Way Through Italy (May 2018) will help you charter a delicious course.