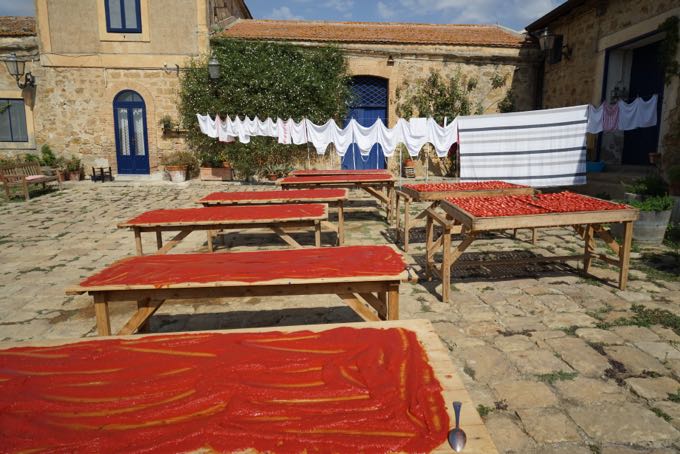 Unless you're reading this from Australia, or another of the countries in the southern hemisphere that read my blog, I figure that by now, you could use a dose of sunshine. At the end of last summer I spent five glorious days in Sicily learning how to put sunshine in a jar.
It's easy. Take a ridiculously large amount of perfectly ripe Sicilian tomatoes. Cut them up. Leave them in the sun for 4 days to reduce down to about one tenth of their original volume. Put them in a jar and save it for a gloomy February day.
Actually, you don't have to save it. You can use this estratto di pomodoro all year round. 'Stratto, as it's called in Sicily, is tomato paste by any other name. But made in the heat of the Sicilan sun. I'm not going into the details here (you'll have to wait for my next book Eating Italy, to come out for that in early 2018). But in the meantime here is a video I made, which pretty much explains the process.
But if you'd like to find out more about the place this was made, the magical Anna Tasca Lanza Cooking School run by Fabrizia Lanza, then I'd love to invite you to come hear her speak in Rome next month. I've organized a Conversation between Fabrizia and the host of KCRW's Evan Kleiman to take place on March 17 at the American University of Rome (see below for details.) I hope you can make it!!
WHEN: Thursday March 9, at 18:00 (6pm)
WHERE: The American University of Rome
Auriana Auditorim
Via Pietro Roselli 4, Rome Italy
WHAT: Evan Kleiman, the host of the NPR radio program Good Food, will interview food activist Fabrizia Lanza to discuss some of the most important issues facing Italy today. Elizabeth Minchilli, a Rome based food writer, has invited Evan and Fabrizia to Rome to talk about these issues. Following a brief introduction by Elizabeth, Evan will conduct an hour long conversation with Fabrizia, asking her about the agricultural scene in in Italy and her farm and school in particular. How do small Italian farms survive in the globalized environment of the EU? What have been the positive and negative results of having a business that relies on international clients. What is the relationship of the estate to the local communities? These are just some of the questions that will be explored.