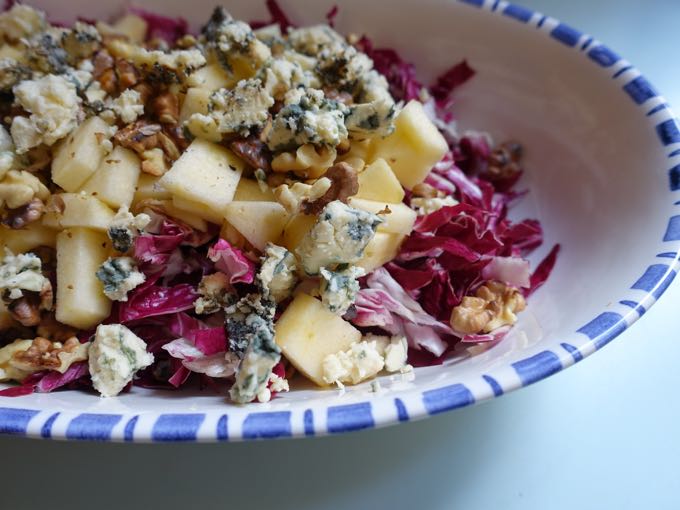 For the last month I have been completely obsessed with radicchio. For a while I kind of thought that due to some weather fluke, the radicchio was just better this year. Somehow sweeter? More tender? Yet at the same time delightfully bitter and crunchy.
But really? I think my radicchio cravings are just my body's reaction to holiday over-indulgence. And there's been a lot of that in the last few weeks. Too many dinners in Rome to count, plus several days of Christmas feasting in Bari. Not just rich and heavy food, but lots of rich and heavy food. And even when something lighter, like fish, was on the menu, it was always part of a multi course meal involving everything from antipasti to at least 5 kinds of sweets. And drinking. There's been plenty of that.

And so my body craves not just greens, but the bright purple crunchy bitterness that a radicchio salad brings. Even though the holidays aren't quite over here in Italy (we still have one more festa to get through, the Befana on the 6th) I've decided to listen to my body and declare January radicchio month.
I know others are juicing, fasting or some combination of the two. But I've never been one to go to extremes. Once my gym reopens (yes, gyms in Italy close for the holidays!) I'll be doing my time there. But at the same time, I'm not going to be changing my diet so drastically that you wouldn't recognize it. Yes, less in general, but that doesn't mean sad salads and boiled vegetables. Or (god forbid) a glass of juice instead of a real meal.
So, on the first Sunday of 2016, instead of turning to a pasta-filled lunch, Domenico and I shared  this beautiful radicchio salad. I used a half a head of radicchio di Chioggia from our garden in Umbria and a bit of beautiful blue cheese that was left over from Christmas celebrations. Radicchio comes in many forms, and I have to say that the round, tight balls of the Chioggia variety are not my favorite. I much prefer the curly Treviso Tardivo, or the torpedo shaped Treviso  or even gorgeous pale pinky white Castelfranco that is a bit easier to find these days.
But working with what  I had, I used my little head of Chioggia. To counter the somewhat tough nature  of the Chioggia leaves, I slice it very thinly, into 1/4 inch ribbons. I then tamp down the bitter by giving it a good soak in cold water.
As is my want with radicchio salads, I tend to make the dressing on the sweet side. I usually add some good quality balsamic. This time around I used a raspberry vinegar I picked up at Eataly last week, as well as a bit of lovely eucaplyptus honey Beatrice had sent me a while back.  A hunk of blue cheese from one of my favorite vendors at the Farmer's Market, along with some toasted walnuts and a diced apple, made this a meal. We probably didn't need the extra slices of seedy whole grain bread but hey, you can't go completely cold turkey on January 3, right?
Another resolution that I've made? Try to use different backdrops to my usual photographs. That's a vintage 70's tea towel from my mother-in-laws stash in Bari that I nabbed in the last photo. Pretty groovy, don't ya think?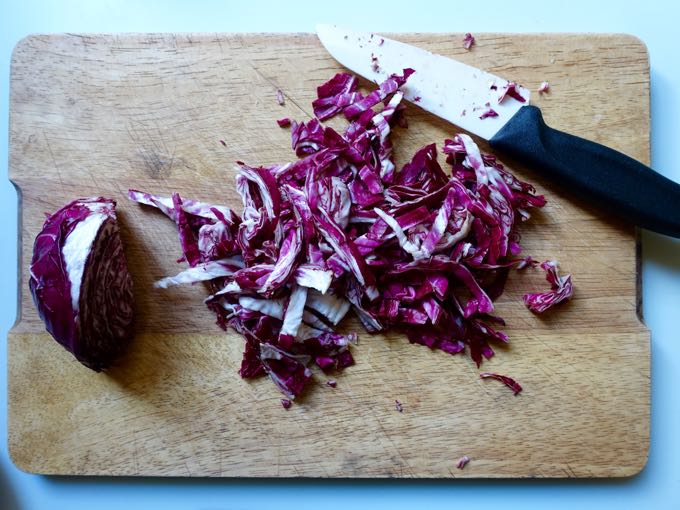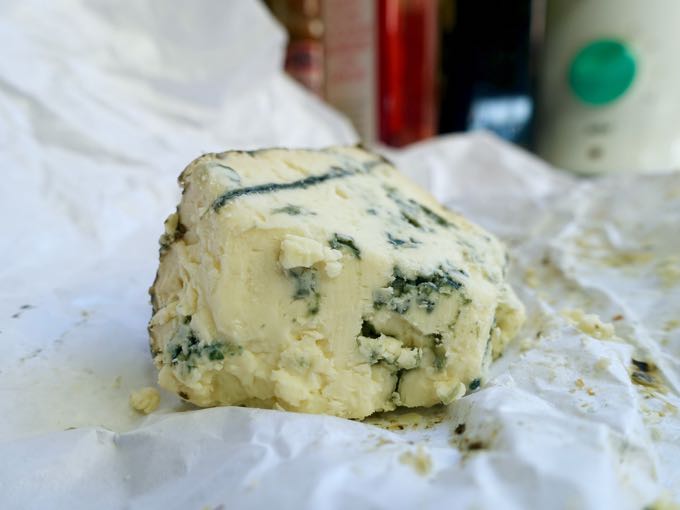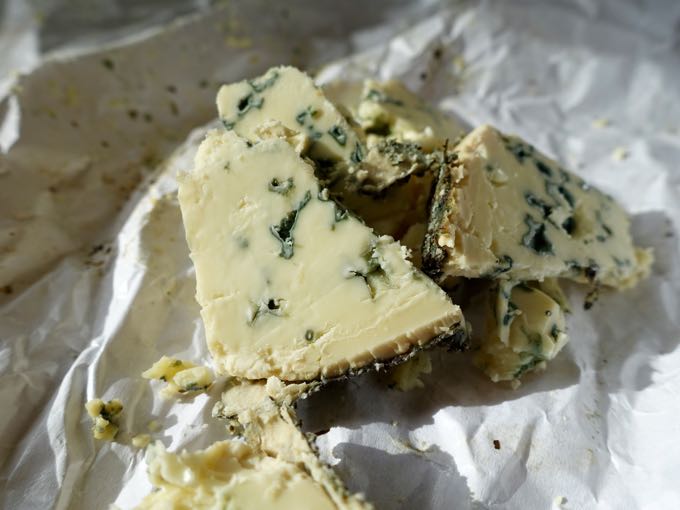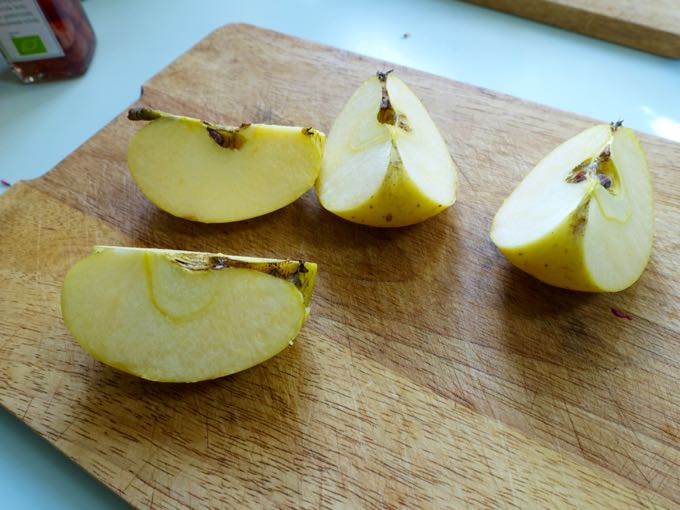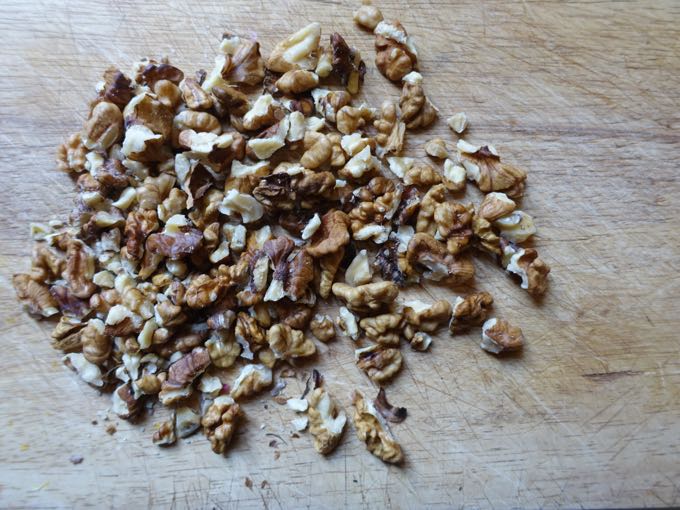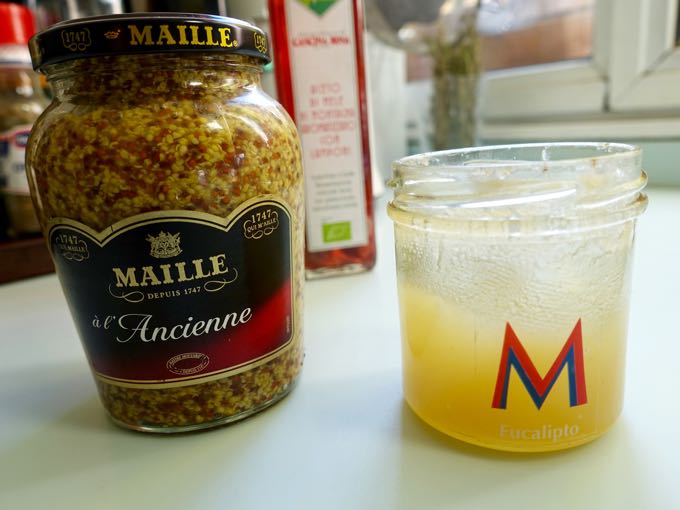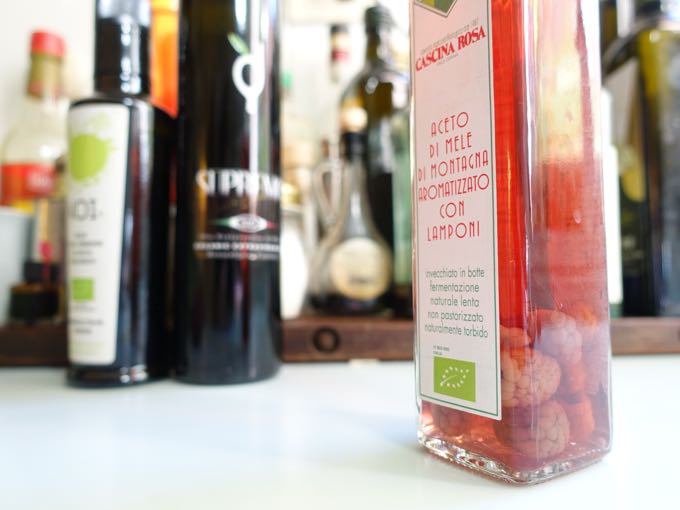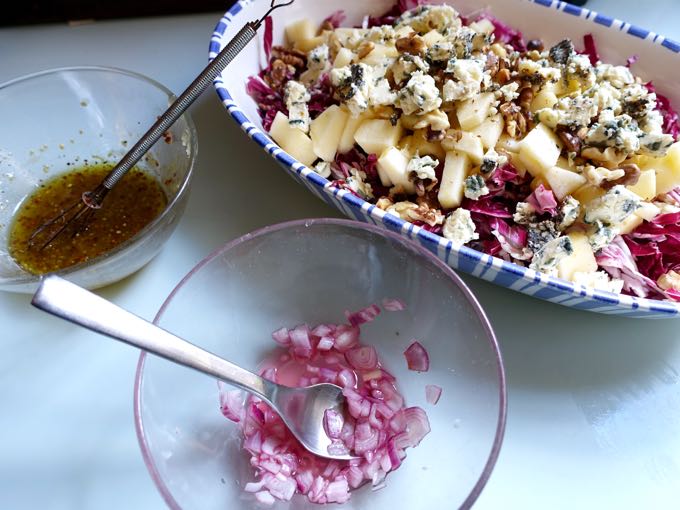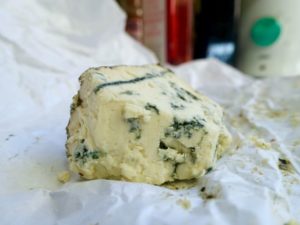 Print
radicchio salad + blue cheese
Yield 2
Ingredients
1/2 head of Radicchio di Chioggia
1 apple, peeled and diced
1/4 cup toasted walnuts, roughly chopped
1/3 cup crumbled blue cheese
Dressing
4 tablespoons olive oil
1 tsp honey
1 tsp dijon mustard
2 tablespoons raspberry vinegar
1/2 shallot, diced
1/2 tsp salt
freshly ground black pepper
Instructions
Put the shallot into small bowl and add the salt and vinegar. Let sit for at least 10 minutes, or more, while you prepare the rest of the salad.
Core the radicchio and slice it very thinly, into 1/4 inch ribbons. Let it soak in cold water for 15 minutes. Spin dry and add to a low sided dish. Add the diced apple and nuts and crumbled blue cheese
To make dressing:
Place the honey and mustard into a small bowl. Using a mini whisk or a fork, stir till well blended. Slowly add the olive oil, whisking, until it is emulsified. Then add the shallot and vinegar mixture and stir, adding freshly ground pepper to taste.
Toss the salad with dressing, adjust for seasoning and serve.