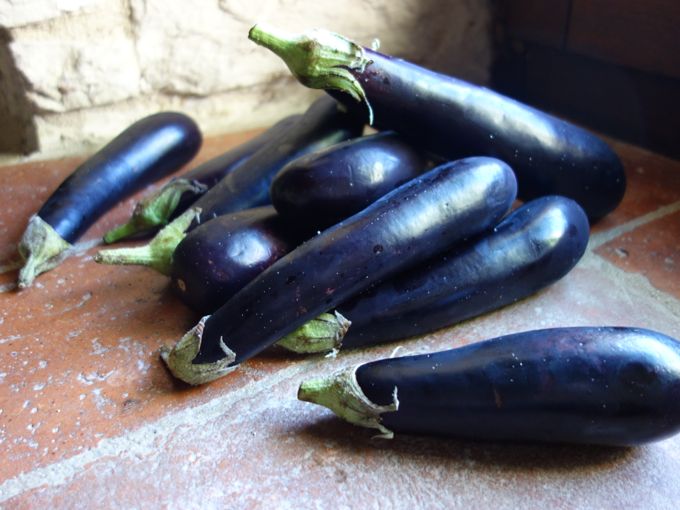 Even though I love going to the weekend Farmer's Market here in Rome, I love it even more when Domenico goes on his own. Yesterday not only did I get to spend 2 hours at the gym (yes, I joined a gym!) but when I got home I was greeted with bags and bags of fall vegetables.
Actually? I was greeted by bags and bags of mostly eggplant.
Domenico is a very visual person and so when doing the shopping his eyes land on what is gorgeous. But as he goes from stand to stand, he doesn't necessarily remember (or care?) what he's bought already. This week the eggplants were particularly lovely, and he ended up with over six kilos of various varieties. 
So this week is officially declared Settimana della Melenzana here at Casa Minchilli. And even though I"m going to be doing a lot of Ottolenghish stuff this week, as well as pasta, I'm also going old school Italian. Parmigiana di melanzane is one of Domenico's favorite dishes so I'm sure this is partly what he had in mind when ogling all those purple orbs in the market. And so Eggplant Parmesan it will be.
Although it's easier to make a big pan of the stuff, I prefer to make smaller, serving size dishes. It somehow feels a bit less gloppy and more elegant. Also? While I know that deep frying the slices of eggplant, and even coating them first in a mixture of eggs and/or breadcrumbs is awful good, I go the lighter route, and simply grill or bake mine in the oven.
This is how I made it a few weeks ago up in Todi. And this is how I'll be making it here in Rome,  during La Settimana della Melenzana at Casa Minchilli.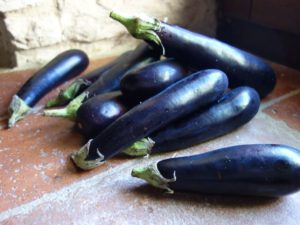 Print
eggplant parmigiana
Yield 4
I used the long narrow purple eggplant for this, but have used just about every variety under the sun. The important thing is that they be super fresh, and firm.
Ingredients
1 1/2 kilos / 3 pounds eggplant
2 cups shredded mozzarella
1 half onion, chopped finely
3 cloves garlic, chopped finely
4 cups tomato puree
1 1/2 cups grated parmesan cheese
Fresh basil if you have it. If not, dried oregano
salt, pepper
olive oil (about a cup)
4 individual baking serving dishes, about 5 inch diameter.
Instructions
Slice the stems off of the eggplants, and then slice into half inch slices. Sprinkle with salt and let them purge their bitter juices. After about an hour you will see droplets of water. Using paper towels blot dry.
While the eggplants are purging, make your sauce. Put 3 tablespoons of olive oil into a pot. Add onion and cook till soft, about 8 minutes. Add garlic and let cook for a few minutes. Add the tomato sauce, 1/2 tsp salt, basil (or oregano) stir and let simmer for about 15 minutes. The sauce shouldn't be too thick, so add a bit of water if you need too. Taste and adjust for seasoning.
Lightly coat the eggplant slices with olive oil.
Now you have to cook your eggplant. I do this various ways depending on how I feel. The greatest way it to cook them over coals, so if you have a grill going this is fantastic. If not, you can always cook them under the broiler (be careful not to let them burn, and flip them half way, after about 5 minutes) or else you can just pan fry them in about a half inch of olive oil. This last method is the richest.
To assemble your dish:
Coat each dish with olive oil.
Cover the bottom of each dish with a thin layer of sauce.
Next is a layer of eggplant.
Next a layer of grated mozzarella.
Next a layer of grated parmesan.
Repeat this two more times,
Place in a preheated 350F/180C oven for about 25 minutes, until it is nice and bubbly and the cheese on top has started to brown.
To serve: it's usually best if you let the dish cool off at least a bit, so the mozzarella has time to firm up a bit. About 10 to 15 minutes. This dish is also good at room temp