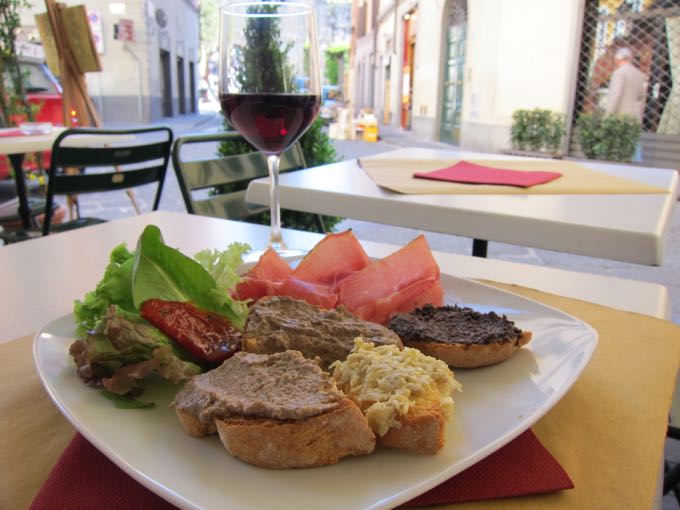 Long before the neighborhood of San Niccolo' in Florence became trendy with the opening of restaurants like Zeb, and Fuori di Porta  there was Antica Mescita di San Niccolò. This venerable place is part of the Florentine tradition of vinai – wine sellers –  and despite its casual and simple atmosphere the wine list here is superb, both by the bottle and by the glass.
If you're just looking for a light bite, the platters of crostini and cheese and salame go perfectly well with a Tuscan red. But what I really love are their Florentine classics, like Pappa al Pomodoro, Ribollita and Trippa alla Fiorentina. And since I can never decide which one to order, I just order all three in their special tasting portions: three small bowls full of piping hot soup.
The vinai is located on the foundations of a tenth century church, and in fact the main dining room downstairs is located within the crypt. Pretty cool. (actually nicely cool in summer). But what I really love is settling in at one of the tables outside on the terrace, watching the world go by in what is still very much a neighborhood and as much off the beaten tourist track in Florence as you're going to get.
Antica Mescita di San Nicolò
Via San Niccolo 60r, Florence
+39.055.234.2836
Open daily, from Noon to 12:30am.
For more information on dining in Florence and Italy download my app, EAT ITALY. EAT ITALY is a free app, and contains guides to Milan, Rome, Florence and Venice (and an ever expanding list of regions and cities) available as in-app purchases for both iPhone and iPad. And if you don't have an iphone? There's always my book, Eating Rome: Living the Good Life in the Eternal City