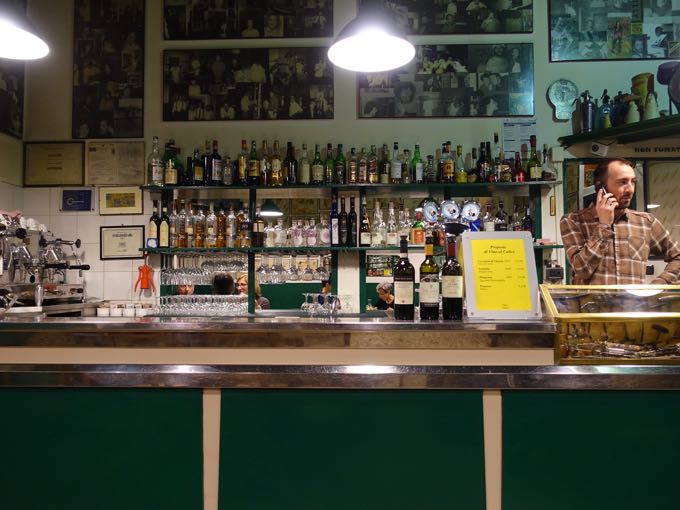 Milan does old fashioned with style. While Trattoria Temperanza da Abele is not the only old fashioned trattoria that pairs vintage interiors with traditional well made food, it is certainly one of my favorites. Located a bit out of the center, the otherwise empty street is located in a decidedly residential neighborhood. In other words: far, far away from the circus around the Duomo.

Like most traditional trattorias in Milan, the main room is taken up on one side by a long, original counter. Glistening enamel green and stainless steel, the bar is stocked with liquor and wine, a gleaming espresso maker and is the command post for the friendly staff.
The three dining rooms are understated and almost anti-style, but in a good way. Dark green wainscoting provides a coziness, as does the wooden furniture.
Another thing I love about Abele? The menu changes daily and is always posted on their website in Italian and in English. They always have 3 antipasti, 3 risotto, and usually 4 or 5 secondi to choose from, which always include one white meat, one red meat, one game, one fish and one tripe or baccala as well as a selection of 2 cooked vegetables and 4 salads. So, something for everyone. There is a small, but good, and fairly priced wine list as well as 8 beers from the local Lambrate microbrewery.
They are well known for their taglieri, or cured meat platters, and almost every table I saw seemed to be ordering one to share. (I was there alone , and couldn't quite justify one for myself)

The old fashioned vibe continues onto the menu. The day I was there I started out with an antipasto of herring salad. Chunks of house cured herring tossed with pickled vegetables, boiled potatoes and a dressing of sour cream. It was totally decadent and delicious.
As my main course I chose the risotto alla boragine, Made with peas and asparagus, the bright green dish was full of crisp vegetables and was just cheesy enough.
It's a bit of a taxi ride to get here, but it's easy to take the metro to the Pasteur stop, which is only two blocks away. And once you get there? It's probably a side of Milan you might never have seen. With food of course.

Trattoria Temperanza da Abele
Via Temperanza 5
(metro stop MM1 Pasteur)
+02.261.3855
Open Tuesday – Sunday, dinner only.
Call after 3pm for reservations.
For more on dining in Florence and Italy, download my app Eat Italy. Eat Italy is a free app, and contains guides to Florence, Rome, Venice and Milan (and an ever expanding list of regions and cities) available as in-app purchases for both iPhone and iPad.