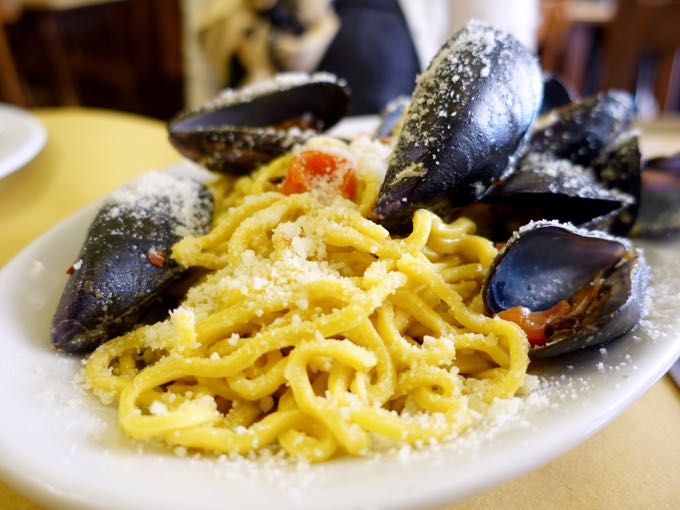 Before there were ristorante and trattorie, there were osterie, bottiglierie and fiaschetterie. These simple places had a few tables and wine in straw covered bottles (fiasche)  on tap. The thinking was that you would bring your own food, sit at one of the paper-topped tables, and then enjoy a few glasses of frascati while eating your lunch. Eventually owners realized that they could also make a bit of extra money by serving up something warm, maybe a plate of pasta, to workers who didn't think ahead. Eventually these places morphed their way into more established eateries where food was the main source of income.
For decades in Rome these simple places were easy to find. Today? Not so much. While you may dream of finding that working class trattoria with straightforward simple food at fair prices, the reality is that most of these places have long since erased any hint of their humble origins, doing away with the vintage furniture, wine on tap and general patina, giving way to something they consider more upscale. And of course more profitable.
Even though the hope of finding one of these affordable, authentic hole-in-the-wall places is slim these days, there are at least a few places that have at least retained the original ambiance,  while upping the ante in terms of food.
One of the most historic of these places in Rome is Fiaschetteria Beltramme. The place has a  history that dates back to 1886, when it opened as a simple wine store. In the '30's a young waiter started working there, and it was Cesaretto who transformed it into more of a food centric place. In the 1960's the cozy place was the preferred hangout for artists like De Chirico and Schiffano, writers like Moravia and film makers like Pasolini and Fellini. In fact, some of the original doodles by patrons still hang on the walls.
I hadn't been there for about 10 years or so, and have to say I had sort of forgotten it existed. It's in a area of town – the Spanish Steps – that I don't usually end up in these days. Big brand names like Prada, Gucci and Bulgari bring in hoards of shopping tourists. Not my idea of a afternoon stroll. But last week I had to meet a friend for lunch and decided to re-visit this old haunt.
I really did expect it to either A) not be there at all or B) be totally transformed beyond all recognition. Instead, what I found was a something both reassuringly the same, as well as refreshingly new. The place itself remains untouched. The same marble topped tables  and worn wooden chairs lined up against art filled walls. There was still the big square table at the back that I remembered from previous visits and, I noticed right away, the same warm welcome.
What had changed was the ownership, and with it the food. While I had walked in expecting renditions of Roman classics like carbonara and amatriciana instead they were offering daily specials that featured home made pasta with all sorts of fishy variations. As it turns out the place had changed hands a few years ago, and the new owners kept the decor exactly how it had always been. Actually, I'm not sure they had much say in the matter since a plaque on the wall decrees the place protected as a place of artistic and historical interest by the Ministry for Culture and Environment. Thank god.
While they do offer the Roman standards, the dailies was the way we went. My friend Peggy ordered Tonarelli alla Corsara, a tangle of home made pasta with plump mussels, cherry tomatoes and a healthy dusting of pecorino Romano. I instead ordered Linguine tossed with shrimp,  barely cooked zucchini and tons of freshly grated lemon zest. In other words, not your normal Roman fare and both dishes prepared as expertly as I'd had recently.
Even though the place has outdoor tables, I'd suggest you sit inside. The tables on the side walk were taken over by tourists, while locals (including many neighborhood dowagers) took over what looked to be their regular tables inside.
While the interiors have remained untouched, the prices have gone up along with the quality of the food. So while it may look simple, be prepared to spend accordingly. While you can probably find a table at lunch time, make sure you reserve for dinner.
Fiaschetteria Beltrame
Via della Croce 39
+39.06.697.97200
Open daily, 12:15-3pm; 7pm-10:45pm