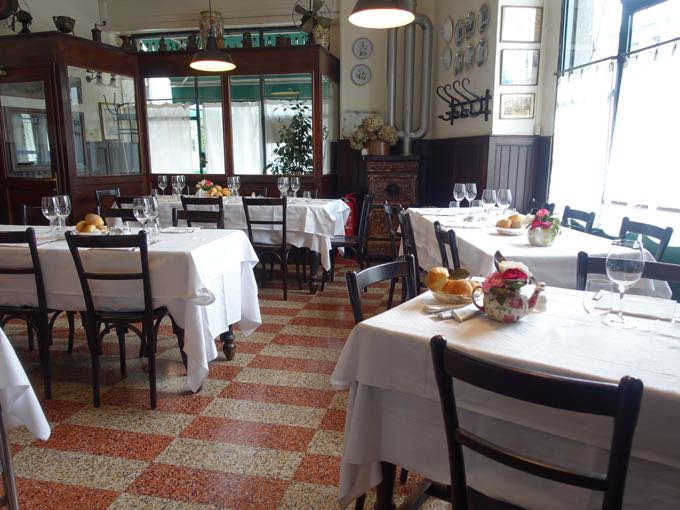 One of the very first things I ever ate in Milan – close to two decades ago – was a plate of riso al salto at one of Milan's most historic trattorias. I thought it was the best thing I had ever put in my mouth.
Even though much as changed in the last two decades – new openings, creative cuisine, ethnic and foreign influences – the riso al salto at Antica Trattoria della Pesa remains one of my favorite dishes in town.
While 80% of my fondness for this dish has to do with the dish itself (and I'll get to that soon enough) I admit that at least 20% of my love is due to the the setting. It is old world charm defined. White curtains make the interior mysterious from the outside and diffuse the light inside. Marble floors, well-used antique furniture, starched white tablecloths, gleaming silver. And the waiters. Professional, black-aproned waiters.
Lunch is my favorite time since I'm a sucker for the light falling on teapots full of flowers. Even when the sky is grey and dark outside, everything here seems crisply white and bright.
Every time I go I think I'm going to venture off into other parts of the menu, to try their ossobuco or costoletto. Or one of the old timey Milanese classics like cassoeula or foiolo (tripe). But no. Somehow that riso al salto ends up in front of me every time.
Riso al salto is something that is 100% Milanese. It is made with leftover risotto alla milanese, made the day before. The rice is then put in a small pan, with plenty of butter and made into a kind of pancake, becoming crispy on the outside. In other words it's the best part of the pot when you make risotto, the crispy, toasted,  buttery bits that get stuck to the bottom of the pan. My mouth is watering even now that I am writing this, it is so good.
I've had it other places and while it's usually never badly done, at Antica Trattoria della Pesa it is the best. I recently got a chance to go in the back and see how it was done and learned a few secrets. There is a LOT of butter involved(not really that much of a surprise) . Also, the addition of crunchy sea salt adds not only texture by a saltiness that is essential. And then there are the factors that are hard to recreate: A small pan that has been doing it's job forever, as well as a cook with that expert twist of the wrist to flip it over. Yes, it's all in the 'salto', or the flip. Which, thankfully, I caught on film. Barely. 
Via Pasubio 10, Milan
+39.02.655.5741
closed Sunday
For more information on dining in Milan and Italy download my app, EAT ITALY. EAT ITALY is a free app, and contains guides to Milan, Rome, Florence and Venice (and an ever expanding list of regions and cities) available as in-app purchases for both iPhone and iPad.