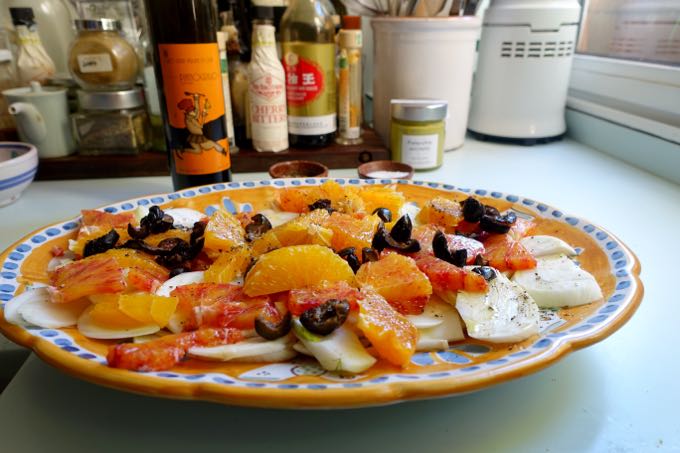 I've written about my passion for fennel and orange salad in the past. It's a combination that I can't get enough of this time of year. While I love the big, fat crisp fennel bulbs , what I really get excited about are the oranges. An orange a day is much more exciting than a boring old apple, right?
I admit, though,  that when it comes to oranges, I betray my local and beloved farmer's market. What I'm after this time of year are the huge sweet/tart tarocchi globes that come from Sicily. Wrapped in their own special tissue, each one feels like a gift. And like a gift, you never know what you'll get until you open it up. Even though tarocchi, or blood oranges, are known for their ruby red color, each is different. The hue and saturation is effected by temperature and weather, and so some are deep magenta,others are more pinky, and some are just a bright orange flecked with jewel like spots of ruby.
I eat some version of this salad almost every day this time of year . Sometimes with beets, and sometimes with lemons and I've even thrown in pomegranates when I have them. But mostly, I'm a sucker for the oranges. I've already written the recipe up previously, here. But I love this dish so intensely that I thought it deserved a starring role in its own video.