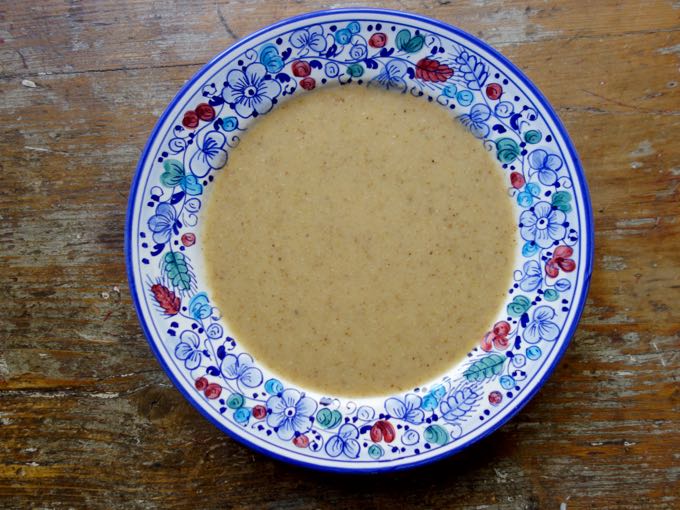 Some of my favorite recipes are the ones that provide me with an 'aha' moment. The recipes that make me think: I would have never thought of that! What a great idea! More often than not, they are about some new technique that I'll end up adopting and using over and over again, even if I never really end up using the exact original recipe.
I had one of those 'aha' moments the other day when I was watching one of my friend Melissa's videos on the New York Times website. I'm sure you already watch her videos , but if you don't, you should. They are short, sweet and always end up teaching something clearly and in a fun and easy to follow way.
While I almost always watch her videos the minute they come out, the other day I almost passed on one since the title was a bit misleading. I read the title very fast: Broccoli and Potato Soup. "What" I mistakenly thought, "Could I possibly not know already about broccoli soup?" It's one of those things I make a version of almost weekly in the winter. Easy and delicious, and I've always got the ingredients on hand.
When I looked more closely though I saw the word 'seared.' And that one word? Makes all the difference in the world.
Melissa's video, and recipe, were inspired by a recipe from Franny's restaurant in Brooklyn. In the original recipe Melissa separates each broccoli floret and sears them in hot oil before proceeding with her soup. And when I say sears, I mean she really browns them well on one side.
I was fascinated with this technique and wanted to try it right away. The only problem was that for once I had neither broccoli nor potatoes in the house. So I grabbed the next best things: broccolo romano and jerusalem artichokes.
I was a bit worried at first that the broccolo (which is really more like a cauliflower) wouldn't really sear. But it did, wonderfully, turning a deep and dark brown in the sizzling olive oil.
Even though the process of searing the veggies is a bit more time consuming than just throwing them in a pot full of water, the resulting soup is amazingly rich and complex, and well worth the effort. The oil itself, which becomes part of the soup, is full of flavor, and the florets that were browned had a sweetness and nuttiness that flavored the entire dish.
Melissa recommends trying it with zucchini in the summer, which sounds great. But in the meantime I've got an entire list of winter vegetables to try out. Cabbage, Brussel sprouts, cauliflower….a whole new world of soup has opened up. Which is what my favorite recipes do. Thanks Melissa!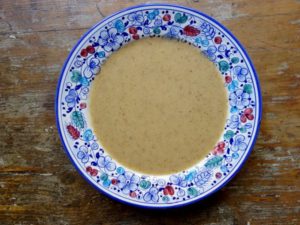 Print
seared broccolo romano soup
Yield 4 -6
Ingredients
1 head of broccolo romano
3 medium sized jerusalem artichokes (or potatoes), peeled and cut into 1/4 inch slices
1 medium sized onion, chopped
1/3 cup olive oil
3 tablespoons butter*
1 tsp salt
pepper
lemon juice and grated zest from one lemon
*You can eliminate butter for a vegan version of this soup.
Instructions
Divide the broccolo into small, individual florets. Make sure they are thoroughly dry, otherwise you will get a lot of spattering.
Pour the olive oil into a big soup pot, and heat to medium high.
Working in batches, brown the florets well, only on one side, without over crowding. You want to brown one side well, while keeping the other side bright green. Set aside. You may need to add a bit more olive oil as you go along.
Turn the heat down to medium and add the butter, onion and salt. Cook until wilted, about 10 minutes.
Add the broccolo back in to the pot, along with the jerusalem artichokes. Give it a good stir and add water to cover by 1 inch.
Bring to a simmer and cook until everything is tender, about 20 minutes.
Using an immersible blender, puree to desired consistency.
Add lemon juice and zest, stir and adjust for seasoning.
Since the vegetables in this soup get browned, the resulting soup is not the bright and vivid green of the original vegetable. Don't worry, the taste make up for its lack of looks. A pretty dish always helps too. The lovely dish used in these photographs is from MOD in Deruta, and was given to me by them to use on my blog.