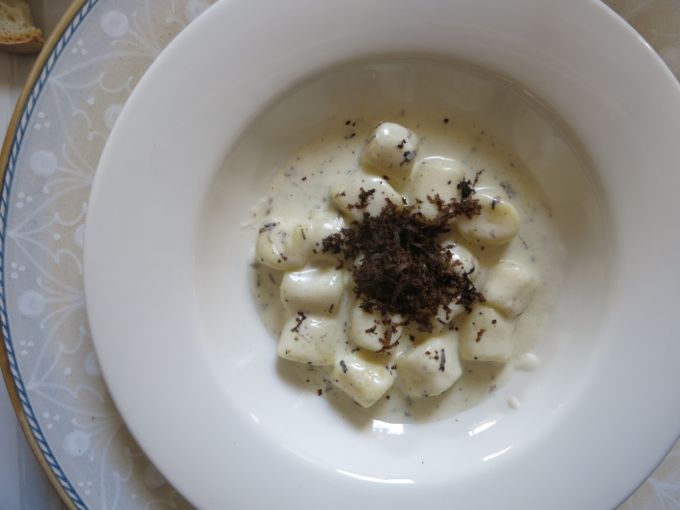 How do you like your truffles? Sliced thinly onto barely cooked eggs? Heaped onto a plate of pasta? Or maybe you enjoy the most decadent panino known to man?
Last spring I had the mind opening experience of enjoying  heaps of truffles paired not only with potato gnocchi (always a good thing), but also way too much butter, cheese and cream. I realize this is not a dish you are going to indulge in every day. But then again, truffles are a special occasion kind of food to start with, right? Might as well go heavy on the good stuff while you're at it.
I had my gnocchi truffle experience last spring up in Umbria. If you think of truffles as only a fall time treat, you're half way correct. While the best truffles do indeed happen as the weather turns cold (and we're entering that season soon), there are other varieties and qualities of truffles that are available in other times of the year when the gods of temperature and rain are kind.
I spent a day in April at San Pietro al Pettine running around the grounds chasing after some very adorable truffle dogs who were chasing after some very fragrant truffles. Molly was a very friendly female blond labrador and her partner, a male, was a special breed of Italian truffle dog, a lagotto romangnola. I learned that while females are much easier and faster to train, male dogs (of any breed) usually have the better noses.
There was also a painfully cute Jack Russel puppy named Pepe that was more interested in playing than anything else. I had a feeling that it was going to be quite a while until he settled down to the real business of finding truffles.
The truffles we were after were the black variety found in Umbria. Even though it was spring like weather, the truffles we found were still the black winter truffle, tuber melanosporum vitt. We were also lucky enough to have have a few white spring truffles as well, tuber albidum. Since San Pietro a Pettine actually has a truffle plantation (where oak trees are inoculated with truffle spores to encourage a regular harvest) they are able to stretch the seasons out.
The resident chef (and daughter of the owner) Alice, gave us a lesson on not only how to make the lightest gnocchi, but also how to get the most out of the precious truffles.
The trick to gnocchi, I learned, is to boil the potatoes in their skins, without breaking them. This avoids any excess water getting into the flesh, which would in turn weigh them down. Then, let the potatoes cool down only enough so has not to burn your hand. Peel them and run them through a potato press. Quickly add the other ingredients, but don't over mix.
To repeat, the rules of gnocchi making are:
Boil the potatoes in their skins
Rice the peeled potatoes while still as hot as you can stand
Don't over mix
Got that?
The truffles got added in three different ways, to get every last aromatic drop out of them. First of all, the day before, Alice had prepared some truffle butter, by grating bits and pieces of truffles into softened butter. She let this sit overnight, out of the refrigerator, so that the butter completely absorbed the scent and flavor of the truffles. And then she grated more truffles into the warm cheese fondue, as well as grating a final snow of truffles on top of the finished dish.
The smell of the finished dish was beyond incredible. By the end of the lesson I felt like Pepe, with my paws on the table, begging for my portion.
Print
gnocchi with truffles and cheese fondue
Yield 5
It's hard to give a quantity for truffles. Not only do truffles vary in degree of strength, they also vary in cost. So use as many as you can afford or think you need.
Ingredients
1.2 kilos of Potatoes
1 egg
400 grams / 3/4 pound flour
salt
200 grams / 1/2 pound taleggio
240 ml / 1/2 pint of heavy cream
3 tablespoons unsalted butter
Fresh truffle (as much as you can afford)
Instructions
The night before, grate some of the truffle into some softened butter and mix it well. Place in a non-reactive bowl and wrap tightly with saran wrap. Let sit for at least 24 hours to develop flavor.
Prepare the potatoes: wash them but do not peal them, and put them in a pot large enough to hold them and cover with salted cold water. Turn on the heat and bring to simmer, and cook until done.
While still warm (just let them cool off enough to not burn your fingers) peel them, and pass them through a potato press.
Add the flour, the egg and salt to the potatoes and mix until you get a mixture without lumps. Be careful not over mix.
Form long rolls of dough, rolling them out on a floured work surface. Let them rest a few minutes while you prepare the fondue.
Heat the heavy cream over a low flame, then add the cheese which has been cut up into small squares. Once melted, add a bit of grated fresh truffle.
Cook the gnocchi in boiling salted water. Add a handful of gnocchi at a time, and when they rise to the surface, scoop them up with a slotted spoon, letting the water drain
Add them to the fondue to reheat, using a bit of the gnocchi cooking water to loosen the sauce. Add 3 to 4 tablespoons of truffle butter and stir. Serve topped with grated white truffle.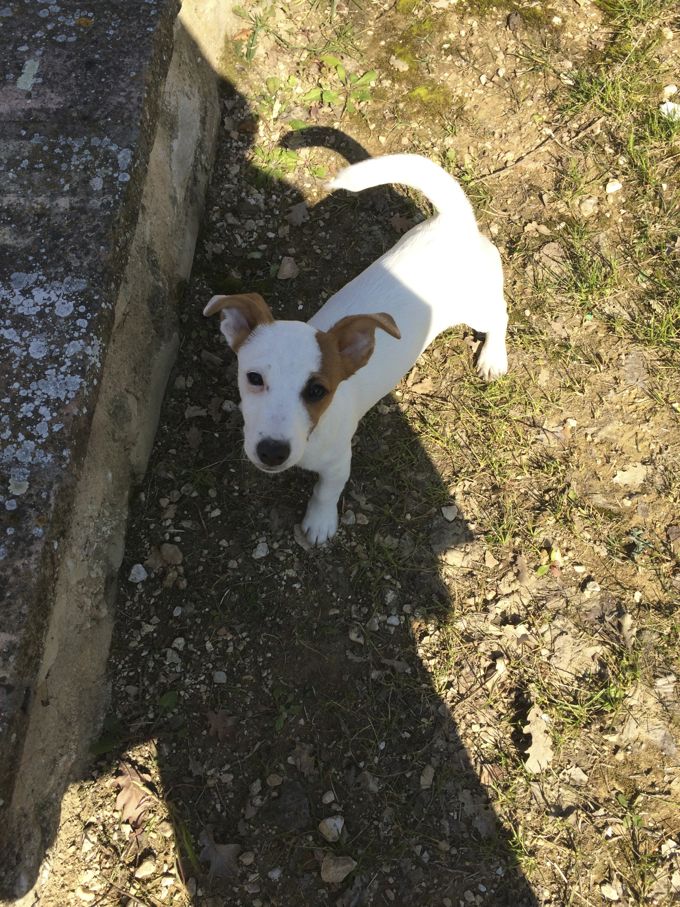 I had my truffle day at:
San Pietro a Pettine
06039 Trevi (PG) Umbria
+39.0742.386.637
They are happy to organize truffle hunts and meals, and they sell not only truffles but truffle products as well.