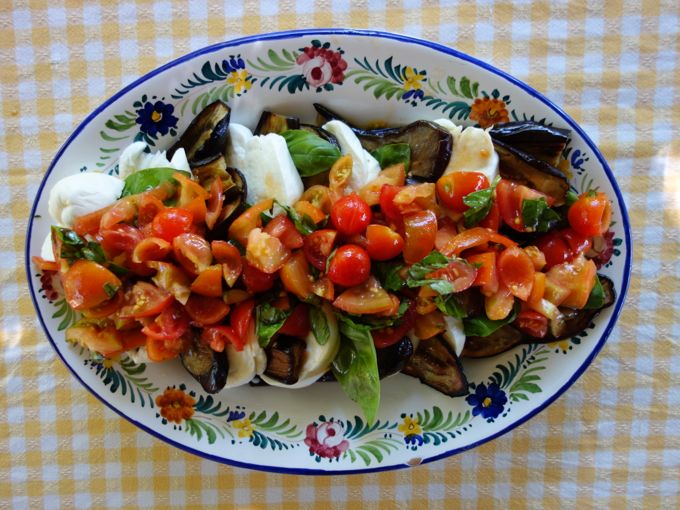 The only downside of traveling on the weekends is that I don't have a chance to visit the Farmer's Market to stock up for the week. Since it's only open on Saturday and Sunday this often puts a severe crimp in my weekly dinners. My usual plan of attack is to head there on Saturday afternoon, stock up on whatever looks good and is in season, and then work from that for the rest of the week. I love having the fridge stocked and ready to go, so that when I finally turn off my computer at about 7pm I don't have to run out to the corner to do any last minute shopping.
My back up plan for weekends spent away is called Domenico. While he sometimes comes with me on work trips, more often than not he's home taking care of business (that would be more commonly referred to as taking care of Pico.) This includes, hopefully, if I'm lucky, a trip to the Farmer's Market. Since I can't really make a list since you never quite know what will be available, he's left to his own devices.
At some point I will begin to get text messages such as "How many kilos of green peppers should I get?" and photographs attached to texts such as "Is this spinach or Swiss chard? Does it matter?"
No, it doesn't matter. I'm always happy no matter what shows up.
We have a small fridge out in the hall, where all this produce gets packed in for the week. When Domenico's done the shopping the first thing I do when I get home after a weekend away is have a peek, and do a quick inventory. Each bag usually contains a half kilo or so of some kind of veggie. I just open the top of the bag, have a quick look, and mentally start thinking up menus.
As we were heading up to Umbria last Friday I realized that I was going to be missing the Farmer's Market again. But I wasn't so upset because A) we would be harvesting the last of the summer produce from our own garden, and B) Domenico's haul from the previous weekend's Market was still lingering on in the fridge. So as we loaded up the car I grabbed a big bag of what I was absolutely sure was a mixture of green and red bell peppers. A full kilo of them if I was judging the weight correctly.
Perfect for fajitas, I decided. And grabbed a packet of tortillas leftover from the pantry.
The next day, when I decided to make the fajitas for lunch I realized that Domenico had not actually put each vegetable into a separate bag like I do when putting the groceries away. The bag I had pulled out did in fact have two peppers at the top. But the rest of the weight, which turned out to be about 2 kilos, turned out to be eggplants. That's about 4 pounds of eggplants. A lot of eggplants.
So fajitas were out. And Eggplant Caprese was in.
As we were driving up I had high hopes for the last Caprese of the summer. I picked up a couple of beautiful mozzarella di buffala braids hoping to pair them with the garden's last tomatoes. But unseasonably cold weather and lots of rain meant there were only a handful of tomatoes left, in all sorts of shapes and sized. Not the perfect round ones I was hoping for. But the cherry tomatoes, being the last of the season, were intensely flavorful and needed to pair with that mozzarella in some way.
The eggplant got broiled and layered with the mozzarella and the tomatoes were chopped up and sprinkled on top as a kind of tomatoey dressing. Our basil plants, while a bit yellow, were still fragrant and essential to the success of this salad.
Now the only problem left was what to do with the rest of those eggplants?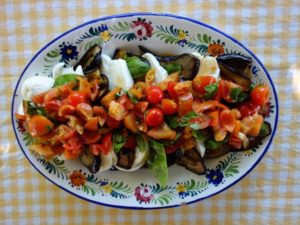 Print
eggplant caprese
Yield 4
Ingredients
4 small eggplants
12 cherry tomatoes
300 grams of mozzarella
olive oil
basil
Instructions
Preheat broiler to high.
Cut the eggplant into 1/2 inch slices and salt lightly. Leave in a colander to purge for about a half hour. Blot dry with paper towels and lay in a single layer on an oven sheet.
Brush both sides of the eggplant slices with olive oil and place in the oven. Check often and turn half way through. The cooking should take about 5 minutes per side. You want to make sure the eggplant is cooked through, and lightly browned. Take out of the oven and let cool to room temperature.
In the meantime cut the cherry tomatoes into quarters and place in a small bowl. Add some torn basil leaves. Season with salt and add about 3 tablespoons of olive oil and stir.
Slice the mozzarella into half inch slices.
To assemble:
Lay the mozzarella and eggplant slices on a small platter, alternating. As you go slip in some basil leaves as well. Give the tomatoes one last stir and pile them on top, along with some more basil leaves. Give the entire dish one last drizzle of olive oil and serve.