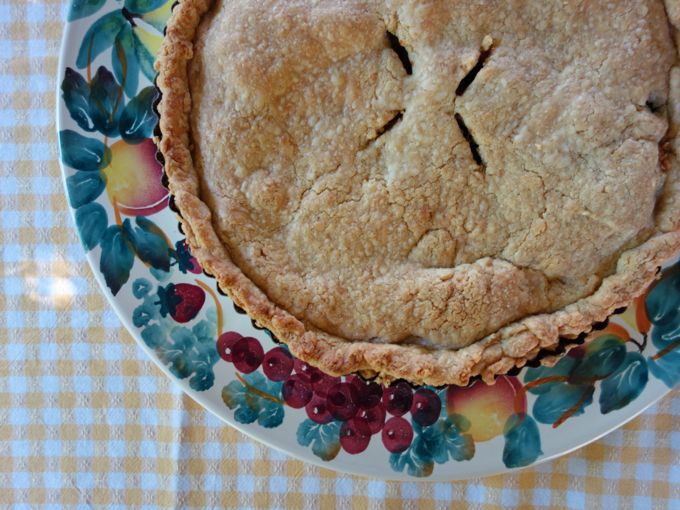 You know that summer has truly left the room when your mind – and your farmer's market, and every social media feed known to man – turns from tomatoes to kale. And even if here in Rome the warm weather is still hanging on, the cool nights and shorter days mean that the fall vegetables that grow in the surrounding countryside are filling my basket
If you think this is yet one more post about kale, it's not. Or, well, not exactly. I have to say the entire kale thing has never really hit here. We certainly have cabbage, but the closest thing to the curly leafed kale that seems to have taken over the United States that we have here is cavolo nero.
The dark green leaves of cavolo nero used to be pretty much confined to Tuscany. And 20 years ago, when we first started our garden up in Todi, I would have to start the plants from seeds, because no local nursery in Umbria was carrying the plants. And it was not until about 10 years ago or so that cavolo nero began turning up regularly in markets here in Rome.
But now it's just about everywhere and I was very happy to see huge bunches of it last weekend. It even sort of made up for my tomato withdrawal. Although I could have made soup or salad, for some reason I had savory tarts on my mind.
So while Gillian did the drudge work of stripping the tender leaves off the tough stems, I pulled together a crust.
I definitely didn't want any kind of quiche thing going on, but something much more hearty. So the cavolo nero got sauteed along with a good amount of pancetta and some potatoes to give it bulk and hold it all together. No eggs. No cheese. Not even an onion.
That's it. If you're thinking it sounds a bit plain and boring, it was anything but. That is due to the insane amount of butter in the wholewheat crust. Who knew that butter and cavolo nero could pair so well? Well, I should have. Butter makes everything better, right? Especially even kale.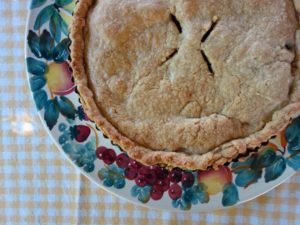 Print
cavolo nero tart
Yield 8
I used cavolo nero, or Tuscan Kale, But if you can't find it, you can go ahead and use regular kale. I served this as the main course, at lunch, but it could work well as a first course too. And if you don't want to use pancetta, you could make a vegetarian version of it with grated parmesan added at the end.
Ingredients
1 ten inch tart pan with removable bottom
filling
1 1/2 kilos / 3 pounds cavolo nero
1 cup pancetta, cubed
2 tablespoons olive oil
2 potatoes, peeled and cubed into 1/2 pieces.
salt pepper
Instructions
Strip the cavolo nero leaves off the tough stems and chop.
Pour olive oil in a large frying pan. Heat over medium and add the pancetta. Let it cook until it has given up its fat and is beginning to get crispy.
Using a slotted spoon, scoop up the cubes of pancetta and set in a small dish.
Put the cavolo nero into the pan, along with some salt and pepper. Add about a half cup of water and cook until the leaves are wilted. Add the potatoes and continue cooking. It may take about a half hour for the cavolo nero to get tender, and you may have to add a bit more water. When everything is almost done and the potatoes are beginning to fall apart, add the pancetta back in and cook for another ten minutes. At the end, let any water you have added cook away.
Preheat oven to 180c/ 350F
Roll out the first piece of dough to a 12 inch circle on a floured board.. Gently pick it up and place it in the tart pan. If part of it rips, don't worry, just patch it up. Let the extra hang over the edge.
Mound the filling into the center of the bottom crust, spreading it out evenly.
Roll out the second piece of dough and place it over the top. Crimp the edges shut, cutting off any excess. Using a sharp knife, cut four holes in the top crust to let the steam come out.
Place in oven and bake until golden, about 45 minutes.
Take out of oven and let cool for about 10 to 15 minutes. Gently remove from pan and place on platter to serve.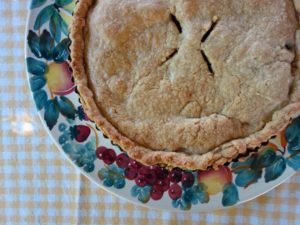 Print
tart crust
Ingredients
1 1/4 cup flour
1 1/4 cup whole wheat flour
280 grams / 20 tablespoons cold unsalted butter
1 tsp salt
2 egg yolks
6 tablespoons ice water
Instructions
Place flour and salt in a food processor and process briefly to combine. Add the cold butter, cut up in to pieces. P
Pulse on and off until it is just combined, and forms small pea shapes. Don't over blend.
Add both egg yolks and pulse again.
With the motor running, add the cold water, 1 spoonful at a time. Stop the machine when the dough comes together.
Take out the dough, divide in half and form two disks. Wrap them in plastic wrap and place in the freezer for 20 minutes.