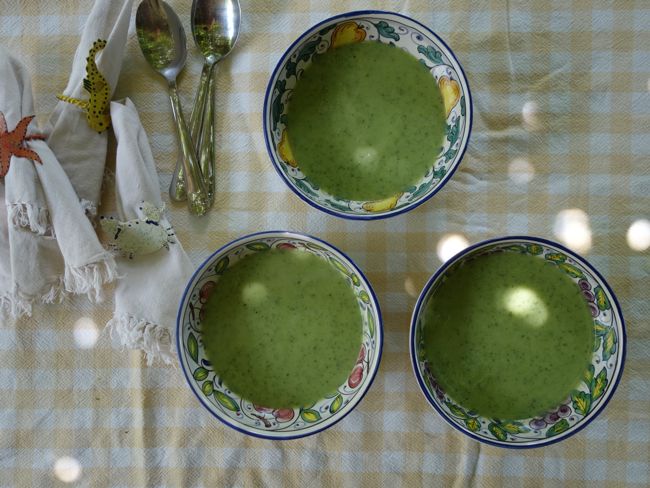 I've decided one of my hidden talents is figuring out new things to do with zucchini. Once again, Domenico has over-planted our orto. We seem to have the same conversation each and every year.
Domenico: I'm going to the nursery. How many zucchini plants should I get?
Elizabeth: 6 will be plenty. At the very most, 8. Get two plants each of different varieties.
A couple of hours later I head out into the vegetable garden to find Domenico digging 12 holes. For, of course, the 12 zucchini plants he couldn't resist.
Which, of course, I figured he would do (we've been married over 20 years), so, really, 12 plants would be ok. We'd still have too many zucchini, but somehow I know I could deal with them (just ask my friends Jane and Gillian who gladly accept zucchini each year about this time)
The problem always happens the following week. When this conversation takes place.
Domenico: I'm headed into town to buy tomato plants [you can never have too many tomato plants so quantity isn't an issue here.]
Elizabeth: Ok. Will you stop and get milk on the way home?
Domenico: Sure.
2 hours later, when I head out into the garden I find Domenico preparing the beds for 24 tomato plants. And six more zucchini plants.
Every year. The same thing.
So now here we are in July with, I think, 18 zucchini plants. I've lost count. And if you know how prolific zucchini are then you can sympathize with my current zucchini problem.
That I have too many zucchini is putting it lightly.
But my problem is two-fold, because not only do I have too many zucchini, I would also like to share new and exciting recipes with you. What can I say/do/cook that hasn't already been said/done/cooked with these over blown squashes?
Last week's inspiration came in the form of Sophie having her tonsils taken out. It was a painful, somewhat traumatic experience, but all's gone well. While she was recuperating she could only eat very smooth, cool food.
Vichyssoise seemed the perfect answer. Filling, savory (Sophie hates sweet) and cold.
So to kill a few birds with one big squash I developed a zucchini version of this standard. I'll call it Zucchini-soise..
And if you're like me? Currently drowning in Zucchini? Double the recipe. Or triple it. Give it to friends. Freeze it. Whatever you do you'll probably still have way too many zucchini. But at least now you have one more recipe in your arsenal to deal with it.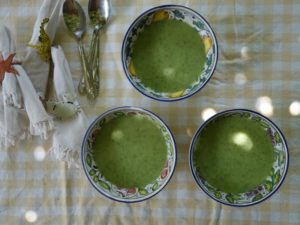 Print
Cold Zucchini, Potato and Leek Soup
Yield 8
Ingredients
2 leeks, white part only, chopped
4 medium sized potatoes, peeled and chopped
1 onion, chopped
1 kilo/ 2 pounds zucchini, chopped
2 cups milk
4 cups vegetable stock
salt
pepper
2 tablespoons olive oil
1 tablespoon butter
2 cups fresh basil leaves.
1 cup heavy cream.
Instructions
Put olive oil and butter in a large soup pan and heat. Add the onions and leeks, salt and pepper and let cook until wilted and softened.
Add the chopped potatoes and vegetable stock, stir and bring to a simmer.
Cook for about 15 minutes, until the potatoes are almost done.
Add the chopped zucchini, the milk and enough water or broth to cover by about 2 inches.
Let cook for another 15 minutes until everything is cooked through.
Let the soup cool completely. Add the basil and then, using an immersible blender, blend until very smooth. Add the heavy cream and blend again.
Adjust for seasoning.
Place into the refrigerator to chill.
Before serving, taste again and adjust for seasoning since it will taste very different once it is cold. Garnish with chives if you'd like.