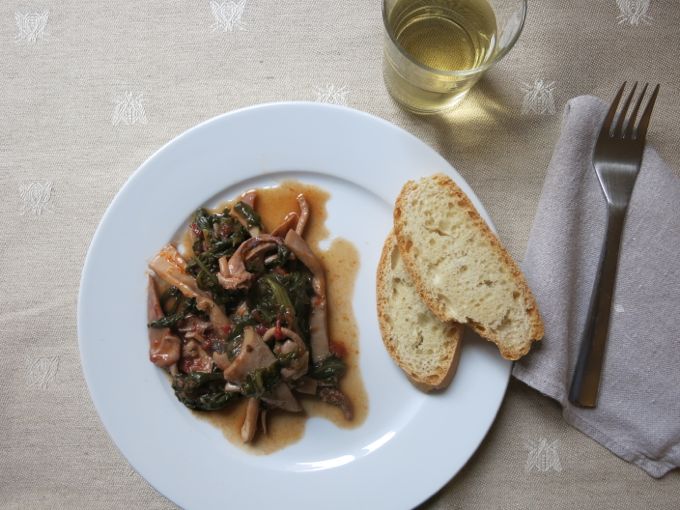 Don't you hate it when you're in a squid rut? You know, you buy squid and the only two recipes that spring to mind are either grilling it or stuffing it. I bought squid last week and since I did not feel like digging out the grill from its winter hibernation, nor did I feel like the fiddliness that stuffing would involve, I was at a loss for ideas. I was just a big squiddly blank.
And if you're thinking fried calamari, forget about it. Fried squid is just too messy/smelly for me to think about at home. In other words a restaurant treat pure and simple.
That's when I remembered, vaguely, some sort of squid dish made with greens. I knew it was Tuscan and had some sort of weird name that never made any sense to me. So I began googling but couldn't quite come up with the correct word. Gimonio? Zinnio? I thought it ended with a 'io' and kind of remembered a 'z' in there somewhere. In the best of times I'm not a good speller, and combined with my ever worsening memory, I was getting nowhere.
Then I realized I didn't have to google in Italian. I would just type in 'squid and spinach' and see what floated to the top.
Inzimino! No wonder I didn't remember it. It's an archaic word that doesn't often pop up in conversation. Reading more I found out that it actually referred to a Tuscan style of cooking something – usually fish or squid, or even tripe – that uses greens of some kind (spinach or chard) to stretch out the more expensive protein into a meal.
Lucky for me I had a huge bunch of chard from last week's trip to the farmers market.
Calamari in inzimino is basically squid and chard stew. Squid are chopped into rings and then cooked along with greens, a few tomatoes, an onion and some garlic. You can spice things up if you want with a bit of perperoncino, but the Tuscans usually keep things on the mild side. Once you've mastered the recipe, you can certainly apply it to almost anything. A version made with chickpeas is a nice vegetarian stew.
It's all very easy and comes together in about an hour. The most difficult part of this recipe by far is just remembering the name.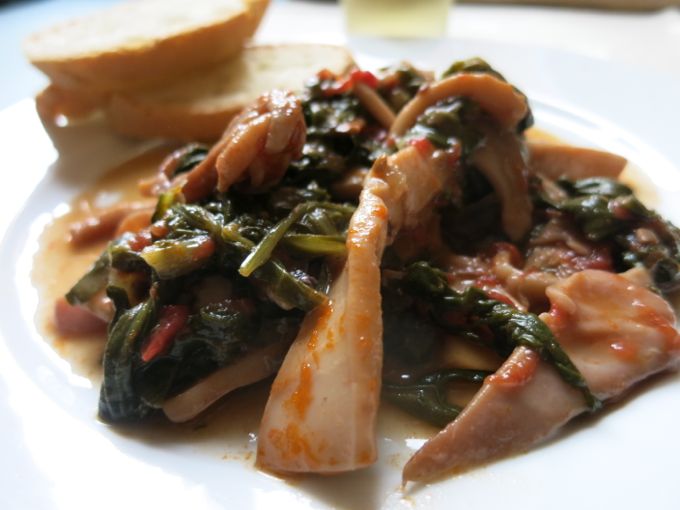 Print
calamari in inzimino
Yield 4 - 6
Squid cooked together with greens
Ingredients
1 kilo/ 2 pounds of squid
1 kilo / 2 pounds of swiss chard (or spinach)
2 tablespoons extra virgin olive oil
1 small onion, chopped
2 cloves garlic, chopped
salt, pepper
2 cups canned tomatoes
Instructions
Clean and cut the squid into 1/2 inch rings.
Rinse the chard, and roughly chop. If the chard has thick stems, you can use them too, just chop them up into bite size pieces.
Pout olive oil into a large saute pan big enough to hold everything. Heat the oil and add the onions, salt and pepper. Let the onions cook until softened, about 10 minutes.
Add garlic, stir and let cook for about 2 minutes.
Add the squid, stir and cook for about five minutes until it begins to turn opaque.
Add the tomatoes, stir and let some of the liquid from the tomatoes cook away, about 5 minutes.
Add the chopped greens, just piling them up on top of everything. Put a lid on the pan and let the greens wilt down, for about 8 minutes.
Take the lid off, stir the greens into the squid and let simmer for about 20 minutes more.
Notes
I like to bring the entire pot to the table, and serve it from there, letting everyone sop up the juices in the pan with pieces of crusty bread. You can also serve it with polenta, which is perfect. In the summer it is also good served room temperature.