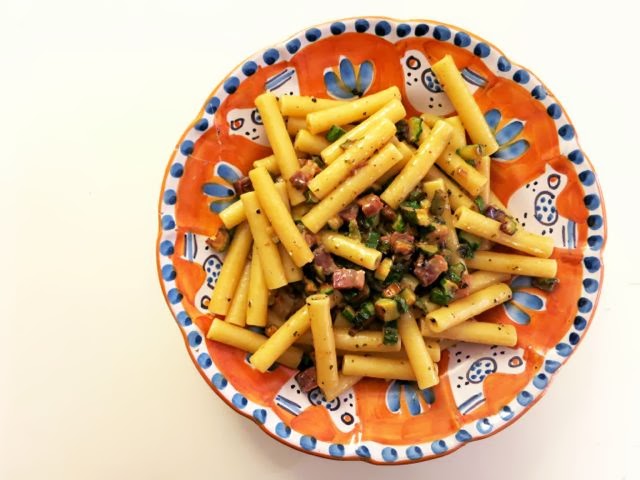 Even though Sophie lives on her own these days, I still can't help feeding her. Although she does pretty well on her own, especially during the week, on weekends – especially Sundays – she tends to hang out with us. The lure of a big Sunday lunch certainly has something to do with that I'm thinking.

One of the perks of Sundayt lunch is that Sophie usually gets to take home leftovers which head to work with her the next day. Unfortunately last Sunday somehow the lunch was so good that there was not one bit left over. I felt very guilty sending her off with nothing (yes, the whole Jewish/Italian mother thing kicking in) so I decided to make her something from scratch.
Since this was one portion of something made especially for Sophie I of course stuck to her three favorite food groups: pasta, pork and vegetables. Pasta with zucchini and pancetta
I know, I know. I spoil her. But think of it this way. I managed to get a blog post out of it. And you got a new and delicious recipe.
And Sophie? Well, she made out the best.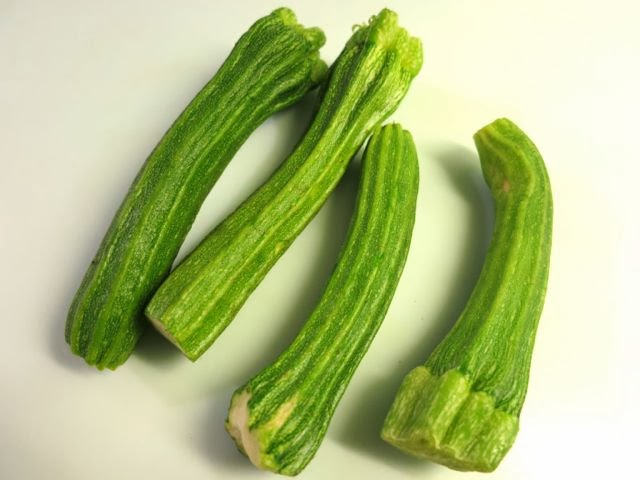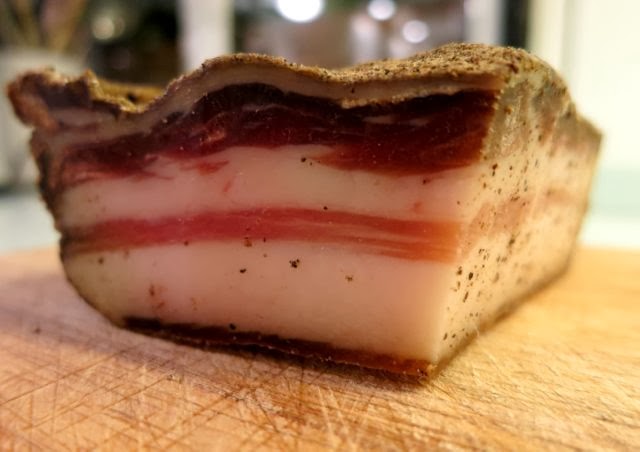 pasta with zucchini and pancetta
serves 1 very lucky daughter
100 grams of pasta
2 thick slices of pancetta, cut into small pieces
4 small zucchini, cut into small pieces
1 tablespoon of olive oil
1 tsp of dried oregano
salt and pepper
1/4 cup grated parmigiano
Pour the olive oil into a pan large enough to hold all the pasta later. Heat over medium heat and add the pancetta. Let it cook until it gives up most of its fat and becomes crisp. Lift out with spoon and set aside.
Add the zucchini to the pan and raise the heat. Cook until it just starts to brown, about 5 minutes. Add the pancetta back into the pan and season with salt, pepper and oregano.
In the meantime bring a large pot of salted water to boil. Add pasta and cook until al dente. Drain, reserving a cup of the pasta cooking water.
Add drained pasta to the zucchini mixture and stir over medium heat. Add the pasta water and the grated parmigiano, alternating and stirring, in thirds. A nice creamy sauce should form from the two.
Turn off heat and place in a pretty bowl. Photograph it. Blog about it. Then put it in some tupperware for your daughter to take to work.