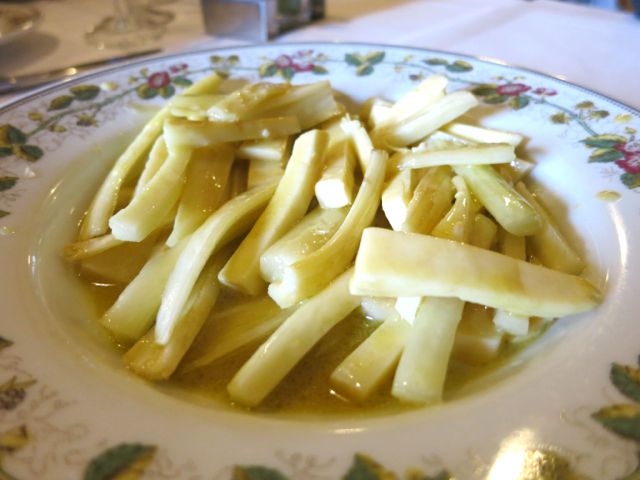 Old fashioned Roman restaurants are quirky things. I often hear from visitors to Rome that they've looked at the menu, chosen something, only to see everyone else around them eating completely different dishes than were listed on the menu.

Not only are daily specials not listed, but even if you ask, certain things – like antipasti and side dishes (contorni) – remain completely mysterious.
For instance, take puntarelle. This seasonal salad is beloved by all Romans. And is never ever listed on the menu. If you ask what the side dishes of the day are, the waiter will usually tell you chicory, Swiss chard, potatoes and mixed salad. If you ask "Do you have puntarelle?" the waiter will almost inevitably answer "Si, certo." Like you were supposed to somehow know this without asking.
Even restaurants where I have been going to for years have special dishes that continue to escape my notice. For instance we've been going to Perilli for Sunday lunches for about 15 years now. And it was only last year that I discovered their delicious and – as far as I can figure out – totally unique celery and cheese salad.
And the only way we found out about it was thanks to our favorite waiter Valerio. One afternoon Domenico and I had arrived at 1:00, to meet the Sophie and Emma for lunch. For some reason (drying their hair? putting on make up? ) they were very late. Valerio took pity on us, and brought us over a plate of what at first glance looked to be cheese in oil.
Instead it was Perilli's amazing celery and fontina salad in mustard vinaigrette. Who knew? Well, I should have. It had always been available on the antipasto table for as long as we'd been going there. Tucked right between the carciofi alla romana and the stuffed zucchini. But, somehow, it had never been offered, and so it had never been ordered. At least by us.
It's now become one of our favorite dishes. The white tender celery hearts are cut into long sticks, as is the fontina. They are then mixed together with a lemony vinaigrette made with mustard. But not spicy French Dijon mustard, but a more mild and fruity one. Basically any supermarket mustard that you can get in Italy. (more French's than Grey Poupon)
Although I'm calling this a salad, it's more of an antipasto. Just enough crunch and tang, balanced with cheese to get you through those painful minutes when you are waiting in your favorite restaurant for your daughters to arrive, but are starving.
celery + cheese salad
4 to 5 stalks of celery heart (only the whitest inner stalks)
1/4 pound piece of fontina cheese*
1/3 cup olive oil
3 tablespoons of lemon juice
1 1/2 tablespoon of yellow mustard (oddly, I think French's mustard might actually work in this dish)
salt & pepper


*If you can't get Fontina, then a high quality Swiss would work just fine.
Cut the celery into 3 inch long, thickish pieces (see foto)
Cut the cheese into the same shape.
Put the mustard into a small bowl. Slowly drizzle in the olive oil, stirring in a bit at a time to incorporate it until pouring in more. It will get very thick. Slowly add the lemon juice, and taste. If you like it more lemony add more. Add salt and pepper to taste.
Mix everything well in a bowl and let sit for at least an hour before serving. This allows the cheese to absorb the flavors of the vinaigrette and the celery to wilt just a bit.
To serve: place on a small, shallow dish in the center of the table and let everyone serve themselves. Serve with bread, and soon you'll see everyone will be fighting to dip their bread in the leftover dressing.