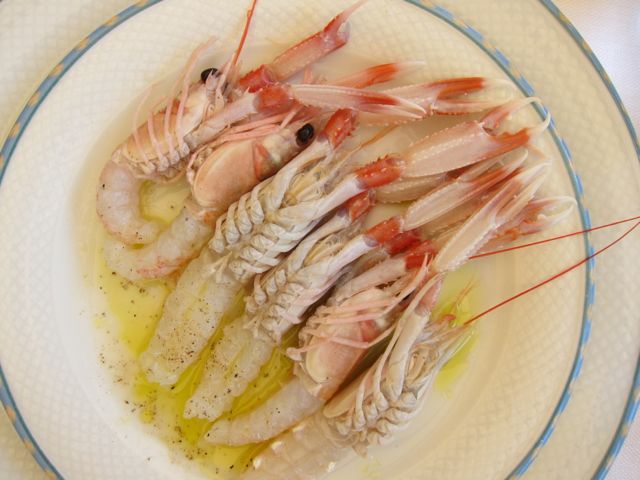 One of our favorite things to do in Bari is eat fish. Domenico's family's home hangs out over the port, and as his mother often repeats: "siamo gente di mare," we are people of the sea. She always tells the story of how, growing up, every day fishermen would stop by their house up the coast in Molfetta, with baskets of flopping fresh fish for her mother to choose from.

Even though fish is still plentiful, with fishermen right outside the door, pulling the daily catch out of boats, these days we are more likely to go out for lunch or dinner, rather than cook at home.

We were down in Bari last week celebrating Domenico's mom's 90th (!) birthday. For her birthday dinner we headed to Terranima, and had all sorts of pugliese goodies like panzaroti and focaccia. All very delicious, but nothing from the sea.

This meant that for lunch the next day Sophie needed her raw fish fix. While we all love seafood, Sophie is boarder line obsessed about eating raw fish in Bari. Either visiting the fish store where she flirts enough with the vendors, who let her gobble up shrimp and clams before they even make it out the door. Or else scooping up freshly opened sea urchins right at the port. She starts planning her raw fish adventures weeks ahead of time.

Since this was a celebratory kind of weekend, we decided to head to Al Pescatore , one of Bari's famous fish restaurants. It's located at the edge of Bari Vecchia, in the shadow of the Castello Svevo and only a few hundred feet from the waterfront.

Like most of my favorite serious fish restaurants, this one isn't much too look at. Unless you're looking at your plate, that is. The interiors are bare and simple, with most people opting for the terrace that wraps around the place. Our table was just the perfect combination of warm spring sunshine and cool sea breezes.

This is the kind of place where you say the magic word antipasti, and the good stuff gets going. The only decision you have to make is between crudi and cotti – raw and cooked. Like the good Barese that we are, we ordered both.

While we drew the line at raw mussels (they actually do eat them down here) we had everything else. Bright pink scampi that were almost swimming around in a puddle of olive oil and lemon juice. Freshly shucked noce, a type of clam that reminded me of the little necks I used to get back home. And bright white tagliatelle – thinly cut strips of raw squid, dressed in nothing but the seawater they swam in on.

The cooked portion of our antipasto included two types of shrimp. Huge, beautiful barely cooked gamberi, that were nestled in a pile of crisp and crunchy celery, tomatoes, arugula and red onions. The all time best version of shrimp salad ever.

Next was a bowl full of the house specialty: scamponi al ghiaccio. Think shrimp cocktail on steroids. Mega scampi are cooked ever so briefly in boiling water, then immediately plunged into ice to stop the cooking.

A massive bowl of mussels and clams, steamed just enough to pop open, had us all dueling with chunks of bread to sop up the garlicky broth.

Domenico's favorite was the fried portion of our program. Lovely rings and tentacles of squid, of course, but also fluffy, creamy balls of fried crab.

Even though I said the shrimp salad that came a few courses before was the best I ever had, I realize it was a tie for the next dish, which was the only somewhat 'fancy' dish of the day. Tiny gamberi, lightly floured and pan fried, then tossed (still warm) with chopped tomatoes and arugula. A drizzle of balsamic seemed out of place at first, but the sweetness went perfectly with the hot, fried shrimp in a very exotic, non-barese, but really good way.

I'm a lover of simplicity, and fish baked in a salt crust is one of my favorite things. While I've had it with spigola, orata and dentice, this was the first time I'd seen the trick applied to still in the shell gamberi. Brilliant.

You'd think we were full by then, but while it reads like a lot, the small plates were numerous, but not too filling. Just enough to leave room for pasta.

Thank goodness.

Three words. Best. Pasta. Ever. At least mine was. I had spaghetti with clams and mussels. It couldn't have been simpler, or better. The trick with making this dish sing are ingredients of course. I'm not sure which brand of pasta they used, but it was a good one (Cavallieri I'm thinking). And then the shellfish: fresh, plump and bursting with juices that developed into a creamy coating for the pasta.

The mezze maniche con ragu di coda di rospo was excellent too. At least I think it was. Domenico finished it up before I could even get a bite.

We almost didn't order dessert, but the waiter insisted on 'just a taste'. And just a taste meant 'just a taste' of all their cakes. While they might just look like a mess on that plate, they were all surprisingly delicious. Lots of well made panna montata, crema and fresh fruits. Nothing wrong with that.

No fish meal in Bari is complete without just a tiny cup of lemon sorbet.
A post lunch passagiata back through Bari Vecchia, and it was kind of a perfect day.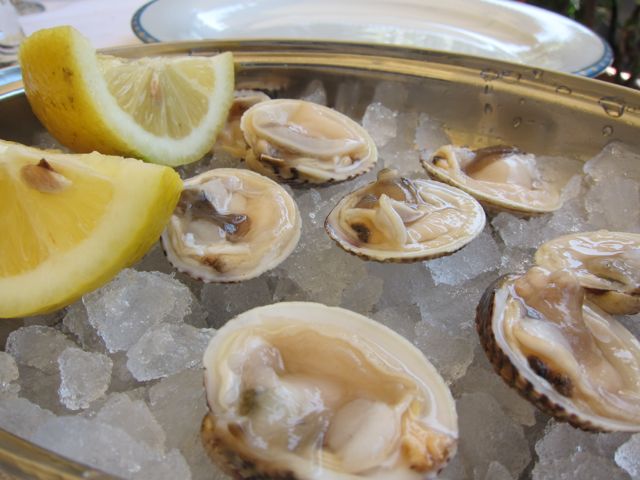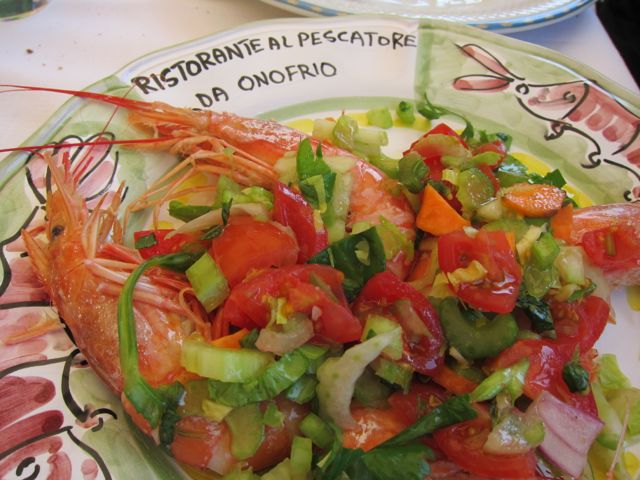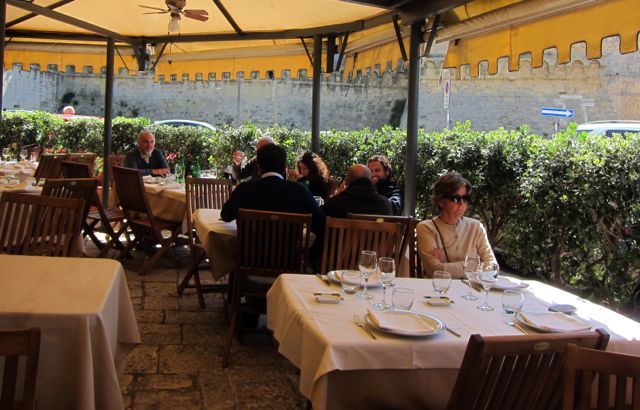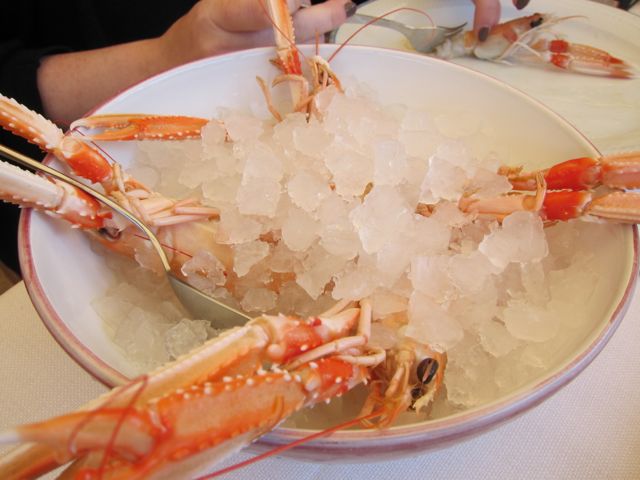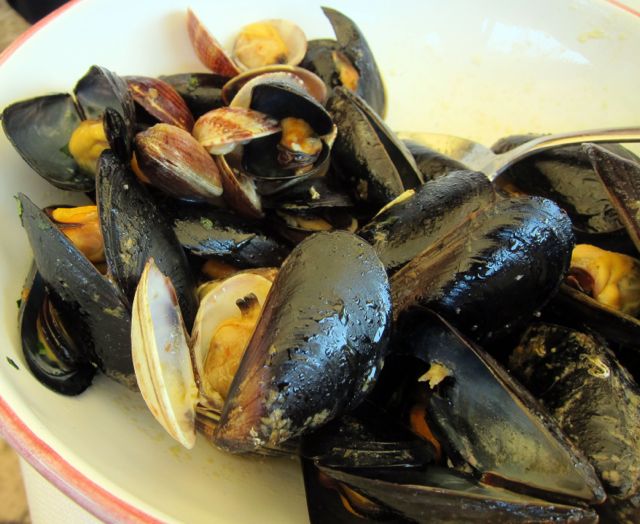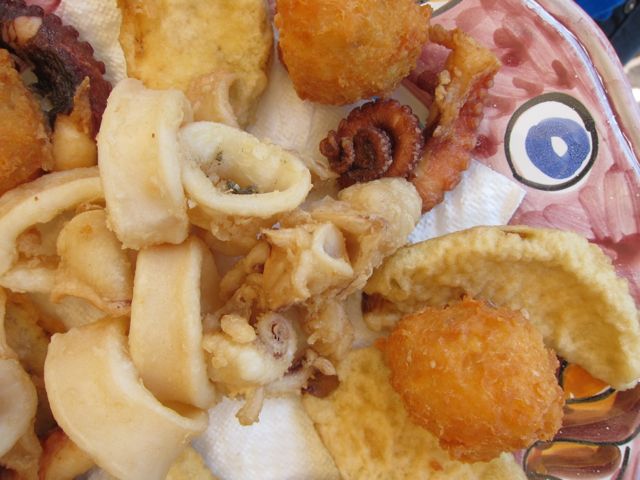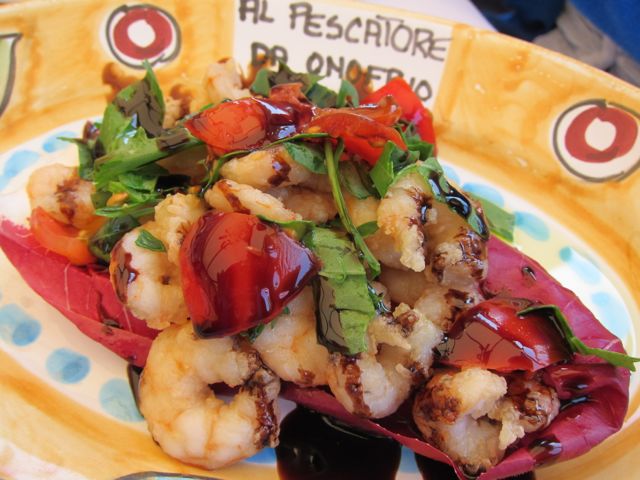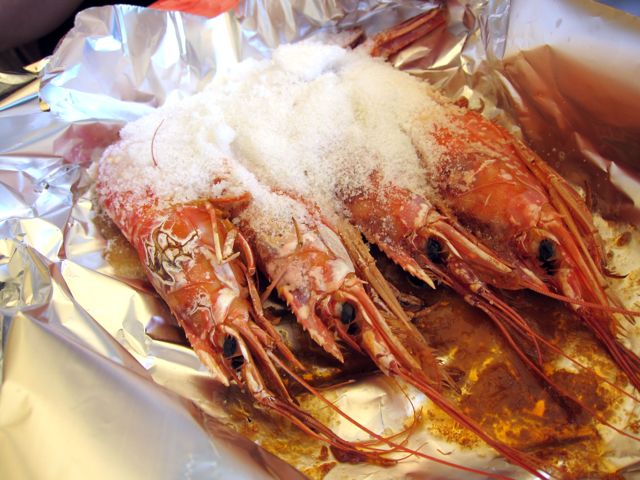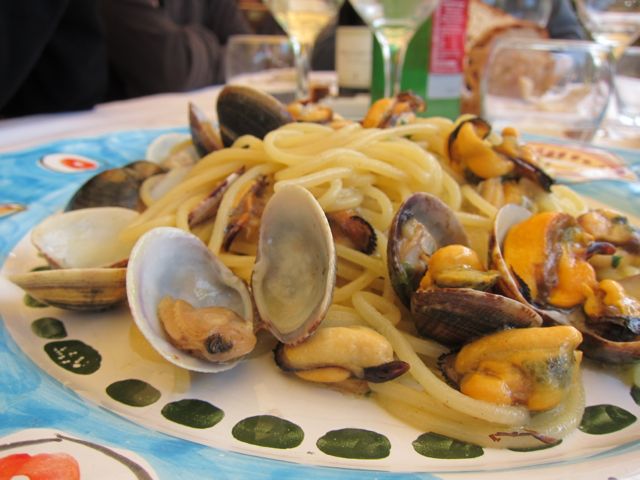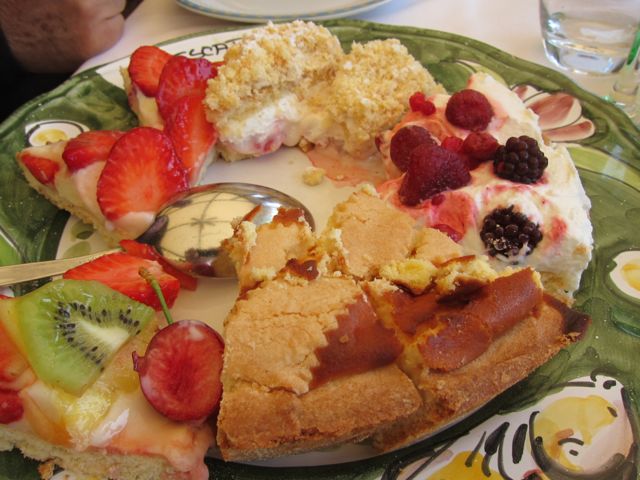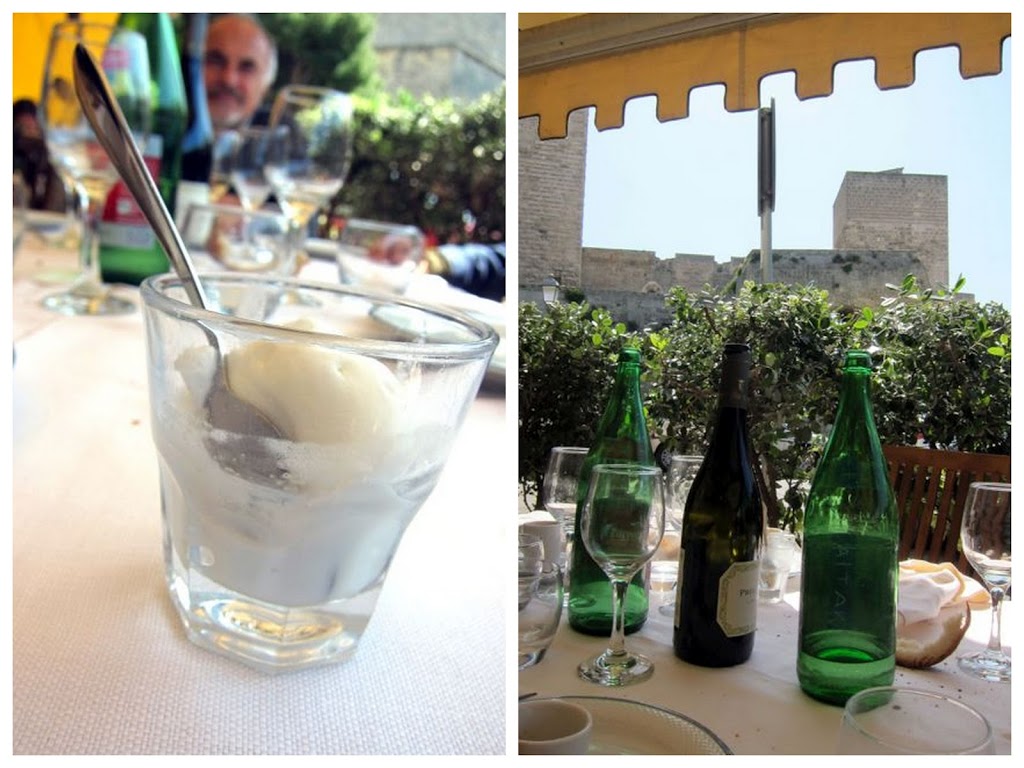 Al Pescatore
Piazza Federico II Svevia 6
Bari
+39.080.523.7039