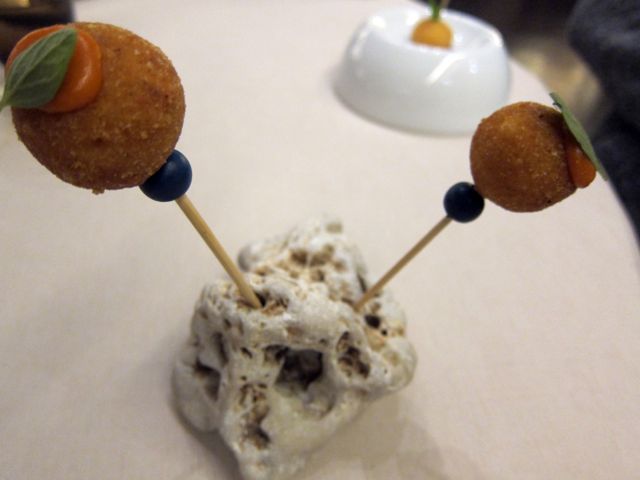 I've been wanting to go to Metamorfosi since it opened last October. But there was something about it that made me hesitate. Not because I doubted it was going to be fantastic (I'd heard from Katie, Maurizio and Andrea that is was great) but….I was kind of intimidated.

Not intimidated in a bad way. But I suspected the experience was going to be so extraordinary, that I wanted to choose an extraordinary occasion to go there.

I'd say a 22nd wedding anniversary qualifies, don't you?

So, a couple of weeks ago, Domenico and I traveled over to Parioli (ok, it's not that far, but it still felt special venturing out of center) to celebrate.

First of all, a bit of background. Metamorfosi is a serious restaurant. The chef (Roy Carceres) has a heavy duty background, and his sous chef, (John Regefalk), comes most recently from Noma. So you get the level they are aiming at.

But if you're thinking stiff and formal, think again. Metamorfosi is part of a new breed of chef-centric restaurants in Italy that focus on stellar (and I'm talkin' Michelin stars here) food, without all the overly formal trappings. Yes, the service was flawless. But the dining room itself was minimal, modern, unpretentious, comfortable and….Ligabue and Vasco Rossi were playing in the background. I mean really. What more could you want?

Of course, the food's the thing, so I'll get right to it. Yes, to answer your question, it's 'creative.' And I know that in the wrong hands (and we've all been there) these manipulated kinds of dishes can often prove more visually seductive than scrumptious. While I can certainly convince you of the beauty of every dish that made its way to our table through these images, how can I begin to tell you how intense all the flavors were? How different textures and temperatures played against one another to produce a symphonic meal that was one of the best I've ever had in Rome?

Since it was a special occasion, we went for broke and put ourselves completely in the hands of the chef, ordering the Assaporando tasting menu. In theory, this was an eight-course meal. In reality, with the extra gifts from the chef, it turned out to be more like 10 or 11. I lost count. (this may also have to do with the wine pairing menu we enjoyed)

I'm not really one for over-analyzing food. And frankly, when it comes to dishes of this caliber, I find words lacking. So I'll just tell you what we had, with minimum gushing.

While enjoying a glass (or two) of bubbly (it was our anniversary) the first dish came to the table. What looked like a simple plate of butter turned out to be playfully emblematic of the meal to come: nothing is what it seems (I guess that's the metamorphosis thing coming to play). The light-as-air mousse was in fact a glorious transformation of fruity olive oil and fleur di sel. Spread atop fresh warm farro bread. Hard to stop eating it, but we knew more (and then some) was coming.

The fun tone continued, with a pair of Cinta Senese (pork) lollipops stuck atop a rock, and a tiny, perfect croquette of aged parmigiano, fried and sitting in a puddle of tart raspberry reduction.

Then the real meal started. Deconstructed carbonara. Sounds weird, I know, but turned out to be way beyond wonderful. A single egg cooked at 65 degrees for (if I remember correctly) an hour and a half. Incredibly silky texture that paired perfectly with the pecorino foam (I know I know, foam. But it was a good foam, ok. Very cheesy). And brilliant fried pasta and pork rind, light and crispy (kind of like a Cipster) to dip into the creamy egg.
Barely cooked tuna, with chestnut ice cream came next.

Hard to call out a favorite, but the pressed raw shrimp, on a bed of crunchy bread crumbs and topped with oyster cream and avocado was sublime. And as with all the dishes, topped with just-picked fresh herbs that were not garnish, but an essential element of the dish.

After an exquisitely cooked scallop with radicchio (sorry no photo) we moved on to secondi.

Marsciarelli spaghetti, perfectly al dente, topped with 'polvere e profumo di mare.' Dried, dehydrated mussels that did indeed make me think I was standing by the sea. Then three prefect ravioli, filled with creamy blu di monviso and dressed with rounds of beets and black truffle. And finally Risotto in Pacchetto Zafferano e Chinotto. That would be rice in a saffron package with chinotto (a type of Italian soft drink). I'm not sure what the packet was made out of, but it was gorgeous, melted away magically beneath my fork, and contained a truly ethereal saffron risotto.

The next dish was almost too pretty to eat. Served on a black piece of granite, a filet of teryaki-glazed smoked eel with a scoop of bright pink onion and wine sorbet perched on it's own gelid stone.

Even though we thought we couldn't possibly eat another bite, we both finished the pigeon, cooked two ways: tender and crunchy. And like all the dishes, the attention to detail was extraordinary. The single leaf of swiss chard, barely cooked, draped across the pigeon was no mere splash of color. It was – and this is symbolic for the entire meal – the best bite of swiss chard I've ever had.

Sorry to leave you with a somewhat disappointing photo of desert. It looks like a piece of chocolate sitting in a pool of foam. It was actually filled with crunchy creamy hazelnut gelato, which broke open at the touch of my spoon, while the waiter poured freshly brewed hot coffee on top of it.

How many courses were there? I lost count. Did I mention the two glasses of bubbly, the flight of three (or four?) red wines and a small snifter of incredible rum to finish off the meal? It was our anniversary, remember. And called for celebration and a very special restaurant. Which Metamorfosi was in every respect.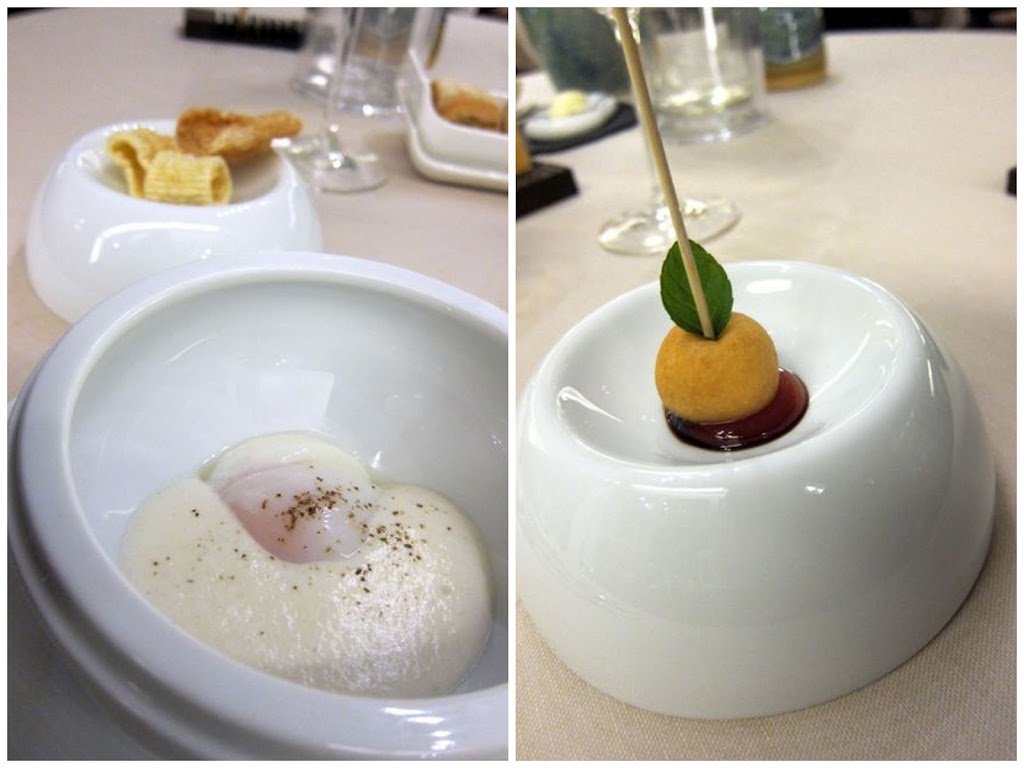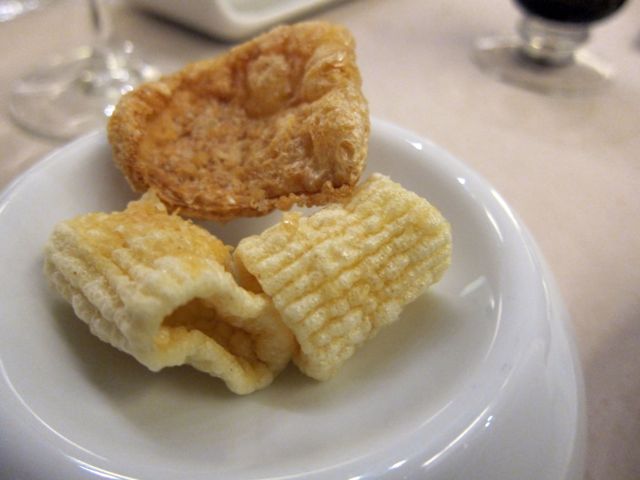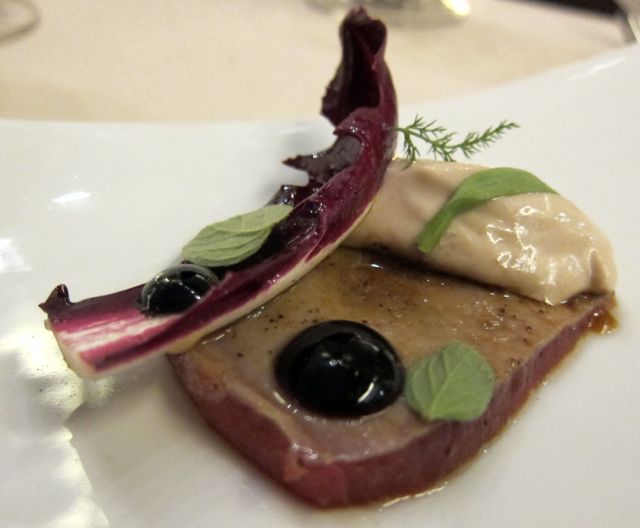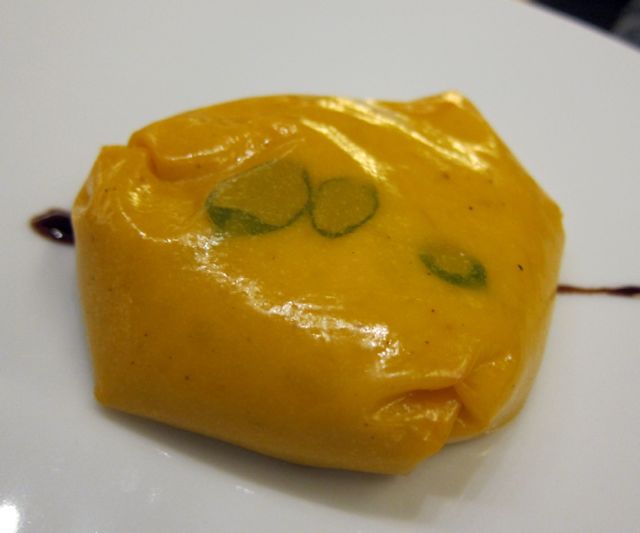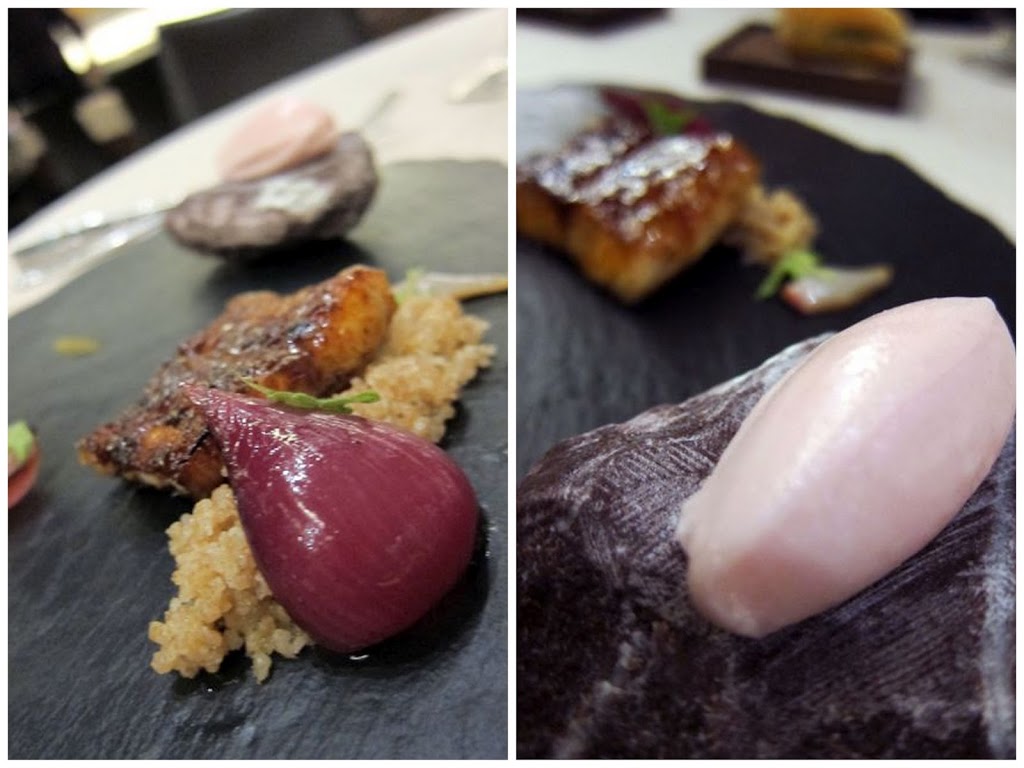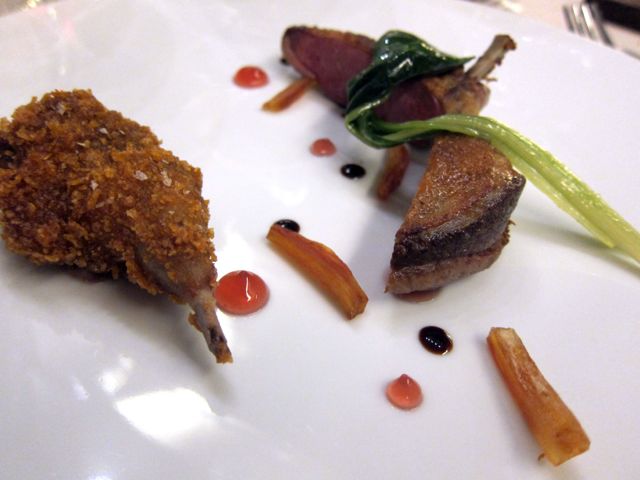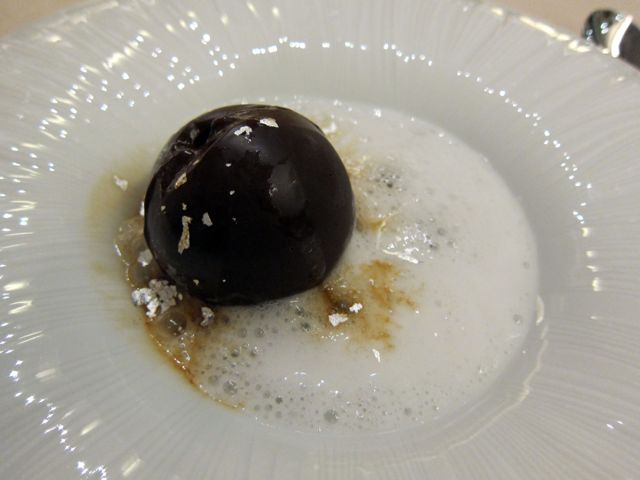 Metamorfosi
Via Giovanni Antonelli 30/32
06.807.6839
Assaporando Tasting Menu 90 euros which, if you haven't figured it out already, is one of the best deals in town.