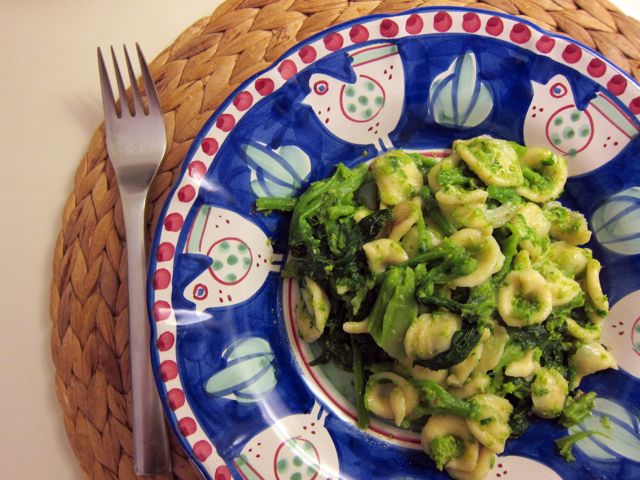 It's not always easy being married to an Italian. There are a lot of expectations. As you probably know by now, I'm not a bad cook. My range is wide, and I'm comfortable cooking everything from pizzas to crostatas. And pasta? I make it at least once a day.

But reproducing Mama's dishes? That's another story. Making orecchiette con le cime di rapa just like Domenico's pugliese mother makes. That one threw me for a loop for the longest time.

I remember having it for the first time in Bari and thinking "hey, this seems pretty easy. You even cook the vegetables and pasta in the same pot."

But back in my newly-wedded home, I tried often – and failed – to recreate this typical dish. Under cooked orecchiette. Over cooked orecchiette. Broccoli that fell apart. Broccoli that tasted nothing like mamma's.

And then there was the whole thing about getting my hands on some orecchiette in the first place. This little ear shaped pasta is very much a pugliese thing, and although you'll find 'orecchiette' shaped pasta in most super markets, they aren't anywhere near the real thing.

Real orecchiette are thick, hard and – when cooked correctly – slightly chewy to the bite.

But today I'm happy to say that I've finally perfected my orecchiette con cime di rapa. It's only taken me 20 years, and involves driving down to Bari to shop for ingredients.

I kid you not.

I know I bang on about local, seasonal ingredients a lot. And cime di rapa are a typical example. Although you can get some version of flowering broccoli here in Lazio, it is a completely different animal from the bunches I pick up at the market in Bari. The earth, climate and variety give the cima di rapa from Puglia a very specific, pungent, green taste that is unique. I've never quite found the exact same taste north of Naples.

So, whenever I'm in Bari I get at least a few kilos. They are not cheap, and much gets trimmed away. To prepare them for cooking you only want the tenderest of the leaves and the flowering heads. The thick stalks get thrown away.

I also load up on orecchiette. If I'm organized, I buy it from the pasta shop in my mother-in-law's neighborhood. If not, I admit it, I buy the 'four for the price of three' packs at the Sarni on the autostrada. Not quite hand made, but still pretty darn good.

Thus equipped – with only a 500 kilometer drive to the market between me and my dish – I can proudly produce perfect orecchiette con cima di rapa.

I know few of you will be able to do the same. But I'm giving you my recipe anyway. Also dispensation to use whatever kind of flowering broccoli you find in your market.

Just don't expect your – or anyone else's – pugliese husband to be satisfied.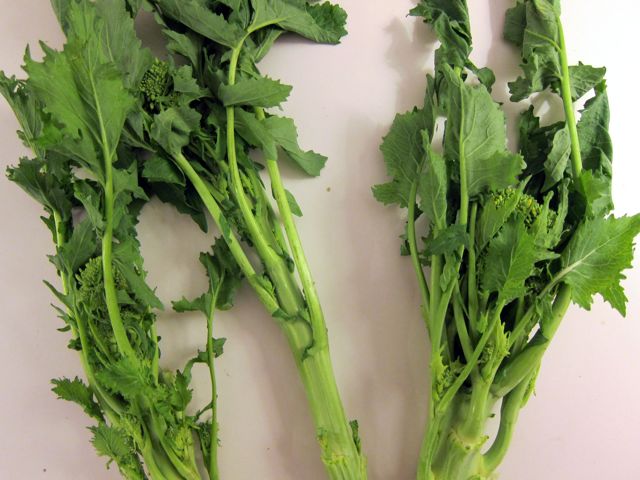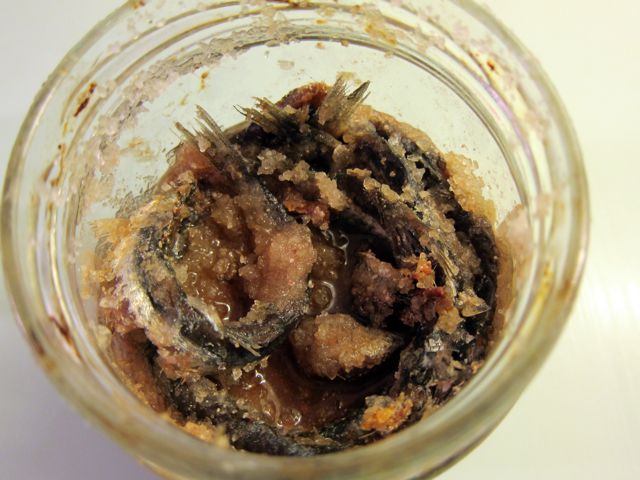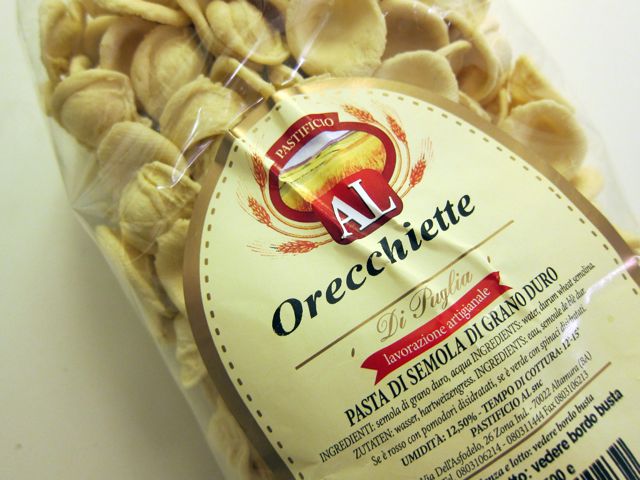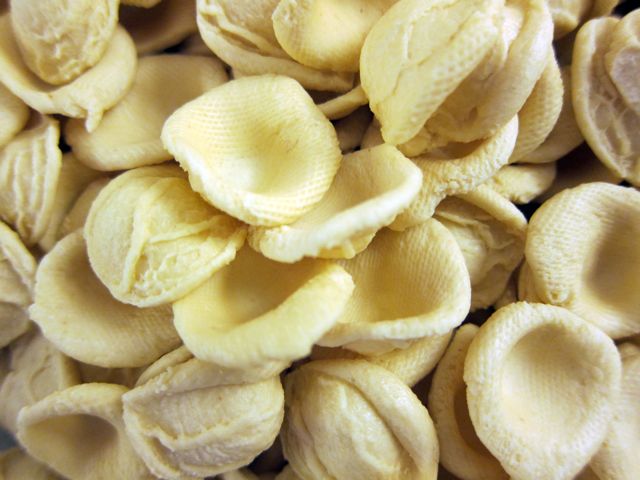 orecchiette con le cime di rapa

1 pound/ 500 gr. orecchiete pasta
2 pounds/1 kilo prepped cima di rapa (broccoli rabe)
5 tablespoons olive oil
2 cloves garlic, chopped
red pepper flakes to taste (about 1/4 – 1/2 tsp)
4-6 anchovy filets

Prepare all your ingredients before you get started.

Wash and trim your greens. This took me the longest time to figure out. you want every bit that is tender, but that's sort of subjective. Definitely the flowering head, or cima. Then the tender center leaves, as well as any bigger ones that seem tender.

Anchovies: you can use anchovies packed in oil, ready to go, but I like the ones that are preserved in salt. This means soaking them for about 10 minutes, in room temperature water. Then carefully opening them up, taking out the central bones, and rinsing them off. Cut them into small pieces.

Bring a large pot of salted water to boil. Add the orecchiette, and set timer for five minutes. After five minutes, add broccoli and bring back to steady simmer.

In the meantime, place oil in a pan that will be large enough to hold all the pasta and broccoli. Heat oil gently, and add garlic and red pepper. When garlic begins to become fragrant, add anchovies, mixing and mashing them up with a wooden spoon. Turn off heat so garlic doesn't brown or burn.

After pasta has cooked for about 12 minutes total, start checking it. Orecchiette is a tricky pasta to get right. You want it to be cooked through, but still chewy. They will be more 'al dente' than other kinds.

When it is cooked, drain pasta and broccoli in a colander, reserving a cup of the cooking water.

Turn heat back on under olive oil, and add pasta to the pan. Stir and toss over low heat, so that pasta absorbs the oil. Add a bit of cooking water if you think it's dry. But the broccoli should give the dish enough moisture.

Serve, making sure you divide the broccoli evenly into each dish, since it tends to
clump up.