My friend Laura is the hostess with the mostess. She has a gorgeous home in Umbria, which just keeps getting more and more beautiful and comfortable every year. (It's all over my recent book, Italian Rustic). Even though we have our own home not so far away, we always jump at the opportunity to stay at Laura's. She the kind of hostess who always makes sure there are fresh flowers in your room, and a pitcher of water by your bed. Fluffy towels and bath robes make it seem like staying in a five star hotel.

Laura is a master jam maker, and is constantly making things like cotagnato and chutney. She even makes her own olive oil and her own wine, for God's sake. But you want to know her secret weapon when it comes to entertaining? Paola. Yes, Laura can set the perfect table, with antique silver and just ripe pomegranates as centerpieces. But as beautiful as the dishes are, what's served in them is even better.

Laura is very lucky to have Paola in the kitchen. I first met Paola through my friend Evan Kleiman. Evan has had a restaurant in LA, and is a well known cookbook author. She was in Todi, catering a huge house party and Paola was one of the local women who came to help. That was about twenty years ago.

While most of the local women know how to cook – and cook very well – Paola brings things to an entirely new level. Even though she stays true to rustic, local ingredients like rabbit, truffles and sausage, she creates mini masterpieces that have nothing to do with the local – and rather rough – cuisine.

This past weekend at Laura's was the vendemmia (grape harvest). While we 'romans' toiled in the vineyard, picking truckloads of grapes, Paola was inside, cooking away.



For lunch on Sunday Paola grabbed one of the pumpkins that Laura had artfully arranged on the front porch and made risotto. As good as this looks, It was even better in person. Better than any I've ever had. Here's Paola's recipe.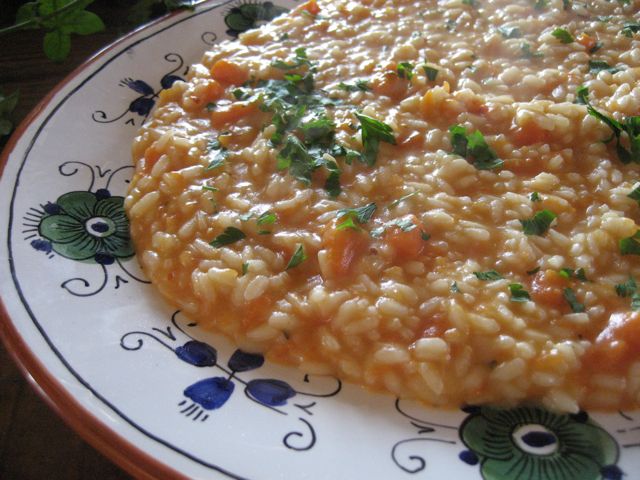 Risotto di Zucca
serves six to eight
500 grams of arborio rice
4 to 5 cups cut up pumpkin
2 small onion
6 Tablespoons of butter
1 cup of robiola cheese*
1 cup white wine
broth

In a saute pan, put 3 Tblsp. butter, and saute 1 finely chopped onion until it softens.

Peel and cut pumpkin into about 1 inch cubes. It's important not to cut the pumpkin too small, since you don't want it to fall apart.

Add the pumpkin to the butter and onions and cook until it is just cooked and tender.

In a separate pot, large enough to hold the risotto, put 2 more tablespoons of butter. Let melt and add the other finely chopped onion. When it has soften and cooked, add the rice and stir for about 2 or 3 minutes, until the grains get thoroughly coated in butter. Add the wine, and let evaporate. Slowly add the hot broth, a ladle at a time, until rice is almost cooked.

When rice has just about 2 or 3 more minutes, add the pumpkin, stirring.

Take off the heat, add remaining tablespoon of butter and cheese. Stir, and serve.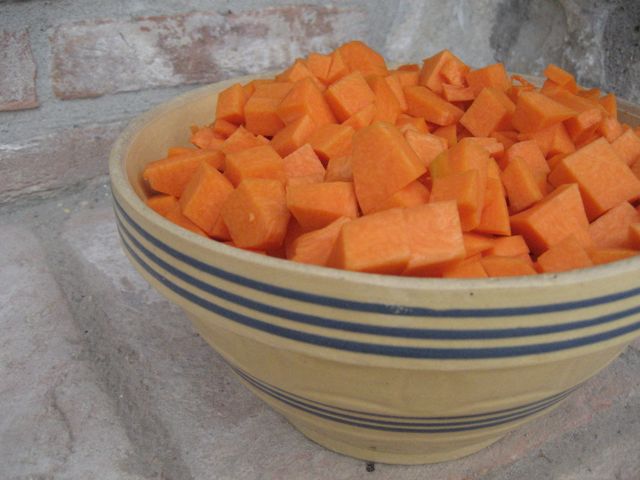 *Paola uses robiola, which is a soft, fresh cheese, not too strong tasting. She says it's perfect, so that it makes the risotto creamy, without overwhelming the taste of the pumpkin. But she says sometimes, when she wants a stronger effect, she uses taleggio.