"This trip more than met my expectations and I recommend it to any of you with a deep curiosity about today's Rome. Brava!"
~ Paterson, New Jersey
Day Trips from Rome
Rome is the perfect base from which to explore the central Italian countryside and surrounding hill towns. Join me for a full day adventure while we visit craftspeople, hill towns, farms and food artisans – while eating and drinking our way through the Italian countryside. We'll start early, in Rome, where a car and driver will pick us up. Then we'll head out of town, and onto the Autostrada, to begin our day. My tours are completely private so that we can focus on things that really interest you. I am currently offering the following day trips outside of Rome, but can easily develop others to suit your taste and schedule. To find out more about any of these Day Trips, just send me an email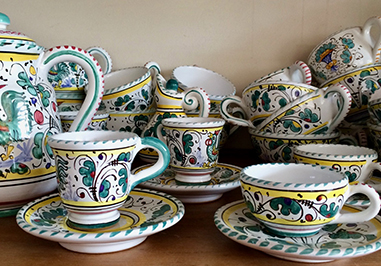 DAY TRIP TO DERUTA
Deruta is home to one of the most loved of Italian crafts: hand-painted ceramics. I love these ceramics so much, I even wrote a book about them. On this day trip, I'll share my love and passion for this age-old craft. Our day will include a visit to the newly restored 
museum
 and original 16th-century kilns. Then we will get to the real reason you signed up for this tour: shopping. We will get 
behind the scenes tours 
at a half dozen 
workshops
 were artisans form and glaze 
tableware
. You'll be free to just window shop, or (and this is where the fun is) buy or custom order beautiful, hand-painted pieces. (don't worry, they ship). Then we will head to a 
roadside truck stop
, where we'll enjoy a delicious lunch of Umbrian specialties.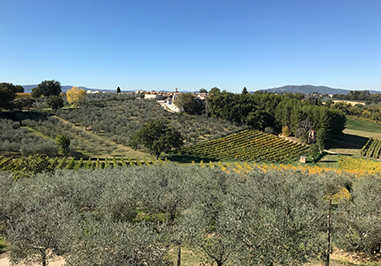 OLIVE OIL DAY IN LAZIO
Olive oil is one of the great joys of Italian cooking. It is a staple of the Mediterranean diet and the olive oil from the Sabine Hills north of Rome is known as some of the best in the world. On this Day Trip, you will immerse yourselves in everything from growing, picking and processing olive oil to (of course) tasting different varieties. Along the way, we will enjoy a leisurely lunch featuring local specialties paired with olive oil. The tour is available all year long, although the nature of the day changes according to the season. Pressing usually takes place October, November, and December.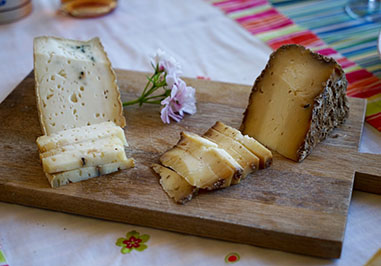 ORVIETO WINE AND CHEESE DAY
Orvieto is one of the most beautiful medieval cities in central Italy. The magnificent Cathedral stands guard over the ancient town and the surrounding Tiber Valley. We will make the hour and a half drive up to Orvieto, first stopping at an o
rganic goat cheese farm.
 We will then visit one of the most famous wineries in Italy, for a tasting of the white wine this area is known for. For lunch, we will head into Orvieto, where we'll sample 
local truffle-topped dishes
. Finally, after a walk through the 
town
 and visit to the Cathedral, we'll head back to Rome.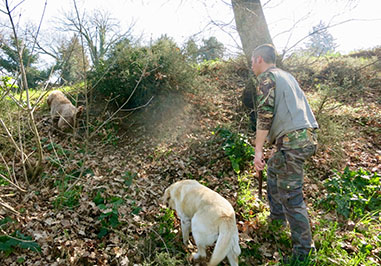 TRUFFLE HUNTING (AND EATING!)
There is one way to guarantee that your truffles are as fresh as possible: hunt for them yourself. On this day-long tour we will head to the heart of Umbria, to join 
professional hunters 
and their trusted dogs to search for black gold. Hopefully, we will be lucky. But don't worry, the place we are visiting always has the freshest of truffles and we will not only enjoy a four-course meal but also have a 
cooking lesson 
to learn how to get the most out of these precious tubers.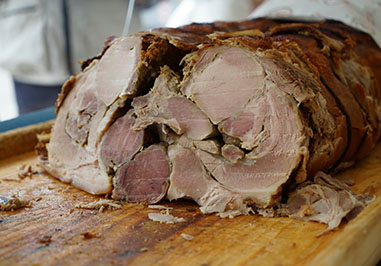 PORCHETTA-RAMA
You know you love porchetta. But how about a full day immersion in the best porchetta in the countryside south of Rome? After a stop for cappuccino in the lakeside hill town where the Popes summer, we'll visit a 
small butcher shop 
where what most people consider is the best porchetta in Italy is being made. We'll take our package of porchetta and head to a local
 fraschetta,
 where we'll sit down to enjoy our purchases with glasses of Frascati white wine. But this is only our appetizer. We will also be stopping by Nemi, where we will enjoy the view, as well as the local wild strawberries. We then head south, to Ariccia, for a full 
lunch
 of local specialties including coppiette (pork jerky), mozzarella, cured vegetables, arrosticini and slow-cooked beans with pig skin. A coffee at the oldest bar in town, and then we head back to Rome.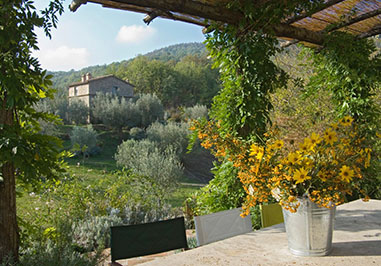 ITALIAN RUSTIC DAY TRIP TO UMBRIA WITH DOMENICO MINCHILLI
I wrote my last book, 
Italian Rustic
, with my husband, 
Domenico Minchilli
. Together we looked at central Italian building techniques and resources. Domenico specializes in both residential and hotel designs which renovate and bring historic buildings back to life. On this day-long trip, you will join Domenico to visit not only some of his 
finished projects
 in Umbria but also stopping by some of the artisans and salvage yards on which Domenico relies to provide him with handmade vintage building materials. Stops will include a visit to an artisan terra cotta tile maker; a carpenter who recreates antique doors and windows; a salvage yard that specializes in ancient stone fireplaces. You will also visit several private homes that Domenico has restored.