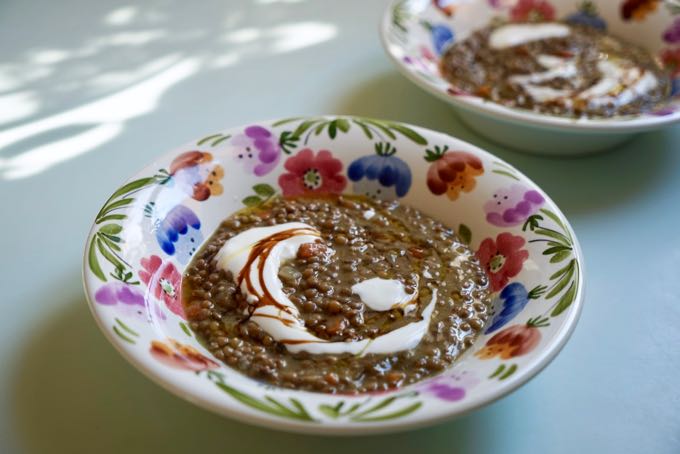 The other day, while I was going over the edits from my next book, I was surprised by one of the comments my editor made. Even though I had mentioned that the dried beans called for in the recipe had to be put to soak the night before twice (in the chapter introduction and in the recipe itself) she said I had to repeat it again, in the headnotes and maybe even a fourth time, as a special added note. Her reasoning? There is nothing worse than wanting to make a recipe for dinner and realizing that you should have started things the night before.
Ok, I totally get that. Lesson learned.
Which I guess explains my love for lentils. They are the bean (well, they're not really a bean) that not only requires no soaking, but cooks up in about 40 minutes. Which means there is NO reason to use canned lentils when dried are SO much better. (sorry for the RANT).
There are several other things that helps explain my lentil love:
You can store them forever, so you can always have them on hand.
There are so many different varieties of lentils, you'll never get tired of them.
They are flavorful enough to stand on their own, but also serve as the perfect backdrop for whatever else you're in the mood for (curry, pork, vegetables, etc)
I was recently thinking about all of this when I made lentil soup last night. I never start out with a recipe, but kind of just make it up as I go along. This time not only did I let my Instagram followers tag along in my stories, but  then Domenico said it was really the best lentil soup I'd ever made. And I have to admit it was good. And since I woke up this morning to at least 30 requests for the recipe so here it is.
Although I've posted lentil soup recipes in the past, a few tweaks help explain why this particular soup was a stand out.
I used a base of pancetta and celery ground to a fine paste in the food processor. This added a instant richness to the broth. I could have chopped things up, but processing them to a paste helped things cook faster, and really added depth
Great lentils: I bought tiny little brown lentils from a stand at the farmers market. Grown just north of Rome, around Viterbo, they cooked up very fast, but remained firm, and didn't go all mushy.
Finishing touch: This part was key, I think, to making this recipe so delicious. Once I had ladled the soup into the bowls I added swirls of whole organic yogurt; fruity extra virgin olive oil; and aceto balsamico tradizionale (they good stuff). A final grinding of black pepper and it was good to go. Somehow the combination of all these last minute condiments really punched the soup up. While I might normally scatter fresh parsley on top of lentil soup, in this case it didn't need it.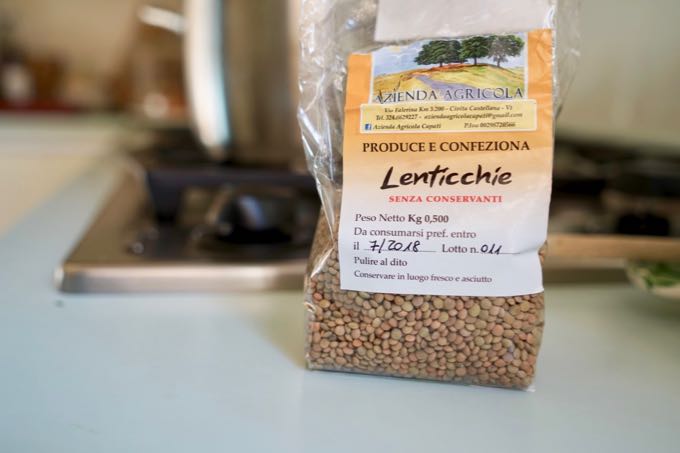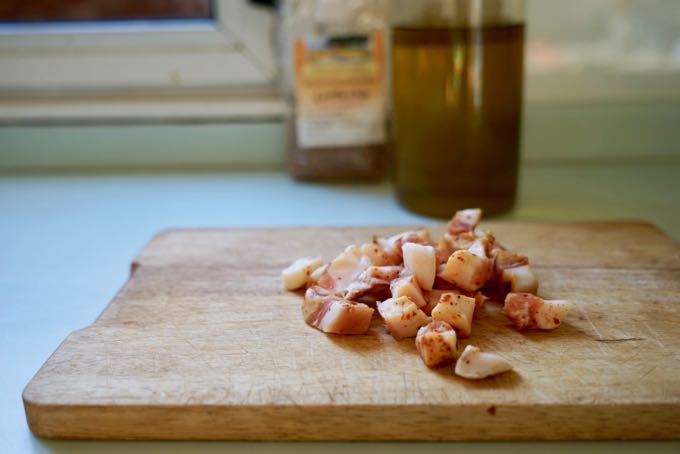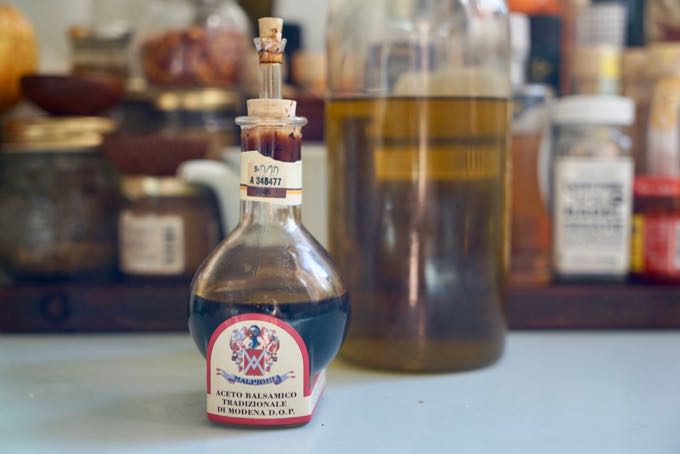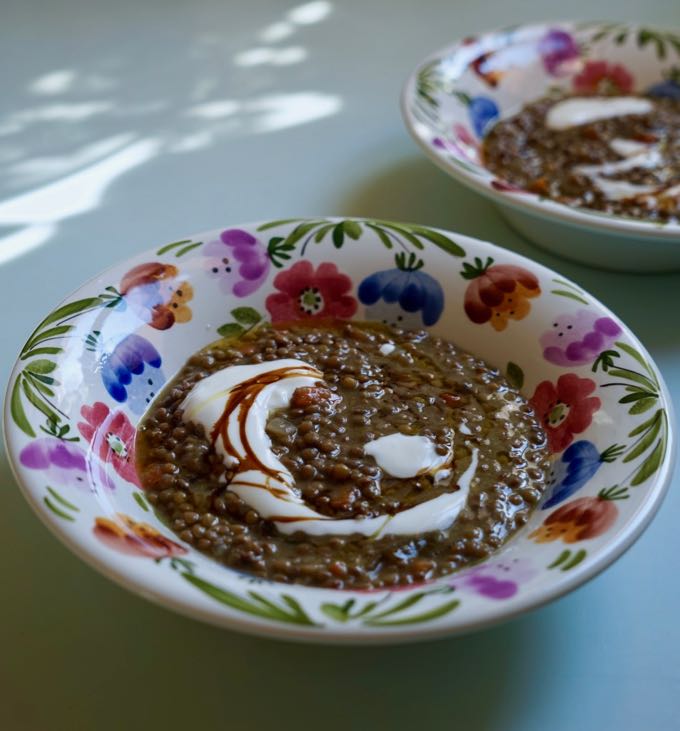 Lentil Soup with Pancetta
Yield 6
Ingredients
4 tablespoons of extra virgin olive oil
1 medium onion, finely chopped
1/2  teaspoon fine sea salt
150 grams / 5 1/2 ounches pancetta, but into cubes
2 stalks of celery, cut into three or four pieces
1 carrot, finely chopped
4-6 sage leaves
1 1/2 cup of lentils
6 cups water
For finishing:
Whole milk plain yogurt
Extra virgin olive oil (olio nuovo or something very fruity)
Aceto Balsamico Tradizionale (the real stuff)
Instructions
Pour the olive oil into a 2 quart pot. Add the onion and salt and heat over medium heat until the onion is wilted and just beginning to turn golden. This should take about 10 minutes.
In the meantime put the celery and the pancetta into the food processor and process until it is a paste. Add to the softened onions, and cook for another five minutes, stirring occasionally.
Add the chopped carrot, along with the sage leaves, and stir. Cook another 5 minutes and then add the lentil and water. Bring to a simmer and cover. Let cook for about 40 minutes, until the lentils are tender.
All lentils cook differently, so after 30 minutes start to taste the lentils. They should be tender, but not firm nor mushy. They might take up to 50 minutes, depending on the size and age.
Taste for seasoning, but keep in mind you're going to be adding some ingredients to the bowl.
When ready to serve, ladle soup into individual soup bowls. Drizzle about 1 tablespoon of yogurt into each bowl. Then drizzle the Balsamico (about 1 teaspoon) and olive oil (1 to 2 teaspoons). Serve with crusty bread.