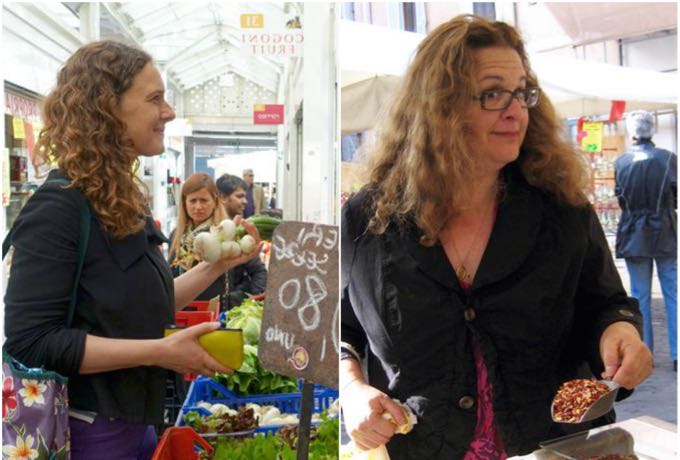 Will you be in Rome on Thursday October 12? If so, then I'd like to invite you to lunch. My friend Evan Kleiman will be in town again and this time she is going to be chatting with cookbook author Rachel Roddy.
Evan Kleiman, the host of the NPR radio program Good Food, will interview award-winning cookbook author Rachel Roddy about Roman cuisine and the particular version of it that is found in the Testaccio neighborhood. Rachel has been living, writing and cooking in Testaccio since she first moved to Rome. Her award winning book, My Kitchen in Rome, explores her adventures in the markets and kitchens of her adopted home.
The conversation will – of course – take place in Testaccio, over  heaping plates of pasta. We will be meeting up at Flavio Velavevodetto for the event. After a brief introduction by yours truly, Evan will interview Rachel. Over the course of 45 minutes or so, they will discuss topics including local produce, changes in the neighborhood, traditional dishes of the area and more.
We will then all enjoy a meal including some of Rachel's favorite dishes from Flavio. There is sure to be cacio e pepe, but also probably some of Rachel's favorites like fried meatballs and sweet and sour pumpkin.
PLEASE JOIN US:
When: Thursday  October 12, 12:30pm
Where: Flavio Velavevodetto, Via dei Monte Testaccio 97
What: NPR Radio Host and Author Evan Kleiman interviews cookbook author Rachel Roddy followed by a fixed price lunch.
How: Space is limited and the cost of this event,  25 Euros, will cover the lunch which is 3 courses and includes water, wine and coffee. If you would like to attend, please follow email me to reserve and pay. (do to limited space, your reservation is not confirmed until you have paid). 
Who:
Evan Kleiman first visited Italy at the age of 17 and it changed her life. Food became linked with cultural experience and was to infect every part of her world. She opened her first restaurant,Angeli Caffe in 1984, and by the time her beloved restaurant closed in 2012 it was an L.A. institution known as much for the warmth of the welcome as for the food. Evan is the author of 7 best selling cookbooks and has been the host of   KCRW's Good Food since 1998. She is based in Los Angeles but considers Rome her second home.
Rachel Roddy is a food writer and cookbook author. Born and raised in England, she adopted Rome as home 12 years ago and set about learning the depth and breadth of Roman (but also Italian regional) cuisine. Trained as an actress, she brings her artistic sensibility to her writing and cooking but also the memories of growing up in a family that loves to eat and drink well. Merging her English past and Italian present, she infuses her recipes, stories and cooking with inspiration from both experiences Her first book 'Five Quarters'(called My Kitchen in Rome in the USA version) won the Andre Simon Food book award 2016 and he Guild of Food writers First book award 2016. Her second book 'Two kitchens' was published in July 2017 . She writes a a weekly column for the GuardIan called 'A Kitchen in Rome'.