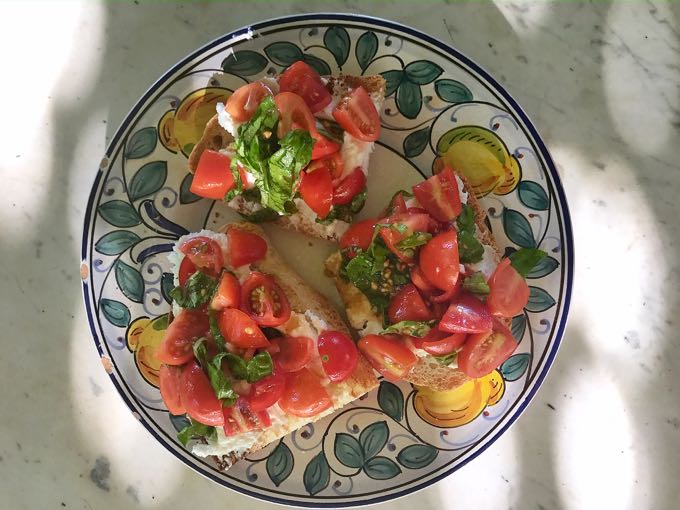 I'm interrupting my self-imposed summer break from this blog for an emergency toast update. A few weeks ago, on Instagram Stories, I posted my breakfast , as I repeatedly do much to Domenico's dismay. "Who can possibly care what you are having for breakfast?" (It's just a variation on his "Who can possibly care that you're having coffee for the millionth time?).
Well, as it turns out, at least when it comes to Ricotta and Tomato Toast, people do care.

First of all, I'm on Team Savory when it comes to breakfast. A lot of eggs happen. But also variations on toast. And since lately it's been tomato-palooza, there has been a lot of that going on.
But on that fateful morning a few weeks back, I decided to add a bit of drama by actually showing how I made Ricotta and Tomato Toast. It's obviously not rocket science, and I thought the most colorful bit was the pretty plate I used. But lo and behold, and about 100 messages later…it turns out people really love this Ricotta Toast thing.
In fact, they love it so much, that people have been sending me photos of their own!!
And if you think this is a direct attack on the supremacy of Avocado Toast?  It is. (enough already!)
Anyway…a lot of those messages were asking me for the 'recipe.' So, here it is.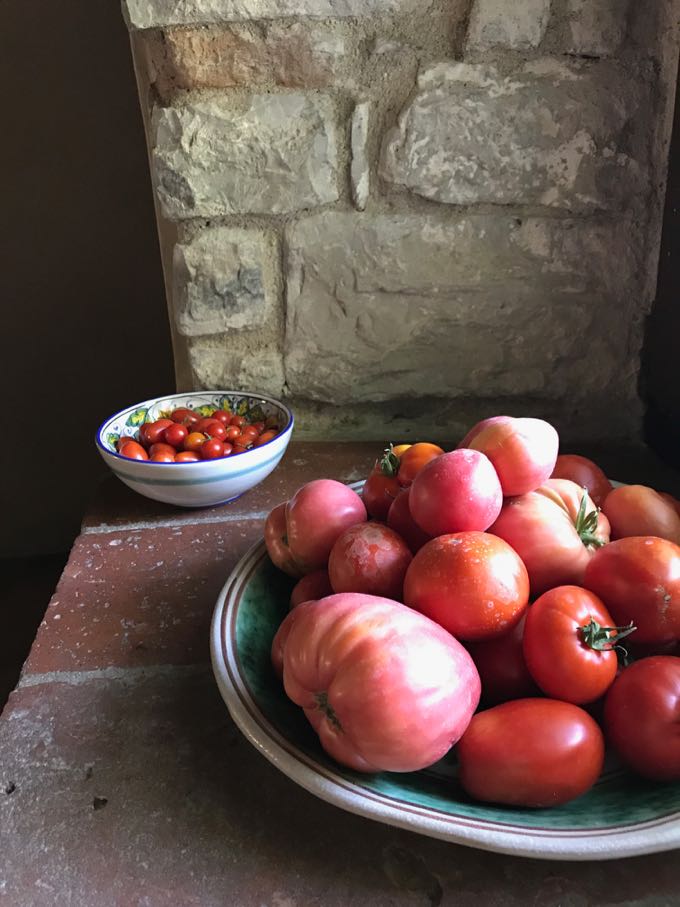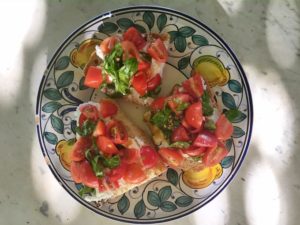 Print
ricotta + tomato toast
Yield 1
Ingredients
1 1/2-inch slice of rustic Italian bread
Fresh ricotta (sheep milk if possible)
1 cup cherry tomatoes
6 basil leaves
1 tablespoon olive oil
1/2 teaspoon salt
Instructions
Cut the tomatoes in half and place them in a small bowl and add salt, and olive oil, and the basil leaves. Stir well, but gently Let sit for at least 10 minutes, to let the juices develop.
Toast your bread.
When your bread is toasted, spread as much ricotta as you'd like on top. Ladle the tomatoes and their juices on top.
Enjoy!!
Save
Save