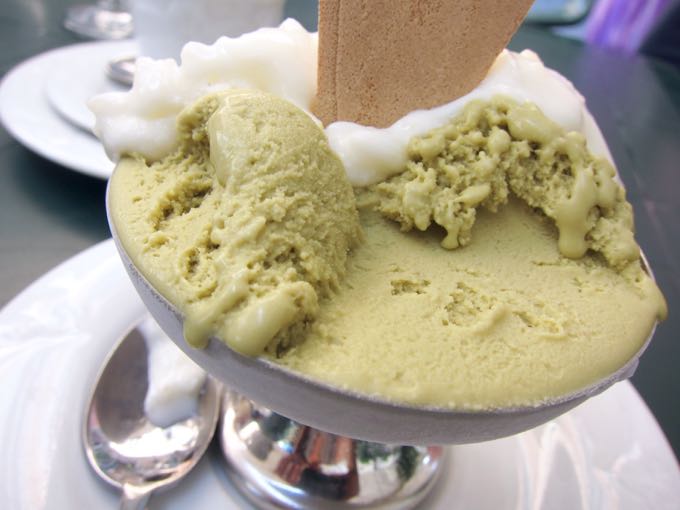 Almost every Roman has their favorite dishes that they order at their favorite restaurants. I'm no different. There's cacio e pepe at Flavio, fried artichokes at Sora Margherita and those one-of-a-kind fried gnocchi with cheese sauce at Cesare. But I also have a back up list of go-to snacks when the weather turns torrid and the pavement starts to melt the bottom of my sandals. Here follows my top 5 list of cool sweet treats in Rome. Some are gelato. Some are not. All are teeth chillingly cold and should do you well as we enter into Roman sizzly season.
Pistachio Gelato at Alberto Pica:
While I love all of their gelati, IMHO Pica has  the best pistachio in town. It's got the right balance of salty and sweet (some of the other gelaterie skimp on the sweet part) and is particularly creamy. It's like putting a handful of pistachios in your mouth. Except frozen.
Alberto Pica, Via della Seggiola 12, Rome
Granita di Caffe at Tazza D'Oro:
The gold standard of all granita di caffes. First of all they start out with great coffee. Actually, that's all you really need to do, which most places don't . Add to that a heaping big swirl of freshly whipped cream and there's your treat: caffeine, sugar and fat, all in one perfect-sized plastic cup to go. Fun fact: Want to know how to tell if a place is using real heavy cream versus the fake stuff that has more vegetable fat than dairy? Let your treat sit for a few seconds, then scoop some of the slightly hardened (congealed) whip cream that has formed next to the icy crystals. Only real cream does this. And those bits are my favorite!
La Casa del Caffe Tazza D'oro, Via degli Orfani 84, Rome (near the Pantheon)
Blackberry, Raspberry or Melon Cremolato at Casa del Cremolato:
Cremolato is the fruttier cousin of granita. It's the perfect mix of fresh fruit, water and sugar. And somehow this mix gets WAY colder than normal gelato or even granita. Make the trek out to this neighborhood place, which is the only place in Rome that makes them, and – since you've come all this way – make sure you sit down and get table service so that your cremolato comes in a stemmed glass bowl. And yes, you want panna on that.
Casa del Cremolato, Via di Priscilla 18, Rome
Mango, Pineapple or – if they have it – passion fruit sorbet at Fata Morgana:
Although Fata Morgana is known for all their flavors, it's the exotic fruits I go for in the summer. Almost every afternoon (it's just down the street from my house – don't judge) I brave the hot cobblestones to get a cone of sweet/tart fruity coldness. Since they are so careful about sourcing their ingredients, it really does taste like a mouthful of frozen fruit. Which, if you think about it, is at least one of my five daily fruit portions a day, right?
Fata Morgana, Piazza degli Zingari (they have several other stores through Rome)
Almond Granita (granita di mandorla) at Corona
This place is deceptive. It looks, from the outside, like one of many icky touristy gelato places that are scattered all over the center of Rome. But it's not. Not only does it have pretty great gelato, it has my all time favorite almond granita. It's so cold you may not be able to hold it. (Just kidding). And on this one, I say no to panna. It's rich enough and I love the pure almond taste.
Gelateria Artiginale Corona, Largo Arenula 27, Rome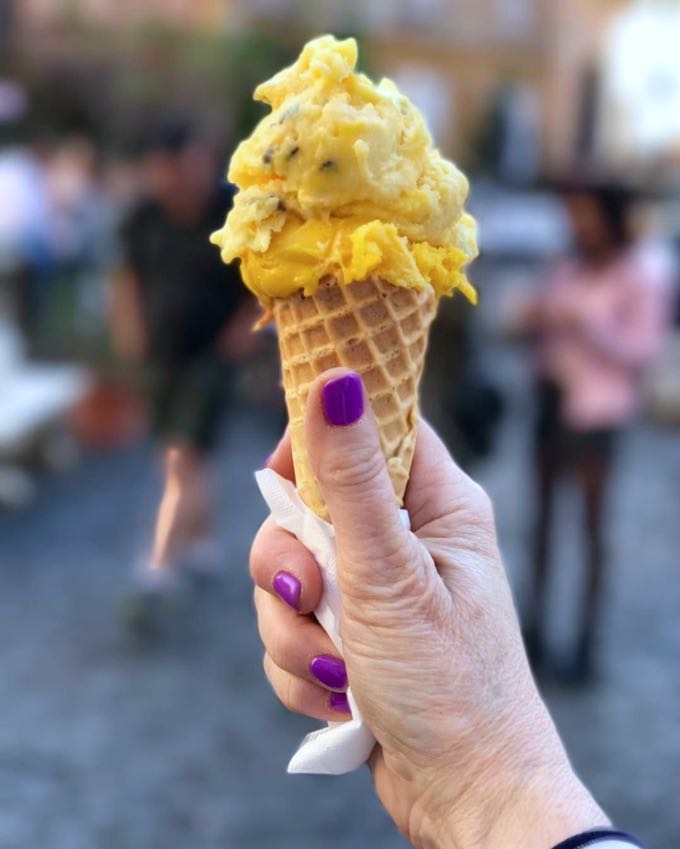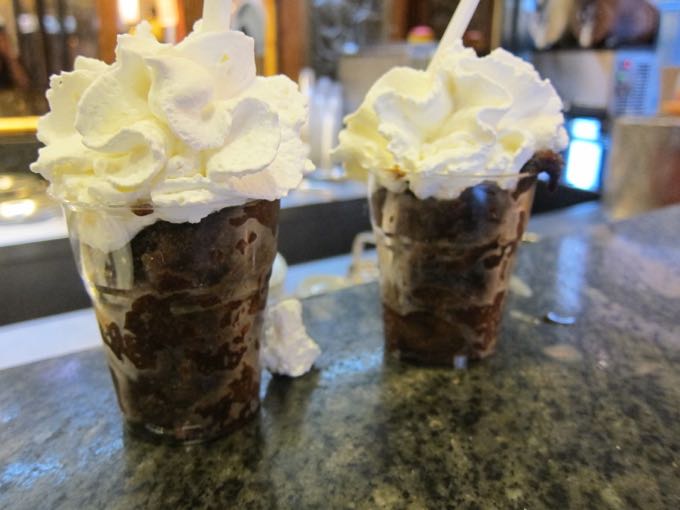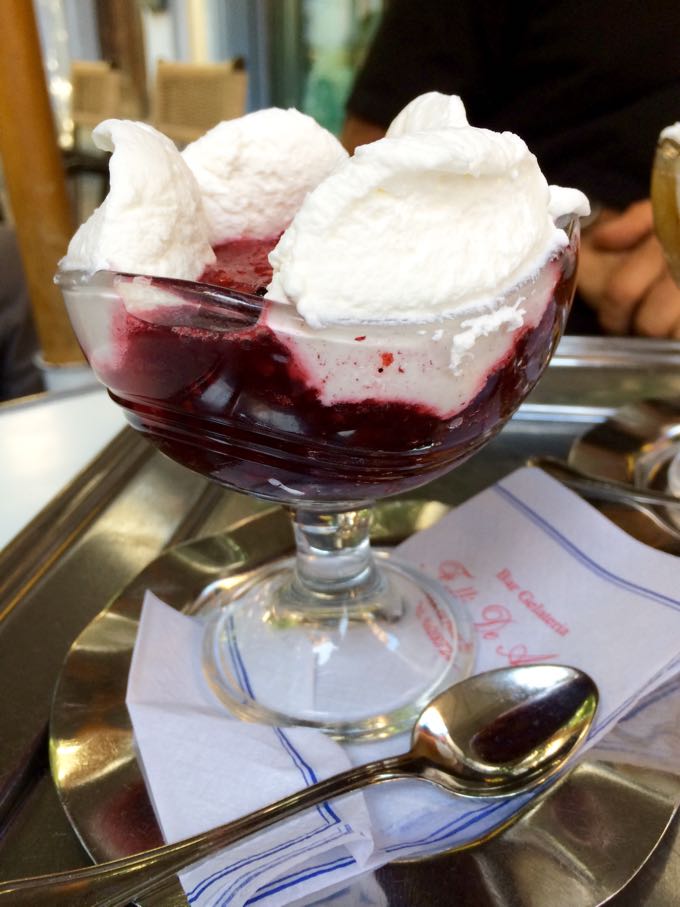 For more information on dining in Italy download my app, EAT ITALY. EAT ITALY is a free app, and contains guides to Venice, Milan, Rome, Florence, Torino and Puglia (and an ever expanding list of regions and cities) available as in-app purchases for both iPhone and iPad. Coming in 2018 for free: Emilia Romagna, Sicily, Positano, Naples, and more.
I've also written Eating Rome: Living the Good Life in the Eternal City, which I think you'd like if you are coming this way.