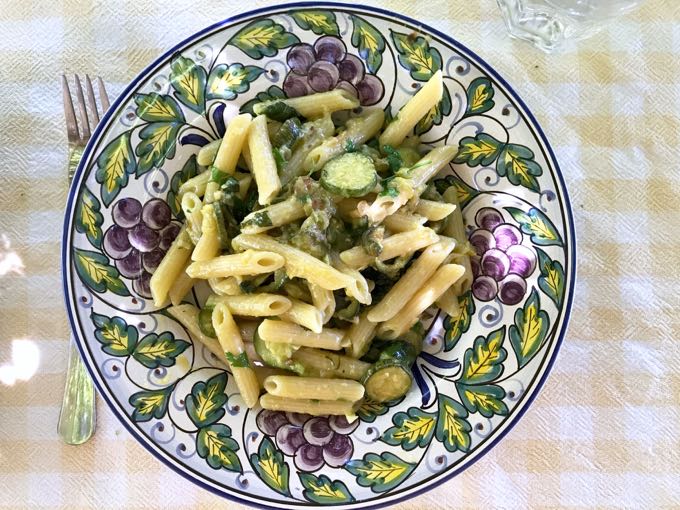 I know it happens every year. And I have no right to get all kinds of excited. But  even though I know I'm going to be inundated in a glut of zucchini in a short time, I am never-the-less thrilled when I spot those first teeny tiny zucchini peeping beneath the floppy leaves of the plants.
This year, like every year, we planted more zucchini than we should have. But this year I aim to keep on top of the situation. In other words I'm going to be ruthless and nip those babies off before they (seemingly overnight) grow into zucchini monsters. ( I say this every year)
And so this weekend, even though there were only about 8 little fellas and they were all definitely babies, I snapped them off and made lunch.
Since I came back from my recent trip to Gragnano with my weight in pasta, that is where they were headed.
I've written up versions of this dish many times over. But since there are so few ingredients, the minor changes really make a huge difference. While I've made this with ricotta in the past, this time I used an incredible piece of 40 month old parmigiano regggiano. Normally I would have kept this precious piece aside, saving it for nibbling with a glass of prosecco or a negroni. But having grabbed it blindly when we were leaving Rome for Todi, it was what I had on  hand. I have to say, that I'm glad I did. 40 month old parmigiano has a much stronger and fuller flavor that a younger cheese and so I needed much less. Don't worry if you don't have any on hand, you can use something a bit younger. Or even a nutty pecorino from Tuscany.
The other switch I made this time was using a massive amount of fresh herbs. While I usually use basil in this dish, this time I also used chives and parsley, roughly chopped and added at the last minute.
The one thing I would suggest you not change in this dish is the use of baby zucchini. There is not only a difference in taste, but they stay firm, which is what you want in this dish.
And as the rest of the summer goes on? And you too are drowning in zucchini? Don't worry, here are plenty of other ideas.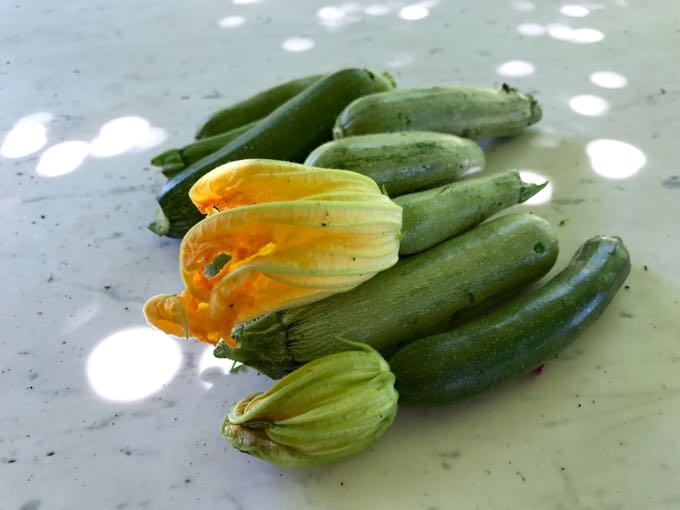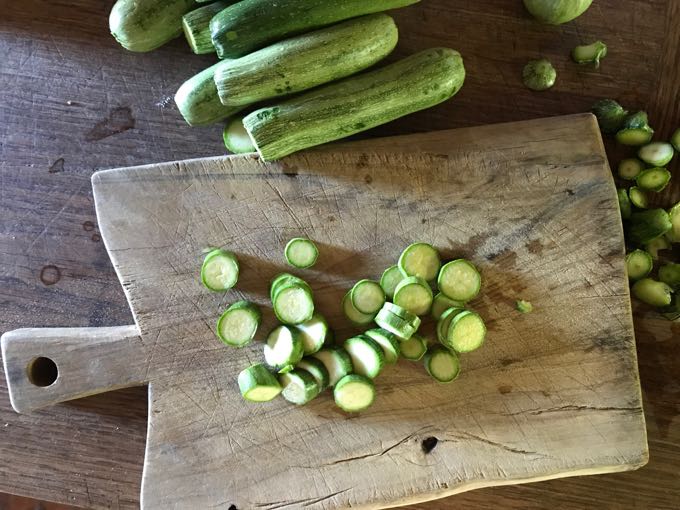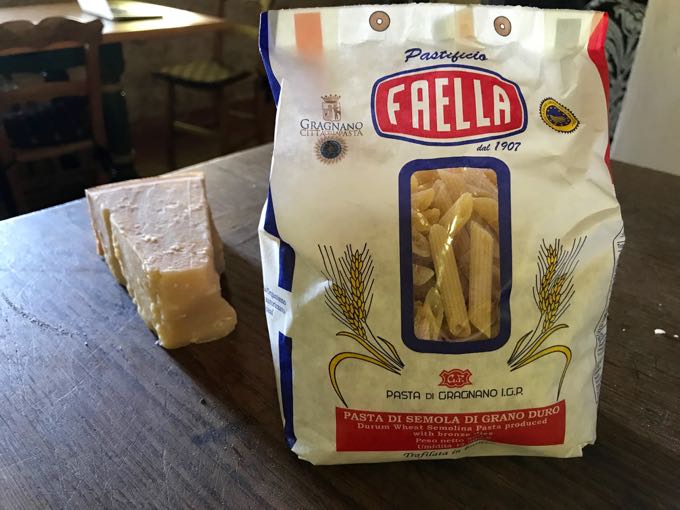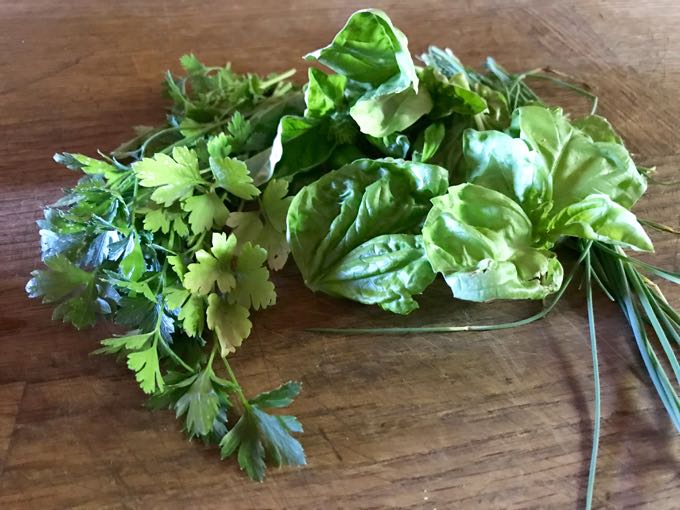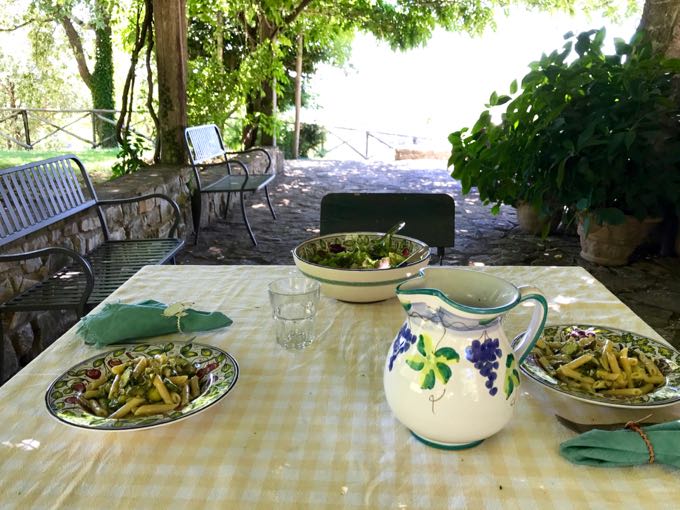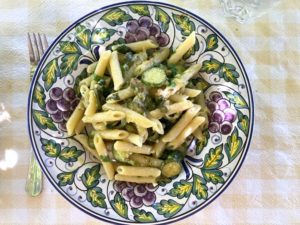 Print
pasta with zucchini and herbs
Yield 4 -5
Try to use small zucchini for this recipe, since they tend to stay firm and not turn to mush. I used penne in this recipe, but any short pasta will do.
Ingredients
1 pound/ 500 grams pasta
2 pounds baby zucchini
1 medium onion, chopped
4 cloves garlic, chopped finely
1/3 cup extra virgin olive oil
1/4 teaspoon red pepper flakes
3/4 cup grated parmigiano reggiano
1 cup packed chopped fresh herbs (basil, parsley, chives)
salt
Instructions
Cut the zucchini into 1/4 inch rounds
Heat the olive oil in a saute pan big enough to hold all the zucchini and the pasta later.
Add the chopped onions and red pepper to the pan, and cook over medium low heat, adding about a 1/4 teaspoon of salt. Let the onions get soft, without browning, about 8 minutes.
Add the zucchini to the pan with the onions. Stir and add another 1/4 teaspoon of salt. Let the zucchini cook slowly, without browning, until tender. When they have softened a bit, add the chopped garlic. If the zucchini start to brown, add a bit of the pasta water.
Bring a big pot of salted water to boil. Add the pasta and let cook until almost done.
Drain, saving at least 2 cups of the pasta water.
Add the drained pasta to the pan with the zucchini, along with a cup of pasta cooking water. Stir and finish cooking the pasta along with the zucchini. Add more water if necessary.
Turn off the heat and add the grated cheese and herbs. Stir well, letting the herbs wilt.
Serve.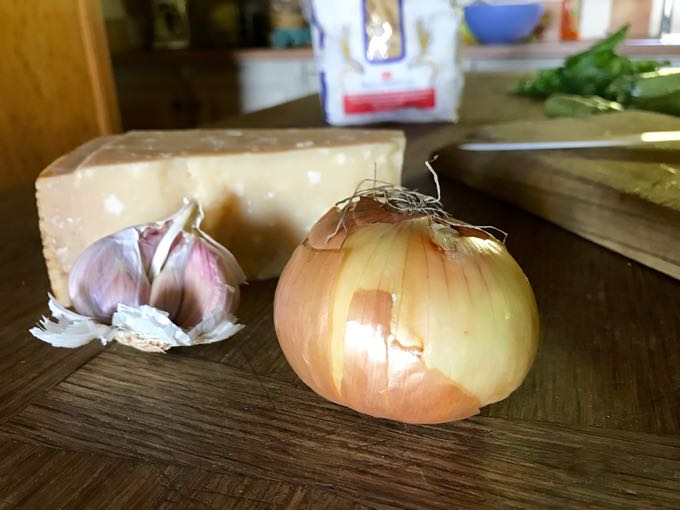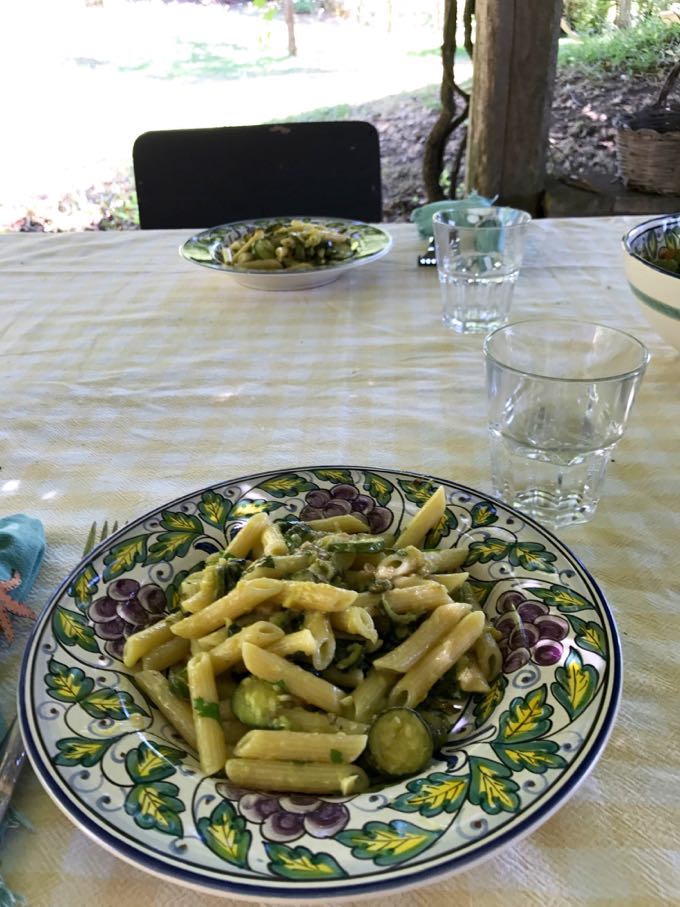 Because I know you'll ask:
The plate comes from Sberna, in Deruta
The pasta I used is Faella, one of my favorites, from Gragnano. You can get it in the USA at Gustiamo.com
Save