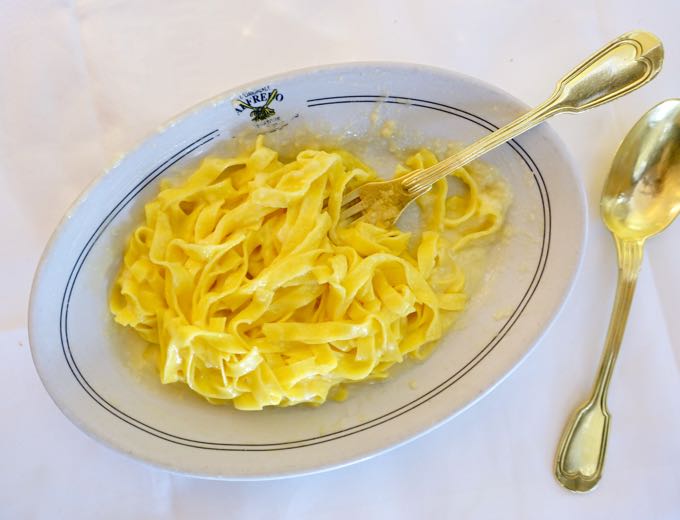 I have a huge fondness for old fashioned restaurants with a story behind them. And when that story involves a lot of butter and cheese? Even better.
There are certain, extremely unfashionable, dishes that I'm continually drawn to. I know I can't eat them every day, but, for instance, when I find myself at Pompiere I often eschew their excellent Amatriciana or Carbonara in favor of the cream-drenched Fettucine al Limone. Similarly I go straight for the Taglierini al Paoli at Paoli in Florence. Full of ham, peas and cream it couldn't be more 1950's if it tried.
And then there is the king of 20th century pasta dishes that sort of symbolizes this kind of cooking. I'm talking about the kind of Italian cooking that dates from a time when chefs in Italy were trying to go beyond cucina rustica with its tomatoes, pancetta and olive oil to embrace signs of wealth like butter, cheese and cream. I'm talking about Fettuccine Alfredo.
I know what that at least 85% of you are now thinking. " Wait! Isn't Fettuccine Alfredo an American invention"? No. Most definitely not. Fettuccine Alfredo was invented in the most romantic way possible by a chef called (you guessed it) – Alfredo, for his wife, in Rome.
Alfredo, who was 100% Roman from Trastevere, opened a restaurant in 1908, a small hole-in-the-wall with no name on a small piazza near the Trevi fountain. While he worked hard making a go of the restaurant his wife, Inès, was leading a typically stressed out life which involved having babies. Her loss of appetite and her general lack of energy lead her husband to prepare a special dish for her that would be not only irresistibly delicious, but also full of nourishing calories. The heaping plate of eggy noodles tossed with massive amounts of grated Parmigiano Reggiano and butter was so delicious that his wife not only gobbled it up, but convinced him to start serving it in the trattoria as well. And that is how Fettuccine Alfredo – (along with Alfredo and Ines's babies)- was born.
The original restaurant no longer exists because the location – Piazza Rosa – was bulldozed during the construction of what is now Galleria Sordi. And so in 1914 Alfredo opened a new restaurant, Alfredo's, on Via della Scrofa. And it was here that Alfredo's magical way with a fork and spoon, and his charming table-side service, twirling the strands of pasta into a holy mixture, gained fame.
While many locals, as well as tourists, visited the restaurant to try this famous dish, it was Douglass Fairbanks and Mary Pickford, visiting Rome on their honeymoon in 1927, who lead the avalanche of movie stars and other famous folk, whose photos now line the walls of the restaurant. So enamored were Fairbanks and Pickford with Alfredo's pasta skills that at the end of their week in Rome they presented him with a special gift: an inscribed solid gold spoon and fork to use to flip the noodles in the style they so deserved.
The restaurant, and Fettuccine Alfredo, continued to thrive, but by 1943 Alfredo was tired of dealing with food shortages and general hardship of the war years, and decided he should retire. He sold the restaurant to his head waiter, whose family today still owns and runs Alfredo alla Scrofa (where they continue the Fettuccine Alfredo tradition as well).
Alfredo however, after a few years of being retired, decided leisure was not his thing, and, in 1950, opened his own place further down the road, in Piazza Agusto Imperatore. Located beneath the arches of the 1930s-designed piazza, this is where Alfredo, and his family, continue to this day to use their engraved golden fork and spoon to twirl pasta, cheese and butter into sublime submission.
While this is the story of Fettuccine Alfredo in Rome, it totally ignores the misuse of the word Alfredo in the rest of the world. Here are some things to know when talking about Fettuccine Alfredo:
No, Fettuccine Alfredo is not American. (as I've just explained)

Fettuccine Alfredo has just three ingredients: pasta, Parmigiano Reggiano and butter.

No, Fettuccine Alfredo does not have cream in it. Nor any other extraneous ingredients like peas or ham or god forbid chicken. And don't get me started on garlic.

'Alfredo' is not a sauce you can buy in a jar or a flavoring you can add to just about anything. The magic happens when all the ingredients come together in a happy marriage on a plate together with the pasta.
With all this talk lately about #fakenews and #alternativefacts I can't think of any other pasta dish that has suffered from so much lack of real investigative reporting. I'm pretty sure #fakepasta should be a thing. Somehow, over the years, the word 'Alfredo' has been applied to a type of generically creamy and cheesy sauce. It couldn't have gotten further from the original purity and simplicity of the dish if it tried.
I think I understand how it happened, though. The true Fettuccine Alfredo calls for a LOT of butter and a LOT of Parmigiano Reggiano (aged 16 to 18 months). Both of those ingredients are expensive. Cream, on the other hand, is cheaper, especially in America. And adding all those other extra ingredients? That IS an American thing.
Also, the process of whipping the aforesaid Parmigiano and butter into a creamy consistency takes patience and skill and a very specific technique. Things that are in short supply, I think, at Italian restaurant chains in the States (not naming any names here).
But enough about what Fettuccine Alfredo is not. It's much more important to know exactly what it is. Luckily I spent a day last week in the kitchen and dining room of Il Vero Alfredo, seeing exactly how it is made.
Ingredients:
Freshly made fettuccine
Unsalted butter, at room temperature
Hand grated Parmigiano Reggiano
Quantities:
Exactly how much,  I am told, is the family's secret. But after observing them in the kitchen, here are the proportions, more or less. In theory it's for one portion. But it's a really large portion.
200 grams / 7 ounces of fresh fettuccine
1 stick / 125 grams unsalted butter
3/4 cup freshly grated parmigiano reggiano
Quality:
Butter: Since the butter is going to be one of the main ingredients, this has to be the best you can get. I don't know what brand they use here (again, secret) but I tasted it on its own and could have continued eating the sweet butter straight from the spoon.
Cheese: Absolutely must be Parmigiano Reggiano. No, you cannot substitute Grana or another type of hard cheese. I mean you could, but it wouldn't taste at all like it's supposed to. And the Parmigiano Reggiano must not be too young, nor too old. 16 to 18 months is the perfect age which will result in both the correct flavor as well as being able to melt into the creamy consistency that is essential.
Technique:
While many restaurants use the same pot of water to boil multiple portions of pasta over the course of the evening, with Fettuccine Alfredo you must start off with a fresh pot of boiling water each time. I know this isn't an issue for the home cook, but I'm pointing this out for those of you may want to try this in the comfort of your own trattoria. Also, the water seemed to be a bit under-salted than usual, which is probably because so much cheese is added to the finished dish.
The plate must be hot hot hot. At Alfredo's the chef places the serving dish into a simmering pot of water while the pasta cooks.
The butter, which sits in a bowl of room temperature water, is given a good squeeze first, by the chef with his fist.
The parmigiano must be grated by hand, not in a machine. A machine would heat the cheese too much, which would affect the final dish. And the grater should be the old fashioned kind of Italian grater, with the sharp edges that really grates the cheese into tiny crumbs (if you can manage not to grate your knuckles as well). In other words, very very finely grated. I don't think a microplane would work, since then the cheese would clump. (And is that grater below the most amazing piece of kitchen equipment you've ever seen, or what?)
And finally the mixing: The dish is prepared in the kitchen, then finished in the dining room. The ingredients are layered in the following order:
plate

butter

pasta

pasta cooking water

and finally grated cheese
At this point is it handed off to the waiter, who carries it into the dining room, along with his fork and spoon. And this is when the magic happens. Over the course of 2 minutes the waiter stirs, twirls, and lifts the pasta up, scraping the sides of the dish and turning it around and around to blend the pasta, pasta water and its starches, the cheese and the butter until it all emulsifies into a rich and creamy sauce that clings to each and every strand of pasta. And when I say creamy, I mean it descriptively, not literally.
There is no cream.
At all.
Ever.
For such a seemingly simple dish, there is a lot of technique. But isn't that always the way? That's why I made a video. Enjoy!
And of course, definitely try this at home and definitely let me know how it turns out.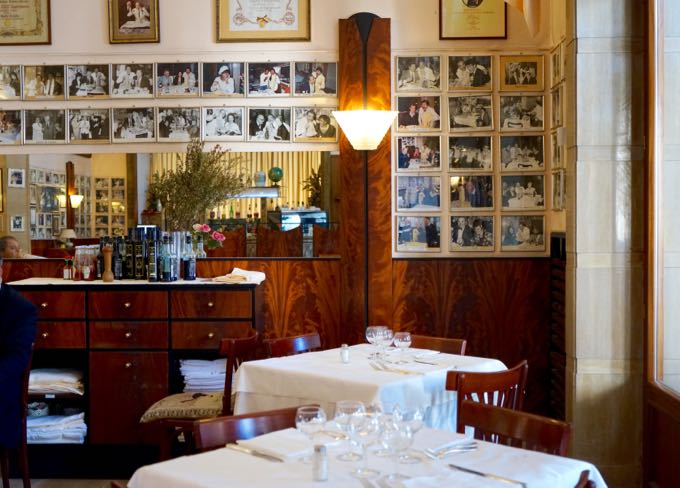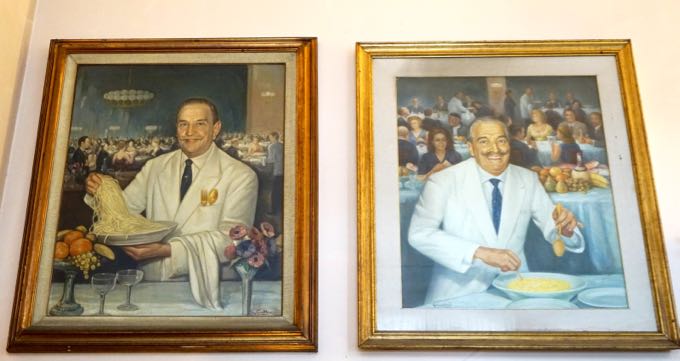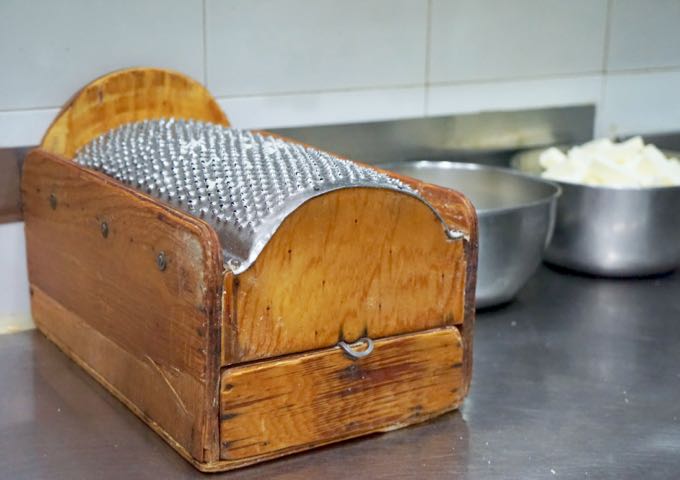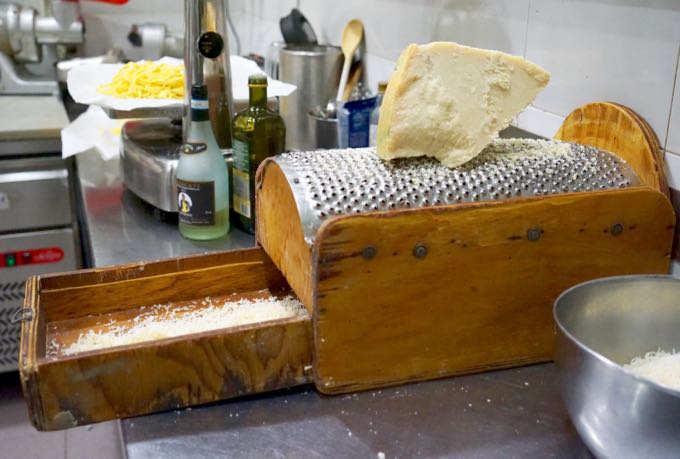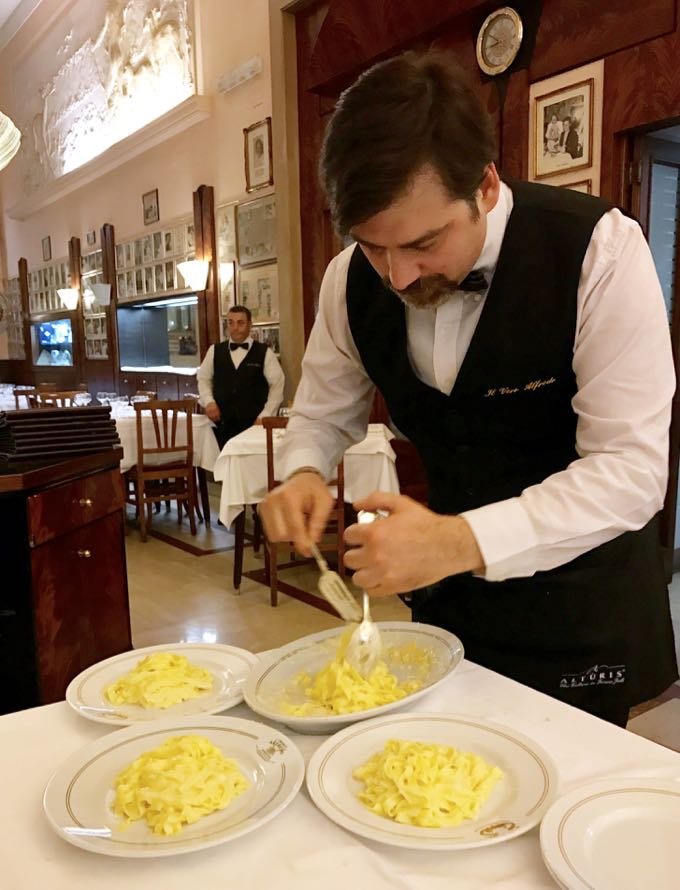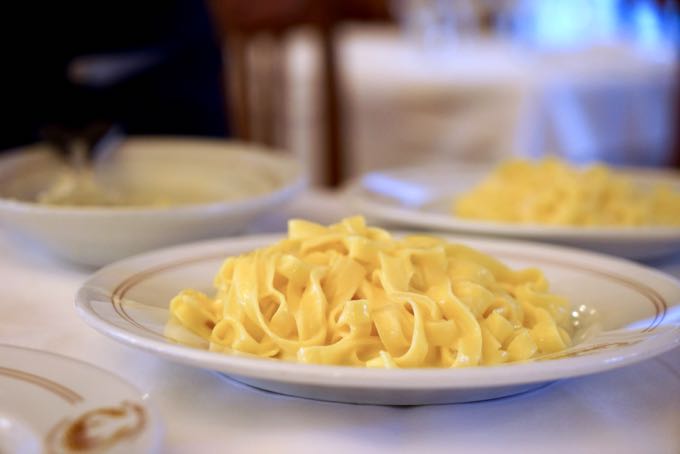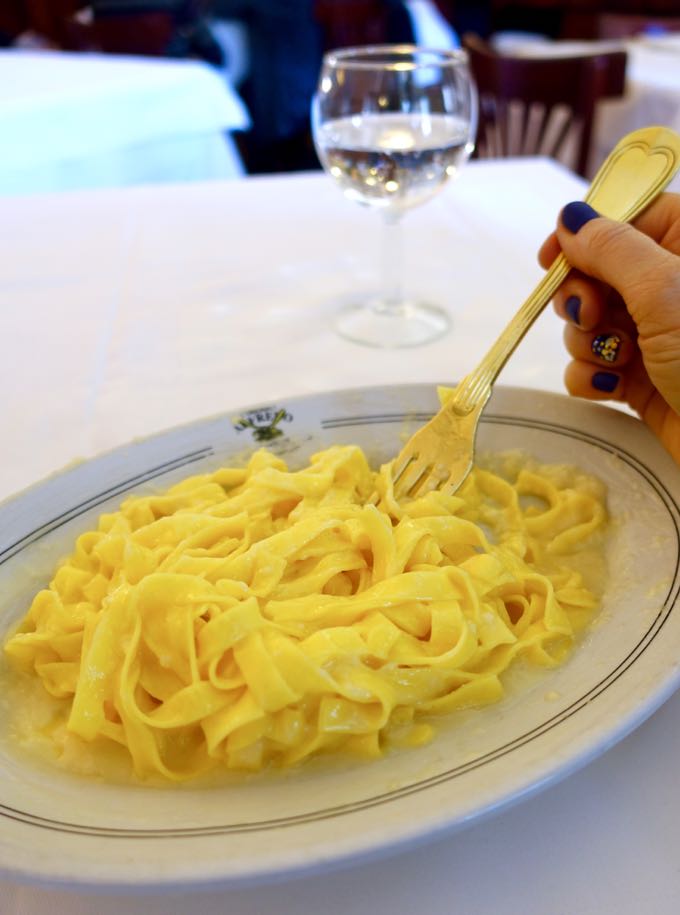 Il Vero Alfredo
Piazza Agusto Imperatore 30
Rome
+39.687.8734
I learned my Alfredo lore from the descendants of the original Alfredo at the above mentioned restaurant. The family of the waiter who bought the restaurant on Via della Scrofa still runs this restaurant and they too serve Fettucine Alfredo according to Alfredo's original recipe
Alfredo alla Scrofa
Via della Scrofa 104/a
Rome
+39.6880.6163
Be forewarned: both restaurants are pretty touristy. And for a plate of pasta it's pretty expensive. BUT. You are eating a plateful of history. And if you have a chance to indulge in the original Fettucine Alfredo, while in Rome, then I think that's well worth it.
The golden fork and spoon: If it looked like I was eating my pasta with a golden fork in the video I was. (it was weirdly heavy!). But that was special just for me. They usually keep it locked up safely. Il Vero Alfredo owns the original set. I've heard that Alfredo alla Scrofa had a copy made. But don't worry, it doesn't effect the taste one way or another.
For more information on dining in Rome and Italy download my app, EAT ITALY. EAT ITALY is a free app, and contains guides to Venice, Milan, Rome, Florence, Torino and Puglia (and an ever expanding list of regions and cities) available as in-app purchases for both iPhone and iPad.
And don't forget my book: Eating Rome: Living the Good Life in the Eternal City.