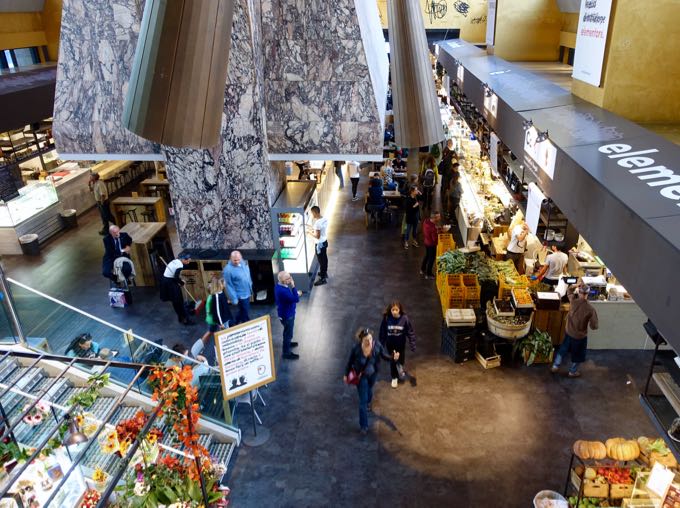 What if all your favorite food vendors were in one place? And you could both buy food from them to take home, or else sit down and have them prepare a meal for you? And what if there were also cocktails, beer, wine involved?
If this sounds kind of familiar it may be because I wrote about such a place a few years ago, Mercato Centrale in Florence. And I'm writing about it again because they've just opened one in Rome. And it's fantastic.
I know your first question is going to be "Isn't it just another Eataly?" The short answer is no. The main reason being is that the premise of Mercato Centrale in Rome is to involve local vendors and food producers, rather than present a 'best of Italy' sort of show.
And so the list of vendors selling their wares reads like a 'who's who' of the Roman food scene. They've got Bonci and his pizza,  Stefano Callegari and his Trapizzini,   Pescheria Galuzzi is doing their thing with fish, Beppe Giovale and  his magnificent cheeses,  Egidio Michelis and his pasta. They even have artichoke maestro extraoridinare Alessandro Conti, from Campo de' Fiori frying up the purple and green orbs. They even have stellar chef Oliver Glowig installed on a mezzanine.
I stopped by a few weeks ago, a few days after Mercato Centrale had opened and made a beeline for butcher Roberto Liberati. Although I knew of him by fame (best butcher in Rome) I have to admit that I had never been to his shop because it was out in the suburbs. So I was really excited to finally have him in my neighborhood. After introducing myself (we knew each other through FB) he told me to sit down and he'd cook us a steak.
As you can imagine it would be, the best steak in Rome cooked by the best butcher was…the best.
The space is also pretty fantastic. The Mercato is actually part of the Termini Railway station in Rome, and is located inside the ex-social club for railway workers. Designed in the 1930's by architect Angiolo Mazzoni, the space still retains many of the original architectural details, including the incredible marble-faced exhaust hood that anchors the entire space in the center.
How it works: Mercato Centrale is pretty much a food hall. In other words, you can visit various stands, get your food, then take a seat. There are plenty of tables on the ground floor (where the stands are located) Or you  can make the effort to take the stairs or elevator upstairs the top mezzanine level, where there are more tables.
Added perk : Location. As mentioned above, the space is located in Rome's central train station Termini. The main entrance is on Via Giolitti, on the south side of the Station. But you can also access directly from the Station (As you are facing the track, it's on the far right, about a five minute walk). So: this is the place to visit before you embark on any train trip of more than an hour and a half and are needful of nourishment. Or, if you don't feel like packing a picnic, get here early enough to sit down to a meal.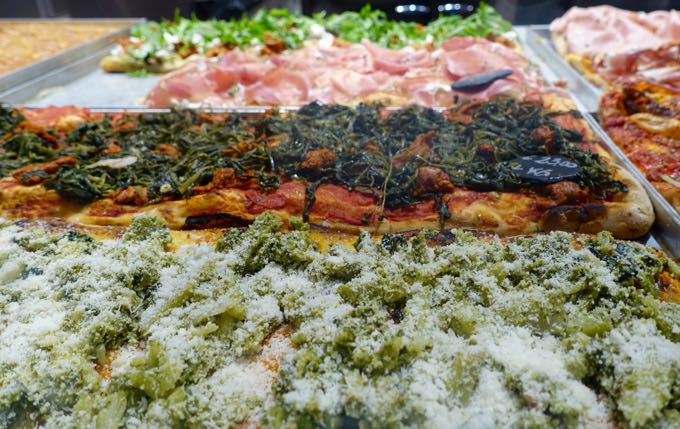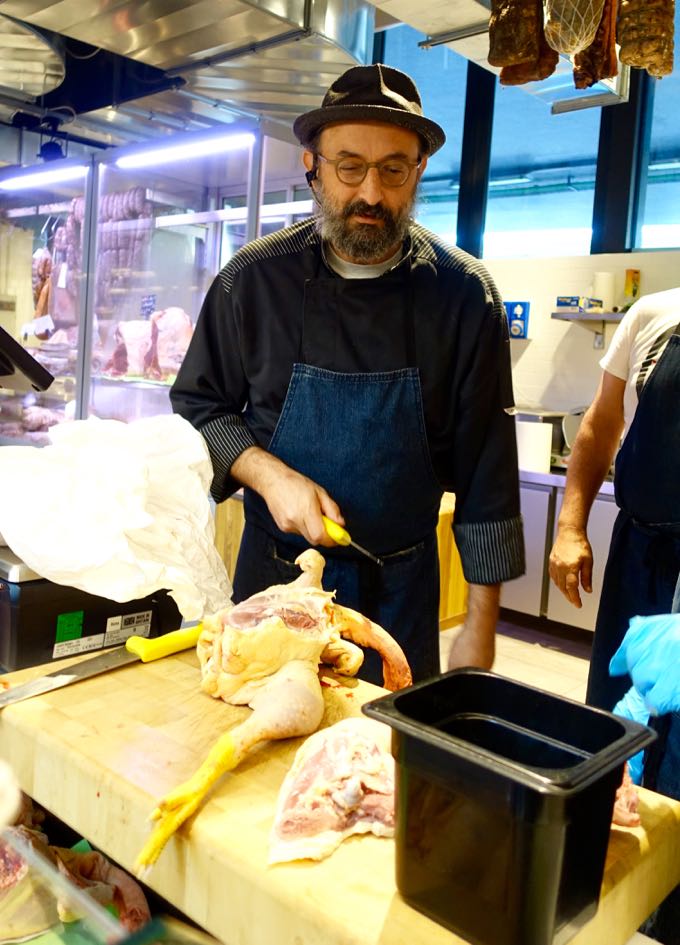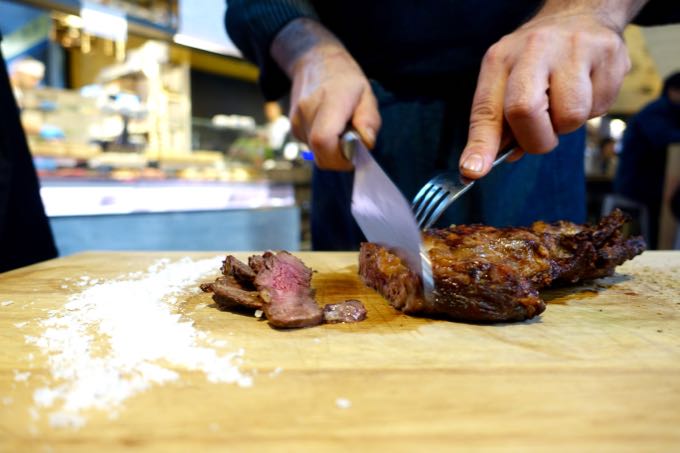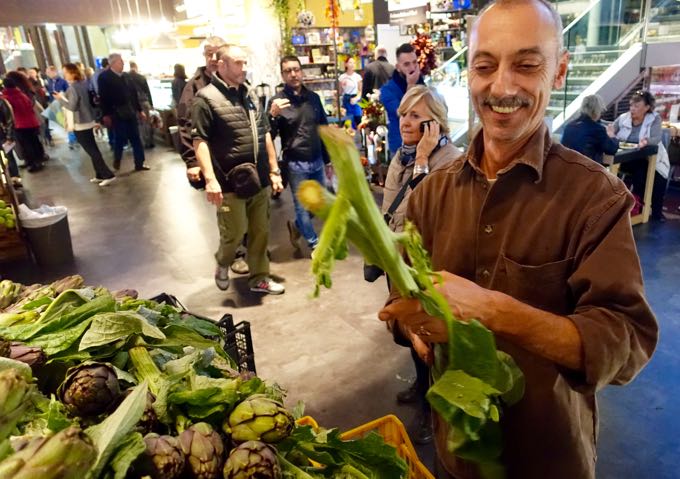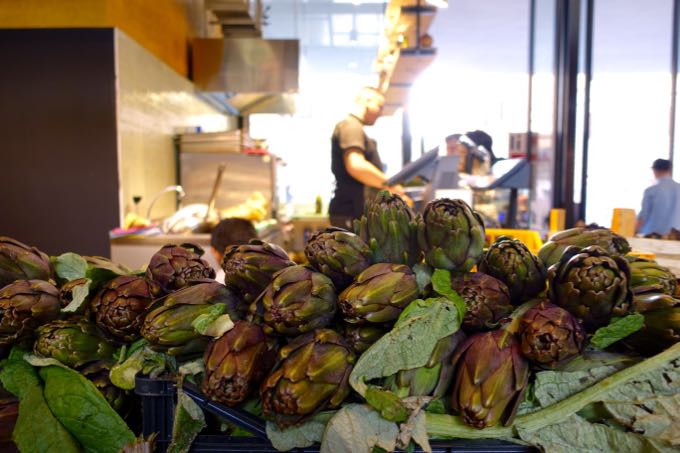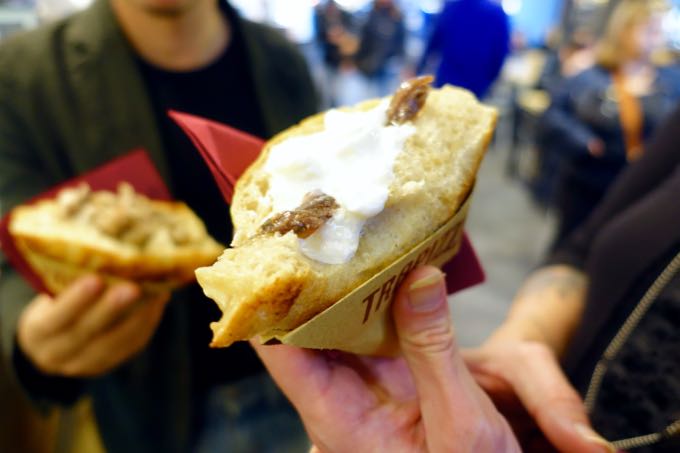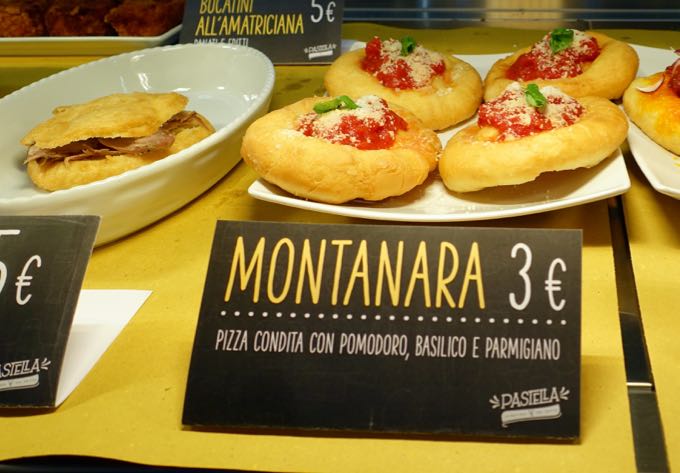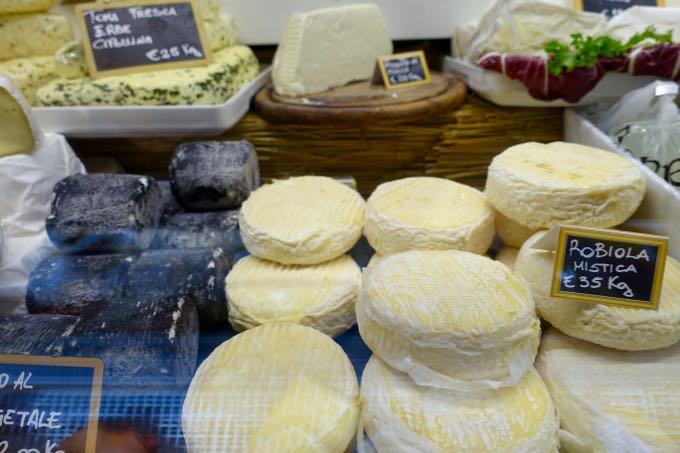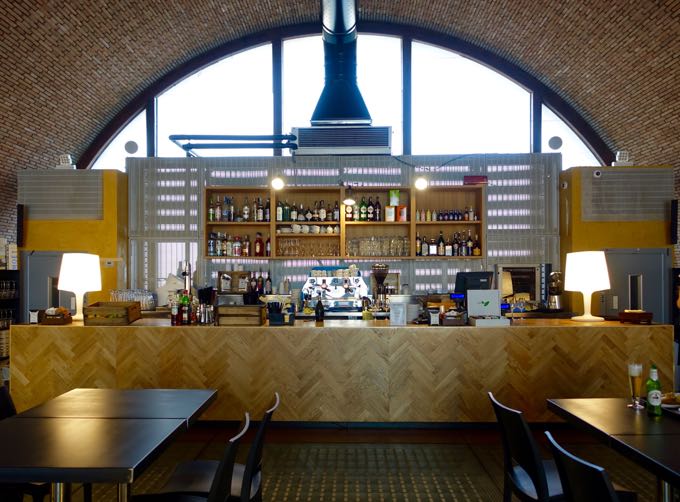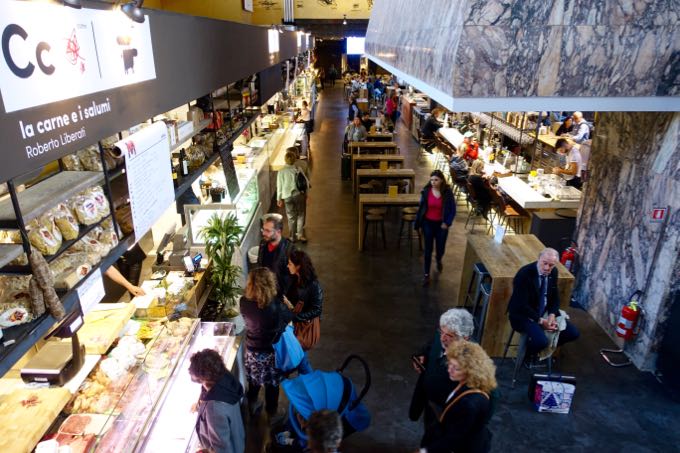 Mercato Centrale
Termini Railway Station
Via Giovanni Giolitti 36
Rome
Daily 7am-12am
For more information on dining in Rome and Italy download my app, EAT ITALY. EAT ITALY is a free app, and contains guides to Venice, Milan, Rome, Florence, Torino and Puglia (and an ever expanding list of regions and cities) available as in-app purchases for both iPhone and iPad.
And if you're coming to Rome you might enjoy my book Eating Rome: Living the Good Life in the Eternal City.