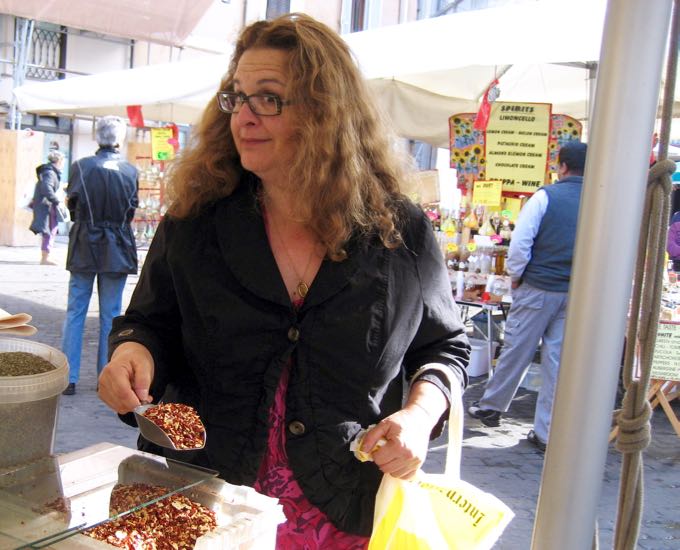 One of the biggest influences on my life,  not only as food writer, but as cook, is one of my best friends, Evan Kleiman. I first met Evan over 20 years ago, via a phone call. Our conversation – about food, cooking and life – has been going on steadily ever since.
Evan first visited Italy at the age of 17 and it changed her life. Food became linked with cultural experience and was to infect every part of her world. She opened her first restaurant, Angeli Caffe in 1984, and by the time her beloved restaurant closed in 2012 it was an L.A. institution known as much for the warmth of the welcome as for the food. Evan is the author of 7 best selling cookbooks and has been the host of radio's popular KCRW's Good Food since 1998 (and if you are reading this blog, there is a very good chance you already know her quite well from her podcasts). She is based in Los Angeles but  I'm very proud to say she considers Rome her second home and the Minchillis her Roman family.
So why am I telling you all this? Because Evan is coming to Rome for a visit, and I'd like to extend the invitation to you as well. As you know Sophie and I have been leading Week in Rome Tours, which have been going fantastically. So great, in fact, that we've decided to expand them to include some of our favorite people. Of course, Evan is at the top of the list.
We've developed a special Week in March where Evan, Sophie and I will be leading a group not only around Rome, but into the countryside as well. We'll be visiting the markets and restaurants in town, but also taking advantage of Evan's special talents. We'll not only be cooking with her in the kitchen, but will also get the chance to watch Evan interview one of Italy's foremost food personalities. There will be many meals in restaurants and enoteche, lots of gelato and aperitivi, and perhaps way to much fun.
As I'm writing this I can't stop smiling. I am that excited about it. I hope you are too!
Details:
When: March 5-11, 2017
Who: Space is limited to 10 people.
Where: We'll be based in the Monti neighborhood, one of Rome's most characteristic and charming areas. You will be staying in a private apartment, complete with kitchen, wifi, bedroom and sitting room.
What: The days will be full, with adventures both in and out of Rome. But don't worry, you'll have some down time as well, to head off on your own to explore.
Some of the things we'll be doing:
Welcome dinner in my private home
Tour of the Food Artisans of Trastevere
Private tour and lunch at the American Academy of Rome
Evan in Conversation with a local food personality
Dinner at the local pizzeria
Market walks and Cooking Classes
Cheese and Wine Tasting Dinner
Day Trip to Orvieto and a cheese maker
Evening Cocktails
And more…..
Would you like more information? Just send me an email. (elizabeth [at] elizabethminchilli.com )